Dyson's V8 line vacuum cleaners have been ruling the market for home appliances ever since their debut. The V8 vacuum cleaners are updated versions of the V6 line with several twists.
There are currently two products in the Dyson V8 range – the Animal and the Absolute.
Both of these vacuum cleaners have been huge successes, thanks to their innovative technology and engineering. But between these two, which is the BEST vacuum cleaner?
In this article, we will do a Dyson V8 Absolute vs. V8 Animal review to find out an answer.
In a hurry? Let's have a quick look,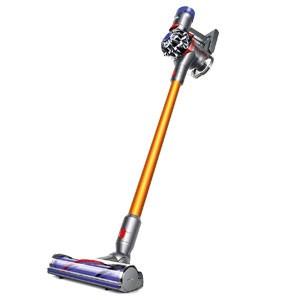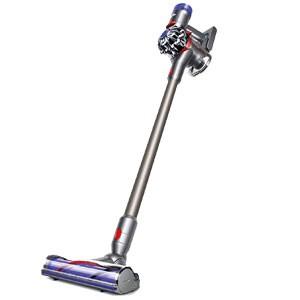 Let me tell you about a hack first by knowing that you do not have to go through this article all along.
Both the Dyson v8 animal and the Dyson v8 absolutely share the same engineering and features except for only one extra attachment.
Dyson v8 animal 
The name says it all. Dyson wanted this specific v8 vacuum cleaner instance to be a pet-friendly vacuum cleaner.
To clean pet hairs, three types of scenarios can appear. The first two are easy-to-clean scenarios. Pet hairs on a hardwood floor or carpeted surface.
And to clean those – Good suction power backed by a hard bristled brushbar is enough.
Regular Dyson vacuum cleaners with massive suction power and hard brushbar are enough to pick pet hair up from hardwood and carpeted floors.
Then why do we need a pet-specialized instance of Dyson v8 called the Dyson v8 animal? It's because life is not as simple as stated above.
Either pet hairs will be stuck inside that deep-piled carpet of yours or on the furniture – say, sofa or couches where it is above the floor, warm, and seems to be very comfy for your cat or dog.
You just cannot lift the whole vacuum cleaner up on the sofa?
You'll have to use the handheld portion here to clean pet hair. To do this, a mini cleaner head – enriched with a mini motorized brush bar is needed.
You can get such a mini-motorized brush bar with a Dyson V8 animal. This is where the name 'Dyson v8 Animal' shines.
Dyson v8 absolute
You've heard about the Dyson v8 animal vacuum cleaner just now. Whenever a vacuum cleaner can handle pet hairs, it will be able to handle any cleaning challenge because pet hairs are the hardest to pick up garbage.
However, there is still something that is missing. And that is very fine dirt on hardwood floors – simply because they are not agitated by a brushbar while vacuuming.
When you select hardwood floor aka normal mode on your vacuum cleaner, that means the motorized brushbar will simply be off.
While cleaning bare floors, you can rotate the motorized brushbar though. But that will reduce runtime, and a hard-bristled brushbar is not as effective as it is on carpets.
Moreover, It may leave scratch marks on sensitive shiny bare floors. Only this drawback – draws back a Dyson v8 animal vacuum cleaner from becoming an absolute vacuuming machine that can clean'em all.
A soft brushbar can overcome this situation. It doesn't scratch your favorite floor while providing the necessary oscillation.
By adding this additional attachment, the Dyson v8 animal vacuum cleaner becomes that absolute vacuuming machine – the Dyson v8 absolute.
Dyson V8 Absolute vs. V8 Animal- An In-Depth Overview
Before we start comparing the key features of the Dyson V8 Animal and V8 Absolute, let's find out what comes with the package.
Accessories – What Do You Get?
The Dyson V8 Animal and V8 Absolute come with the same efficient set of tools.
Detachable wand

Motorized brush bar

Crevice tool

Mini motorized brush bar for cleaning pet hairs from couches or in your car

Combination dusting tool

Mattress tool

Mini soft dusting brush

Extension hose

Battery charger

Docking station
Except,
The V8 Absolute also packs in a Soft Roller cleaner head. We will discuss the functions of this kicker later in this article.
The Head To Head Comparison Between Dyson V8 series
Let's just delve into the features of the Dyson V8 Animal and V8 Absolute.
We will investigate the performance of the models in relevant sectors. We will also review how the tools you just read about fit into the picture.
When you are done with this, telling the key differences apart would be a piece of cake!
Power (Dyson v8 Animal/Absolute)
The Dyson V8 Animal and the V8 Absolute have similar power configurations. They both accommodate Dyson V8 digital motors.
This new invention by Dyson allows the V8 line vacuum cleaners to perform with 75% more efficiency than the V6 line.
Both vacuum cleaners are engineered to achieve a maximum suction power of 115AW combined with their new lithium-ion battery.
We will find out more about the battery in a while.
Read now: Dyson v8 vs v6
Best Build & Design? Dyson v8 animal OR v8 Absolute?
The build of the V8 Animal and the V8 Absolute is quite identical. The dimensions are 250 mm x 1244 mm x 244 mm. Both of the vacuum cleaners weigh 2.6 kilograms.
The weight is fair, even impressive, provided all the amazing features and superior hardware.
Yet there is room for improvement. There is no such thing as too light a vacuum cleaner, is there?
The V8 line is the latest of Dyson's cordless ranges. The Animal and the Absolute both give you the pleasure of not having to drag a cord up and down the stairs.
This cordless feature helps you avoid tripping over cords and making a mess.
The vacuum cleaners can also be converted into the handheld. Wieldable, portable and simple!
As we have said before, Dyson provides a detachable wand with both models.

The wand is really useful for cleaning high and hard-to-reach surfaces. Attach the wand to your vacuum cleaner and leave no stone unturned in cleaning up.
Upon finishing, detach the wand, and you have your portable and compact vacuum cleaner back!
Adding and removing different tools and brushes are done with the simple click of a clip.
There is a switch on the top for adjusting suction power.
It's safe to say the Dyson V8 vacuum cleaners demonstrate a futuristic design.
Appearance
While the build remains identical, we can tell them apart by their different appearances.
The V8 Animal comes in metallic silver color. The V8 Absolute has a more vibrant outlook in an orangish-yellow color.
Which looks better to you will boil down to your personal preference.
Filtration
Dyson's patented Cyclone technology is built into the vacuum cleaners for filtration. A set of 15 Radial Cyclones arranged into two tiers sucks dirt from the air and carpets like no other vacuum cleaner.
However, Dyson did not just stop at that. The Animal and the Absolute both contain superior HEPA filters as well. HEPA stands for high-efficiency particulate air.
The HEPA filters work by pulling air through a fine mesh and catching even the smallest dust particles.
Here's one example of how efficient these filters are. HEPA filters can remove tobacco smoke from the air.
So the HEPA filters not only catch dust and dirt; they also purify the air we breathe. To top that off, Dyson has made these filters washable!
It is healthier to have one of those lying around the house, isn't it?
Img Source: TrustedReviews.com
The Dyson V8 Animal was made keeping pet owners in mind. If you have a pet, you know the struggles of getting pet hair everywhere. Mostly they are scattered across the house and hard to spot.
Pet fur can sink deep into the carpet fiber. If it gets too extreme, you sometimes find pet hair in your food.
Pets or not, carpets get dusty all the time. The V8 Animal sports a direct-drive cleaner head for cleaning carpets. In a direct drive system, the brush bar itself contains the motor.
The nylon fiber of the brush separates carpet fibers and removes dust with powerful suction.
The nylon and carbon-made brush performs great on hard floors too. For cleaning stairs and upholsteries, the mini motorized brush bar does a great job. The crevice tool is for reaching and cleaning odd, inaccessible spots.
At the normal suction setting, the Animal performs well enough for regular cleaning needs. That, too, is at a very low noise level.
However, on the max suction setting, battery consumption increases, as does the power of the motor. It exhales more hot air through the back. The noise level rises a significant amount.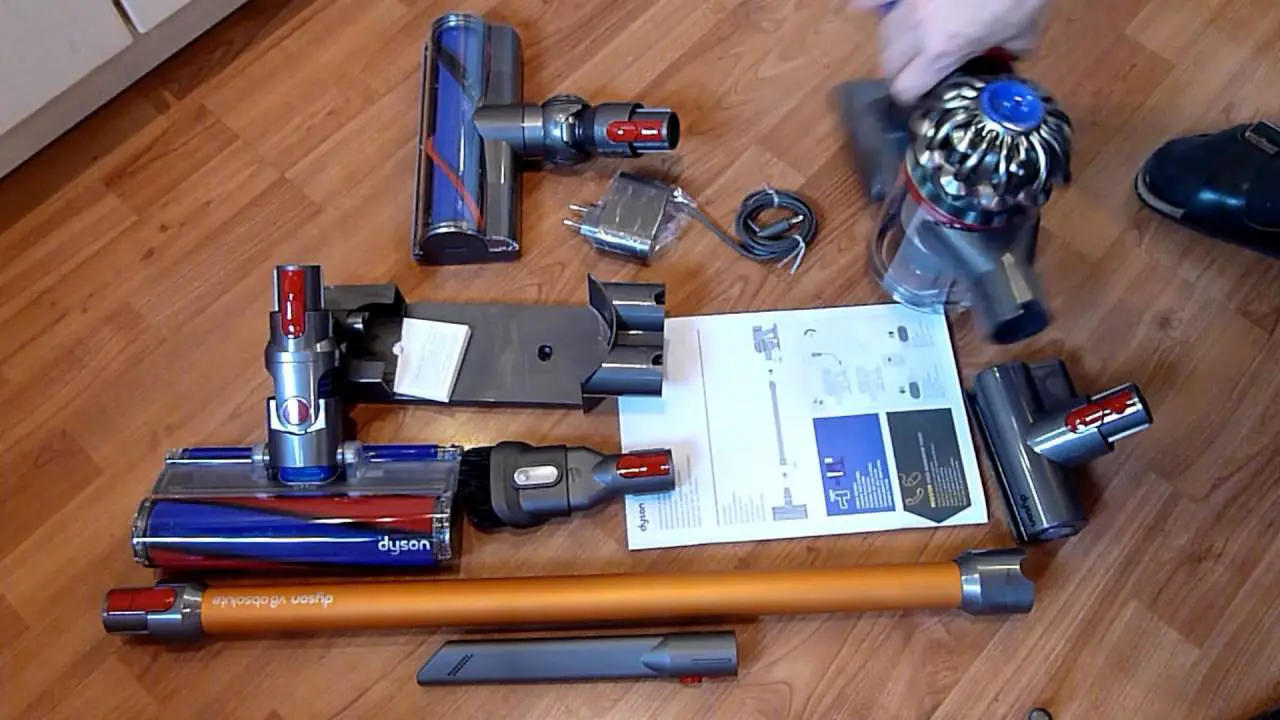 Image Source: Youtube
The Dyson V8 Absolute does everything the V8 Animal does and much more. You get the direct drive technology. All the brush bars and tools are there too.
Performance is almost identical to that of the Animals in different power settings.
The V8 Absolute is just as efficient in cleaning as the V8 Animal.
But,
Do you remember the Soft Roller cleaner head?
The direct-drive soft roller cleaner head is the bonus tool with the V8 Absolute. It is designed to clean hard surfaces. A powerful motor is located within the roller.
It gets the job done exceptionally well by quickly removing fine dust. The soft material of the roller head also ensures your floor doesn't get scratched while cleaning.
Bin Volume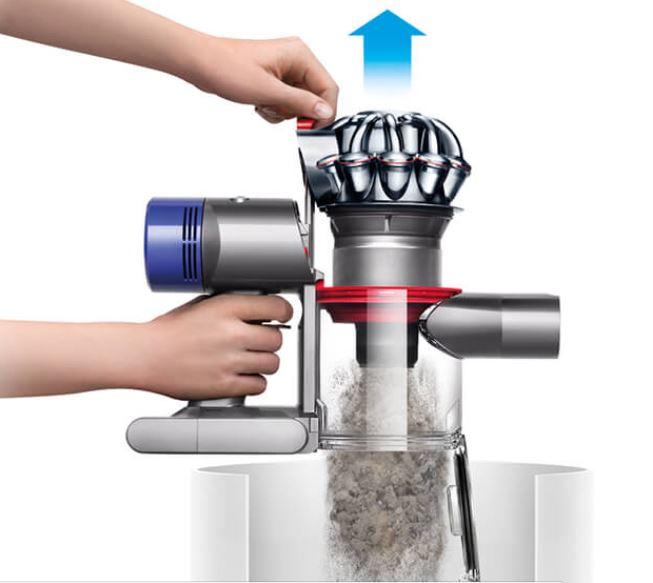 The V8 Animal and the V8 have similar bagless receptacles. The bins' capacity to hold dust is 540 ml.
The bin may seem small upon looking at it. But in most cases, it has enough capacity to clean an average house in one session. For bigger houses or messier conditions, it may need emptying during the session.
Ejecting dust from the bin is as simple and hygienic as possible.
You set the bagless receptacle upside down on a bin. Pull the red lever, and the cyclones will lift. Dust will eject from the receptacle. Pull the cyclones down again, and you are good to go.
Battery
The lithium-ion batteries of the V8 Animal and V8 Absolute perform more or less the same under different settings.
While operating with non-electrical tools, like the crevice tool and dusting brush, the vacuum cleaners can perform for up to 40 minutes.
With the motorized tools attached, like the soft roller cleaner head and carpet cleaner head, they operate for about 25 minutes.
On the max setting, the runtime reduces to only 7 minutes.
The battery life seems enough to power a cleaning session of an average house.
If you are a slow cleaner, you may sometimes find the battery worn out. The V8 line models could use some improvement in this sector.
It takes up to 5 hours to fully power up the battery. Dyson provides a docking station for charging and holding vacuum cleaners.
The docking station is nice. It can be mounted on a wall or a cupboard.
Price
Both of these models are rather expensive compared to other vacuum cleaners of similar features and designs. But Dyson delivers top quality and provides a 2-year warranty with each purchase.
It is up to you whether you want to spend this much on a premium vacuum cleaner or not.
Key Differences between the V8 Animal & Absolute
Now that you have read our previous segments, you know that the Animal and the Absolute are not very different from one another.
The outlook of the models is different due to color schemes. Performance-wise, the main difference is the soft roller cleaner head that gives the Dyson V8 Absolute an advantage over the Animal.
Which is the Right Choice for YOU?
We said earlier that Dyson V8 Animal is targeted toward pet owners. You can disregard this little detail.
Even if you do not have a pet, the V8 Animal is an effective device for cleaning the average house.
If you live in a relatively small apartment and your floor is mostly carpeted, you can't go wrong with the V8 Animal.
On the contrary, if your place has a lot of space, polished hard floors and a dustier environment, go for the V8 Absolute.
What Do We Know about Dyson Vacuum Cleaners?
Here is an interesting story behind how Dyson Ltd came into existence. In 1979, designer James Dyson purchased a vacuum cleaner that was supposed to be the most powerful.
But in practice, it delivered a very poor performance.
Out of frustration, he decided to build the ultimate vacuum cleaner himself. He hypothesized that he could apply the principle behind cyclonic separators to build it. He designed a prototype, and it worked.
It took him 8 years to develop the first Dyson vacuum cleaner to be marketed. A few years later, Dyson Ltd. became the #1 vacuum cleaner manufacturer in Britain. Today the company is a giant in the home appliance industry.
Related guide: My Dyson stopped working.
Conclusion – Which is the Best Vacuum Cleaner?
The whole point of the Dyson V8 Animal vs. V8 Absolute review was to find the best vacuum cleaner.
The V8 Absolute features a soft roller cleaner head. It is a great twist to throw in with the same features as the V8 Animal.
As it can deliver an efficient cleaning on the most delicate surfaces, we think it is worth paying the extra 50 bucks for.
The V8 Animal is a great vacuum cleaner. Yet the Absolute is still a better one. If you can afford it, best you get it.
| Dyson V8 Model | Check At Amazon.com |
| --- | --- |
| Dyson V8 Absolute Cordless Stick Vacuum | Check now |
| Dyson V8 Animal Cordless Stick Vacuum | Check now |

Hi, This is George. Founder Of Vacuumist.com. Completed my graduation in Bachelor of Business Administration. Proud father of two lovely baby girls. Reviewing home appliances is my passion. Developing this blog to update and publish my recent reviews and research. Stay in touch.