Plenty of fish in the sea and hundreds of vacuum cleaners on Amazon. In this age of advanced home appliances, saying it is difficult to find the best vacuum cleaner would be an understatement.
Still, we have to try. Today I have picked two of Dyson's best-reviewed lines – Dyson V6 and Dyson V8.
To start our hunt for the best vacuum cleaner, I will guide you through a Dyson V8 vs. V6 detailed comparison.
If you do not have time for the breakdown analysis, just skip to the end and view the comparison chart.
In a Hurry? Let's get a quick overview,
The Dyson V6 vs. V8 Comparison Guide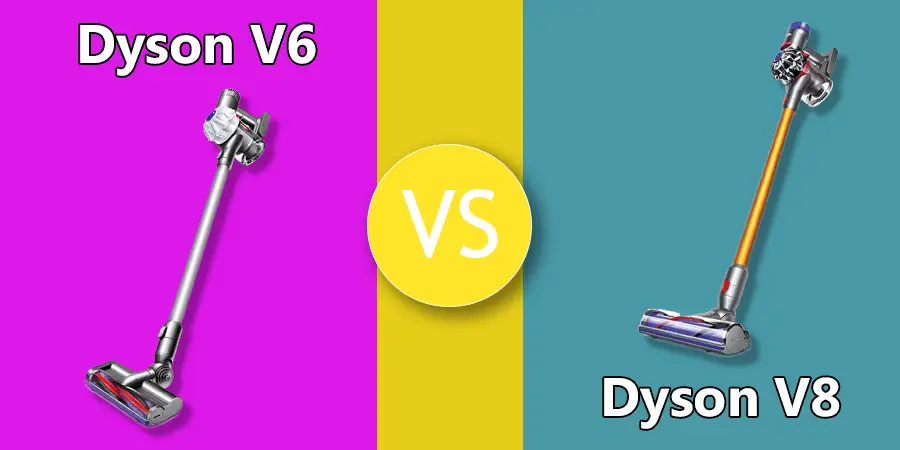 Dyson's V6 range was meant to upgrade the DC59 vacuums. One of the many attractions of the V6 series is its small, cordless, and super maneuverable body.
Dyson aimed at packing a powerful motor in a compact package with upgraded tools and attachments. And boy, did they succeed!
Despite the small body, the V6 series is big on performance. Amazon has at least ten V6 variants, each with a different combination of attachments. I am going to feature the two most popular ones in this article –
V6 Cord Free and

V6 Motorhead
Let's go over the main features of each variant. Then we can pit them against the V8 models to find the ultimate winner.
Dyson V6 Cord-Free/Basic – What's Common in all V6 Variants?
The V6 standard model is the base of all other V6 variants. The later variants include the same basic features but combine them with some new ones.
The basic V6 model features Dyson's patented cyclone technology and HEPA filtration. Its digital V6 motor rotates up to 11,000 times a minute.
The new technology of the powerful digital motor, combined with 15 cyclones arranged in two tiers, provides strong air suction.
Fine dust is captured along with bacteria and allergens. The post-motor filter picks up any dirt that is left.
The whole machine sports a sealed system so captured allergens don't escape into the clean air.
The basic V6 can be held and used in multiple ways. Dyson made sure of that with the vacuum cleaner's new design tweaks.
This versatility of form isn't just limited to the basic version, though. All other V6 models, too, can be converted into a handheld. Ceilings and hard-to-reach areas are not off-limits anymore.
The V6 standard model can run up to 20 minutes in regular cleaning mode. In the max setting, however, the vacuum cleaner runs for up to 6 minutes providing a strong suction of 100 air watts.
It takes up to 3.5 hours to fully recharge the battery.
The bin size is not impressive at just 0.11 gallons. But emptying it is less hassle. You push a button to dump the waste.
What's New in Dyson V6 Cordless Motorhead?
Holding all other things the same as the basic model, the Dyson V6 Motorhead introduces a motor with 75% more power than the basic.
This motor is located inside the cleaner head itself, allowing for deep cleaning. It is called the direct-drive cleaner head.
Dyson V6 Motorhead has an additional crevice tool to clean all unreachable areas.
The Dyson V8 range made its debut in 2016. It upholds Dyson's most recent innovations. There are currently two models in this series – V8 Animal and V8 Absolute.
One of the most important improvements from the V6 to the V8 is its enhanced battery life.
Dyson paid heed to the complaints of V6 users about the receptacle being too small. The V8 range vacuum cleaners can finally redeem Dyson with their larger bin volume.
There are other significant improvements in the V8 line. We will explore them in the Dyson V8 vs. Dyson V6 head-to-head comparison.
Dyson V8 Animal
Dyson V8 Animal claims to be designed for households with pets. Two new attachments have been included in this variant, especially for removing hair from your carpets and furniture.
A soft dusting brush and a mini motorized tool are the additional accessories that come with the package.
The mini motorized tool has stiff bristles to agitate pet hair from the depths of your carpet or upholstery. The soft dusting brush carefully removes hair without scratching the surface.
A crevice tool also comes with the package.
Dyson V8 Absolute
Dyson saved its game-changing feature for the Absolute variant just like it did with the V6 series.
The V8 Absolute has the same configuration as the V8 Animal. Only it has one additional tool – the soft roller cleaner head.
Also known as the 'fluffy tool,' this cleaner head was specially designed to clean hard floors.
Enjoy reading: Dyson stopped working after cleaning the filter
Dyson V8 VS V6 – Detailed Comparison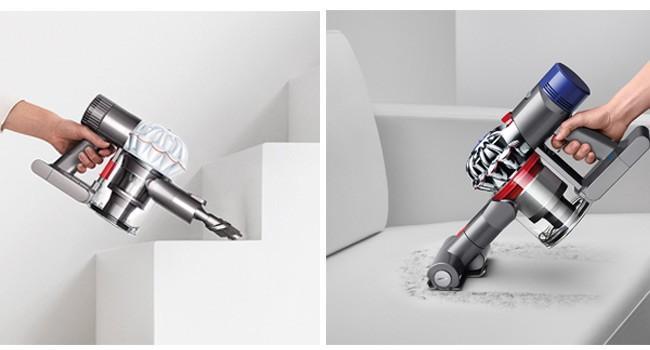 Now that you have discovered all the variants of each Dyson vacuum cleaner series, it's time for our most anticipated head-to-head comparison.
If you have read the segments above, it is clear that the Dyson V6 Motorhead and V8 Absolute are the best candidates for each series.
It is only logical to compare these models to see how the Dyson ranges fare against each other.
Power
As you recall, the motor equipped inside the Dyson V6 variants produces 100 air watts.
The Dyson V8 range introduced an upgraded, more powerful motor with a maximum suction of 115 air watts. 15 cyclones sorted into two tiers are present in both series.
Cleaning Performance
Since Dyson V6 and Dyson V8 both series have similar tools and attachments, it's a bit difficult to understand their respective capabilities to clean different surfaces if you haven't seen them in action.
Carpets: Dyson V6 Motorhead has a motorized brush bar for generating powerful suction while deep cleaning carpets.
Although the V6 cleans carpets fairly well, it lacks agitation compared to the V8. In practice, the V8 has outperformed the V6 on the carpeted surface.
Fine dust meshed with carpet fabric is one of the hardest cleaning tests a vacuum cleaner can face. The V8 had no problem sucking the fine dust off of carpets.
Hard Floors: The V8 line has an obvious advantage in this arena. The soft roller cleaner head ensures your expensive hardwood floor is cleaned with care.
It has an open front that allows it to pick up large debris instead of just pushing it around. The fluffy part ensures that your floor remains unscathed.
The soft roller cleaner head also picks up tiny debris from the floor cracks with ease.
Pet hair removal: The V6 variants lack the soft dusting brush and mini motorized brush bar that come with Dyson V8. These tools separate and pick up pet hair from carpets, rugs, and upholstery.
Hard-to-Reach Spots: The V6 and V8 come with crevice tools to clean hard-to-reach spots. One thing gives the V6 an advantage over the V8. It's the vacuum cleaner's slightly lighter weight.
It makes holding the stick upwards easy while cleaning ceilings.
Noise Level: The V8 range makes half as much noise as the V6 series while operating. Thanks to Dyson for using air blade multipliers to make the machine quieter.
Winnner: Dyson V8

 
Bin Capacity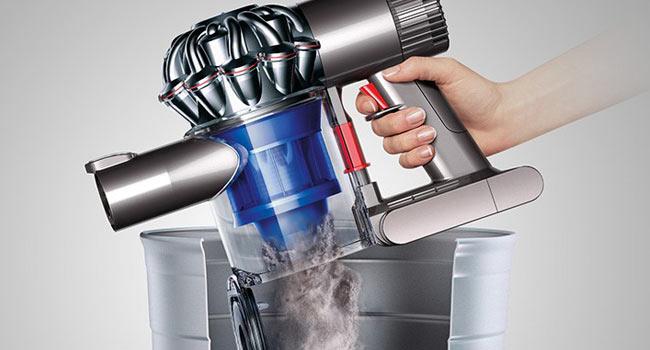 Dyson V8 has introduced an improvement in the bin capacity sector. The previous V6 series had a bin volume of 0.11 gallons.
If you were to clean multiple medium-sized rooms, you would have to stop and empty the bin a couple of times during the session.
It becomes even more of an inconvenience while dealing with pet hair, as the bin tends to fill up quickly.
The V8 series has a larger 0.14-gallon bin capacity. It holds more dirt and has to be emptied less frequently.
Both the Dyson series have sealed receptacle technology. Dust and allergens do not leak out of the machine once captured.
The V6 line was able to dump dirt with the push of a button. You did not have to touch the bin with your hands to empty it.
Cool, but it did not always get rid of all the dirt. Sometimes dirt is stuck around the edges of the bin.
The bin emptying process has been made more hygienic and simple in the V8 line. When you pull the lever, the bin's surface pushes and dislodges the dirt. Then the bottom door opens, and dirt is dumped.
Filtration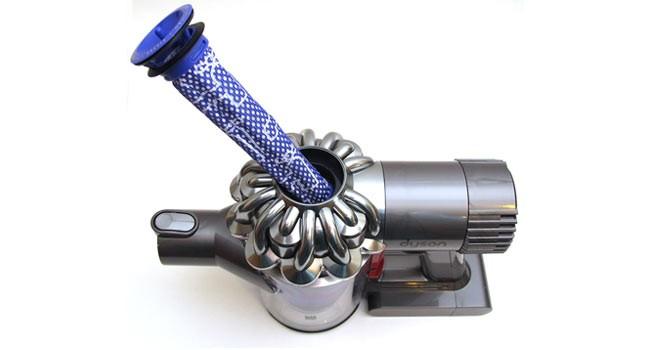 Dyson V6 and V8 both use HEPA filters to complement their cyclone technology. For houses with dust-sensitive and allergic residents, a vacuum cleaner with HEPA filters would be fantastic.
The cyclones blow dirt and dust out of the air with strong suction. It then gets transferred to the filtration system. HEPA filters push air through a fine mesh and capture the tiniest dirt particles.
They can remove 99.9% of allergens from the air you breathe. If you live near an industrial area or anywhere with a chance of air pollution, get a vacuum with HEPA filters.
Dyson included post-motor filters in both ranges. The post-motor filter captures any dirt that is left behind.
It is a tie between the vacuum cleaners because they have identical filtration systems.
 Best Battery? V6 Or V8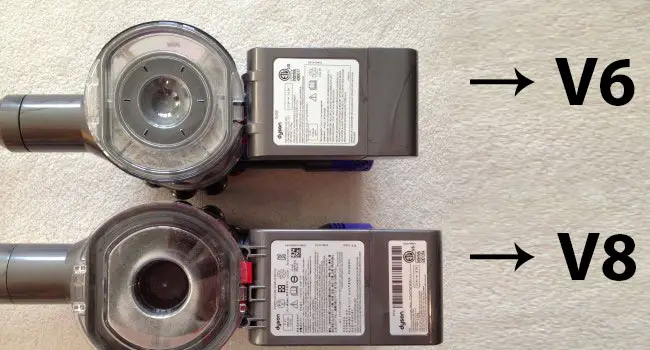 As I have said earlier, the V8 has improved battery life. Dyson geared the V8 with nickel cobalt aluminum batteries, whereas the V6 was powered by a lithium-ion battery.
The new battery ensures the V8's unfading performance throughout the total run time.
In the standard setting with non-electric attachments, Dyson V8 can run up to 40 minutes. It is double the time V6 can run.
With motorized tools, the V8 runs for up to 25 minutes. The V6's runtime with a similar tool was significantly low at just 14 minutes.
In boost mode, the V8 uses its maximum suction power and provides an outstanding cleaning for 7 minutes. The V6 runs for up to 6 minutes in a max setting.
Dyson V8 provides a longer run time, but it has to be given a longer recharge. The machine takes up to 5 hours to be fully charged. The V6, for that matter, takes only 3.5 hours.
Both series come with docking stations. The docking stations can be mounted on a wall for convenient placement.
Weight
The V8 is slightly heavier at 5.75 pounds. The V6 is lighter at 5.1 pounds. Both of them are light and maneuverable. Both can be converted into handhelds.
 Price
There is no way to sugarcoat this, Dyson V8 is expensive.
I can't call the V6 cheap, either. But it surely costs fewer bucks depending on the variant.
Dyson V6 vs V8 – Differences at a Glance
| Feature | Dyson V6 | Dyson V8 |
| --- | --- | --- |
| Power | 100 AW | 115 AW |
| Filtration | HEPA | HEPA |
| Bin Capacity | 0.11 gallons | 0.14 gallons |
| Weight 5.1 lbs 5.75 lbs | 5.1 lbs | 5.75 lbs |
| Battery | Standard – up to 20 minutes With Motorized tools – up to 14 minutes Max setting – up to 6 minutes | Standard – up to 40 minutes With Motorized tools – up to 25 minutes Max setting – up to 7 minutes |
| Recharge time | 3.5 hours | 5 hours |
| Price | Shop now at Amazon.com | Shop now at Amazon.com |
Who Should Get Dyson V6?
If you live in a small apartment with no expensive hardwood floors, go with the V6. You do not need the soft roller cleaner head for carpeted or bare floors.
The 40-minute run time of the V8 would not be necessary while cleaning a two-bedroom apartment. The V6 takes less time to be powered up again as well.
Who Should Get Dyson V8?
If you are living in a fairly spacy house with multiple cleaning areas, go with the V8. It would be best if you had a larger bin and improved battery life.
You cannot stop mid-cleaning and wait a couple of hours for the vacuum cleaner to be recharged, can you?
Final Verdict – Which is the Superior Series?
Dyson V8 is clearly the superior series of cordless vacuum cleaners in terms of performance, power, and battery life.
| Dyson Models | Check At Amazon.com |
| --- | --- |
| Dyson V6 MotorHead | Check now |
| Dyson V6 Absolute Cordless Stick Vacuum | Check now |
| Dyson V8 Absolute Cordless Stick Vacuum | Check now |
| Dyson V8 Animal Cordless Stick Vacuum | Check now |

Hi, This is George. Founder Of Vacuumist.com. Completed my graduation in Bachelor of Business Administration. Proud father of two lovely baby girls. Reviewing home appliances is my passion. Developing this blog to update and publish my recent reviews and research. Stay in touch.