Vacuum Cleaners have become a very crucial priority in our day-to-day life. We are all busy with our work, and we get less time to clean our house.
But cleaning is necessary, and this is where vacuum cleaners support us. But purchasing a Vacuum Cleaner will cost you a handsome amount of money.
Are you investing in the right product? Is the model of the vacuum cleaner worth your money? Will it fulfill all your requirements?
To choose the right vacuum cleaner, you have to learn about the detailed features of the cleaners.
Here, we have presented 5 different React series products of the Vacuum Cleaner Company Hoover and compared and reviewed them. Have a look!
Hoover React Series Comparison Table
We are presenting a comparison chart so that it becomes easy for the readers to understand the basic details of the recommended vacuum cleaners.
| Standards | QuickLift | Professional Pet Plus | Cordless Stick | Powered Reach | Steerable Bagless |
| --- | --- | --- | --- | --- | --- |
| FloorSense | Yes | Yes | Yes | Yes | Yes |
| WindTunnel Surge | Yes | Yes | Yes | Yes | Yes |
| Dirt Cup Capacity | 1 Liter | 1.5 Liter | 0.62 Liter | 1.5 Liter | 1.5 ml |
| Lift/Non-Lift | Lift | Non-Lift | Wall Mount | Powered Lift | N/A |
| Cord Length/Battery | 25 ft. | 30 ft. | Lithium Ion | 30 ft. | 25 ft. |
| Hose Length | 7 ft. | 10.5 ft. | N/A | 6 ft. | 8 ft. |
5 best Hoover React Vacuums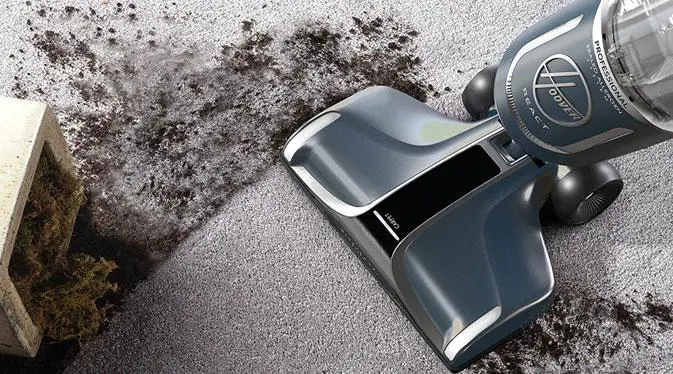 1) Hoover React QuickLift Bagless Upright Vacuum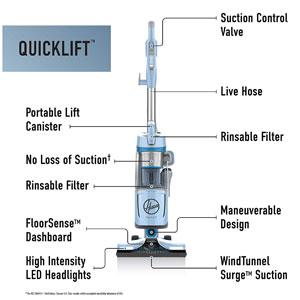 Provides the facility for lifting

Convenient

Includes cord of 35 ft

The hose length is 7 ft.

Comes with a dust brush, turbo tool, and crevice tool
The Hoover React QuickLift Cleaner will make a great combination of the suction and the power you are searching for.
It does not only clean rather it has intelligent technology added to make your home dirt-free. The FloorSense technology is added with this best vacuum cleaner of Hoover.
The micro-sensors of this vacuum can easily identify the floor types.
It works according to the floor type, so there is no reason to think about which one you should get for your floor type.
It has the to power automatically adjust the brush roll in order to get the best benefit from the cleaner on any type of floor. Get the Hoover app on your phone and control your device!
As it is named as QuickLift, it supports the name. It has the Portable Lift Canister included with it.
This device is very easy to store. You can also get the opportunity of customizing the way of your cleaning process with this kit.
Do you have a pet? If you have a pet, then get this Hoover Vacuum as soon as you can. For pet hair, this amazing product has got the WindTunnel Surge. Multi-Cyclonic Technology ensures proper suction.

The Hoover React QuickLift Bagless Upright Vacuum is, however, a little heavy for some people. If you cannot hold devices that are a little heavy, then do not go for this.
According to the customers, it does not go for the hard floor as well as it goes for the other types of floors.
We recommend it to you if you have a large house and you are not worried about bearing heavyweight.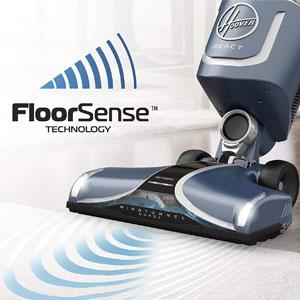 Provides the facility of 1.5 ml dirt cup

This is a large professional cleaner

Includes cord of 30 ft.

The hose length is 10.5 ft.

Comes with a dust brush and deluxe crevice tool

Best for pets as it includes a pet turbo tool and a pet upholstery tool
There may be a lot of brands of vacuum cleaner that provides the features for your pet, but the React Professional Pet Plus, Upright Cleaner by Hoover, is truly a PRO among the vacuum cleaners for a pet.
The incredible technology named FloorSense has also been added to this vacuum cleaner to gear up the procedure of your cleaning.
This sensor allows your cleaner to know the floor type and sensor it. It acts according to your floor type. This is a full-sized cleaner in the professional model.
For capturing the dirt, this cleaner has got the WindTunnel Surge too. This allows the cleaner to clean the pet's hair devotedly.
The suction power is the best thing about this cleaner. The suction power is high and perfect for sucking all the dirt from the floor.
If you download the Hoover app, you can control the vacuum as per your requirement. This cleaner includes a dust brush along with a pet turbo tool. The pet upholstery tool also helps you clean pet hair.

If you have issues with the storage, then do not select this as it is a full-size cleaner and you cannot easily store it without a large place for storing it.
This cleaner will go for any large house as it has a long cord. We recommend it for a large house.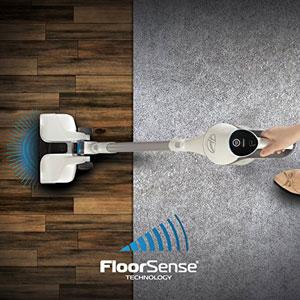 Includes the facility of FloorSense

Has dirt cup of 0.62 liters

Includes the feature of wall-mount

Has lithium-ion battery
Are you searching for a cleaner that is easy to bear and use? Do you want to clean every part of your house? If the answer is affirmative, then go for a cordless cleaner.
Which cordless cleaner? Undoubtedly choose the Hoover React Whole Home Cordless Stick Vacuum Cleaner.
According to our Hoover React cordless reviews, this cordless model is one of the best vacuum cleaners by Hoover.
It is a combination of suction and power. This cleaner is made for your whole house, and so the dirt cup is made in the XL size. Its capacity is approximately 0.62 liters.
The cleaning path of this Hoover Cordless Vacuum is wide, and the runtime is moderate. It also ears the Hoover FloorSense Technology that acts according to your floor type.
As it is cordless, it does not have a cord, and it runs on a battery. The battery is of Lithium-Ion. The filter requires cleaning before use. It can be run by the Hoover app.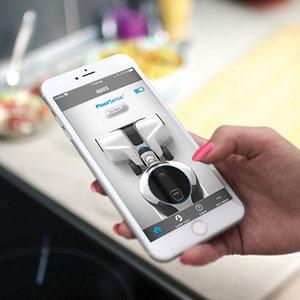 The negative aspect of the cleaner is the battery. Though it is of Lithium-Ion, the battery will not run for cleaning a large house.
You have to recharge it again to use it for cleaning the whole house.
We recommend it for every size of the house. As the dirt cup is XL, it can clean up large houses. In this perspective, you have to recharge it in the middle.
It can also clean small houses as it is run on a battery.
For small houses, it will be the best because you can store them anywhere you want. It has a wall mount. People who want something lightweight can get this.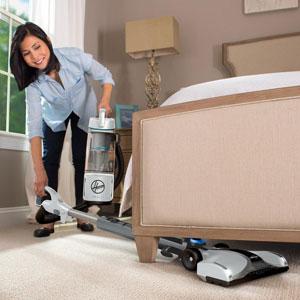 Provides the facility of a nozzle for better cleaning

This is a large cleaner with a 1.5-liter dirt cup

Includes cord of 30 ft.

The hose length is 6 ft.

Comes with a dust brush, hard floor duster, and flexible brush

Includes XL crevice tool with powered start tool

Has a baseboard duster with an accessory bag for storage
Just like the other cleaner by Hoover, this cleaner is also the best at doing its job. This cleaner, named Reach Premier, is an upright vacuum cleaner that comes in blue.
It is maneuverable, and it also has an amazing technology called FloorSense to understand the requirement of your floor.
It is very easy to use and very much convenient. The canister is removable from this vacuum, and it includes powered floor nozzles.
This nozzle can get reached anywhere and clean that surface properly.
The water tank of this cleaner is about 1 liter. The cord is about 30 ft, so large houses can take advantage of it.
Powered Lift technology is used in this cleaner. Hoover app also runs with Premier Upright Cleaner.
The accessories include a dust brush along with one flexible dust brush. It also has an accessory bag with it.
This cleaner is very much heavy. If you are a person who cannot carry a heavy vacuum cleaner, then you should avoid this.
This cleaner is great for a large house as it has a large dirt cup. The cord is also 30 ft. You can clean your whole house at once.
This multipurpose cleaner will be best for you if you want to clean places where the regular cannot reach.
5) Hoover React Steerable Bagless Upright Vacuum Cleaner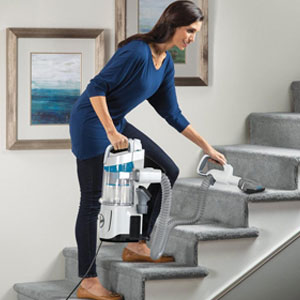 Provides the facility FloorSense

This is a full-sized cleaner

Includes long cord.

The hose length is

Comes with a dust brush and one flexible brush

A crevice tool is also included
Are you finding any vacuum cleaner which has a sealed allergen system?
If yes, go for this Hoover React Steerable Bagless Upright Vacuum Cleaner.
This cleaner is an amazing deal as it has a sealed allergen system that locks all the dirt gathered inside the dirt cup.
You will never face the dirt hovering around the air after cleaning. It will only provide you with fresh air.
This cleaner is also best for pets as it has gone through tests for PAWS and CALWS. No matter what floor type you have, close your eyes and choose this Hoover React Cleaner for an ideal deal.
This cleaner has Hoover's FloorSense technology so that you can rely on the sensors of the cleaner. It will know what floor type you have and do its job according to that.
The suction power of this cleaner is commendable with multi-cyclonic technology.
This does not keep any dirt or hair at your home. The device is maneuverable, and the cleaner is very easy to use.
The best part about this cleaner is the vacuum is full-size, but the weight of the cleaner is less than any other full-size cleaner.
If you are compatible with the Hoover app, then all you need to do is install it and go for it.
With this app, you will not require to use the Hoover cleaner manually. Rather, you can order your cleaner through the app. You can also schedule the cleaner to work for you when you are not home.
Though the cleaner is not as heavy as a full-sized cleaner, it is heavy enough to bear.
The people who cannot bear heavy stuff cannot carry this for cleaning purposes. The removable wand can make it difficult to clean.
We recommend this for people who have a large house and a good storing area.
Hoover React Vacuum Cleaner Maintenance
Hoover is a versatile brand of the vacuum cleaner. But maintenance is very important if you want your cleaner to serve you for so many years.
Whenever you want to clean the floor of your house, remember that the floor should not be blocked by debris.
Most Hoover cleaners provide a long-term warranty.
This warranty is proof of their quality. But if you do not properly use your cleaner, then all the money that you have invested o the vacuum cleaner may get wasted.
You always need to treat the cord of your cleaner carefully. Do not let the cord get tangled.
If you are a new Hoover user, go through the React Manual or Manufacturer Handbook.
Do not expect the cleaner to clean large objects such as coins or socks. Pick them up before you use the cleaner. Clean the filter of your vacuum cleaner regularly. You have to change the filter if it is required.
If any difficulty occurs while using your cleaner that you cannot solve, then you can also go for Hoover React Troubleshooting.
You can also go to the dealers for the work of troubleshooting the device.  
Hoover React Comparison
Our Hoover React Reviews are not only for Hoover, but here we will also tell you about the other brands of Vacuum Cleaners.
When it comes to the comparison of vacuum cleaners, the names that stand up high with the Hoover are the Dyson and the Shark.
These are the best brands of vacuum cleaners in the market now. These brands have incredible features and amazing attributes that can blow your mind away.
They provide top-notch technologies and up-to-the-minute skills to provide ideal performance.
Are all vacuum cleaners the same?
Is the no difference between them?
No, not all vacuum cleaner brands are the same. Different technologies are infused into their product to make them the best brand.
So why would you choose Hoover?
Yes! Let us know why Hoover is the best for your house.
Let us talk about the comparison between Hoover and Dyson. Hoover has been leading the market for more than 100 years. In that comparison, Dyson is a new brand in the market. So, we can say Hoover has more experience in this field.
The cleaners of Hoover seem larger when they are compared to the Dyson Vacuum Cleaners.
Hoover will afford you bagless and bagged cleaners, while Dyson will only be able to afford you bagless models.
In most of the cleaners, Hoover uses longer cords than the Dyson cleaners. Hoover also provides you the opportunity to choose between different heights settings which the other brands cannot.
If you compare Hoover with Shark, you will get to know that Hoover provides additional features than the models of Shark can provide you.
Hoovers are versatile because you can get corded, cordless, canister, upright, stick, handle-held, or any kind of model. Shark is not able to provide you with such varieties.
Unlike Shark Vacuum Cleaners, Hoovers are much more affordable.
Final Words
The work of a vacuum cleaner is to clean your house and comfort you. It also works to save you time.
If you are going to invest money in a Vacuum Clean, which is expensive, do a little research before purchasing it.
We have recommended the best 5 vacuum cleaners by Hoover. Know your necessities and then choose any one of them as all of them are the best!

Hi, This is George. Founder Of Vacuumist.com. Completed my graduation in Bachelor of Business Administration. Proud father of two lovely baby girls. Reviewing home appliances is my passion. Developing this blog to update and publish my recent reviews and research. Stay in touch.