John Deere is a well-recognized brand for a lawn tractor for its reputation of manufacturing great entry-level tractors and being accessible through Home Depot.
Curating a range of series and a variety of models within each series, they offer something for everyone. 
As a reputed competitor in the entry-level market, john Deere produces some great tractors that are strong contenders for the other models produced by their competitors like- cub cadet, artisan, Husqvarna, etc.
Here, we are focusing and comparing two of the most popular choices from John Deere- s240 and x350. 
John Deere s240 vs x350 – Comparison Guide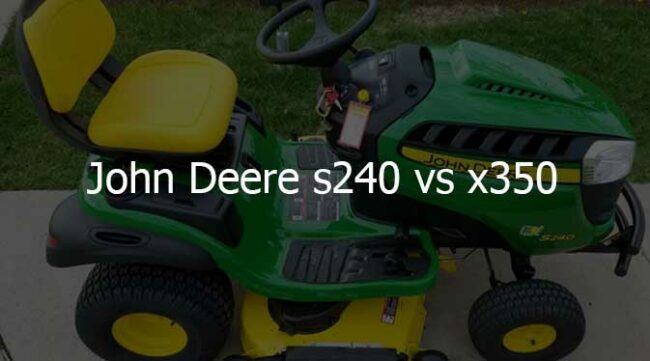 John Deere s240 
After launching their popular 100 series with a high volume, this S240 sport by John Deere is the upgraded version from the 100 series.
The existing 100 series already had a great market reputation and was quite affordable too, though had some limitations.
Although their 300 series introduced some features to recover those shortcomings of the 100 series, they came with a hefty price tag as well. 
With the launch of this s240, John Deere was able to meet a middle ground for the customers who wanted something more than what the 100 series offered, but without having to spend as much as on the series 300. 
When you take a look at the s240 tractor, you will see the welded steel frame that holds the body of the tractor. The frame is made of a mighty cast iron axle that gives you a strong and inflexible build. 
This vehicle is powered by a V-twin Kawasaki gasoline engine and has electric ignition. It can displace 603 ccs and can offer a horsepower of 18.5 with 3600 rpm.
As a bonus, there is an in-fuel filter attached so that the contaminants cannot pass through while fuel refilling. 
As for the performance, the CARB-certified powerplant assures the s240 to run very smoothly and effortlessly.
On top of that, the lubrication in this vehicle is pressurized and added with a spin-on filter to help you with even lubrication for operating the vehicle. 
s240 specifications
18.5 horsepower, 13.8 kW
V-twin cylinders with iron liners
Automatic choke return
Separate levers for speed control
Air cooling
No tools for oil draining
Type overhead valve
Oil filter, full-pressure lube
Governor mechanical
Weight: 208 kg. / 459 lbs. 
Price: $2499.00 
Pros
Reliable and study engine
Durable
Comes with a 4-year warranty
Includes an edge-cutting system
User-friendly
Ideal for residences
Cons
Not the best quality seat, might not last long
Inadequate frame protection on engine
John Deere x350 
This series by John Deere has 7 tractors and includes the maximum features and options that the manufacturer has to offer, not to mention the line being the latest and most advanced compared to their predecessor models and series.
For the premium quality this line offers, John Deere keeps the distribution only to their authorized dealers, not to any departmental stores or any other retailers where you will find the entry-level tractors. 
One of the key parts that distinguish an x350 is their heavier and stronger frames than the s240 series.
Besides, the transmissions you will find on these are also capable of more heavy-duty performance, resulting into easier and smooth deck lift mechanisms.
For this reason, you will find the hydraulic control pedal to be very comfortable and easy to work with, giving you effortless operations. 
 Similar to the body frame, the engine gives you very heavy-duty performance. the engines are made by Briggs & Stratton and Kawasaki, while the s240 series utilizes the Kawasaki engine. Briggs & Stratton powerplants are also used in the E and D series. 
X350 uses electric ignition and a cyclonic air filter. These are effective to keep the fine dust particles away while working. This also prevents premature damage and wear of the tractor. 
An interesting feature you will find in this x350 is the predicted reliability icons and owner satisfaction icons.
Predicted reliability icons give you hints on the estimated problem rates of your new vehicle. Owner satisfaction icons define the likeliness of your family members to recommend the vehicle.  
X350 specifications
Power: 18.5 horsepower with 13.8 KW. Includes iTorqueTM power system
Upgraded instrument panel
Fuel capacity: 3.3 gallons
42 inches' deep deck
Price range: $2999.00 – $3299.00 USD 
Pros
Durable and strong
The cutting length is easily adjustable so that you can shift the height as needed
Easy steering and accelerator
Comfortable and quality ride
Smooth performance and excellent results
Warranty of 4 years or 300-hour bumper to bumper
Cons
Very poor noise control, you'll need ear protection. We also advise not to operate during early mornings or late nights.
Jerks heavily while accelerating or decelerating, but this is a common issue with a lot of other lawn tractors as well. 
Final Words
In terms of engine and transmission, s240 and x350 are quite similar performing, but if you are very particular about it, you might find the engine of the x350 to be slightly more powerful.
Another benefit of the x350 is the larger mowing deck, which offers more efficiency and you can work effortlessly without having to spend a lot of time. 
The key points differentiating the two machines – s240 vs x350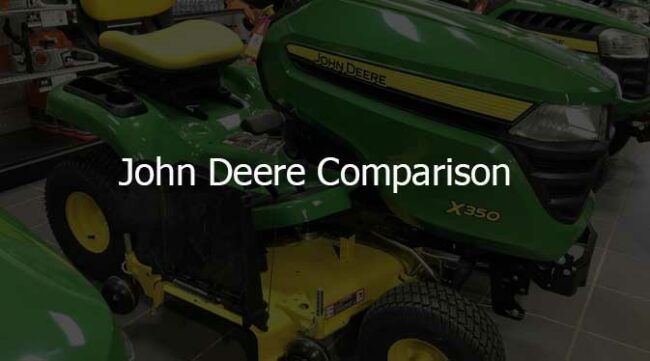 Cost: x350 comes with a higher price tag than the s240 one for its upgraded features.
Warranty: x350 has an extra year for a warranty
Convenience: the mowing deck is slightly larger in the x350 one than it is in the s240. Also, the deck-leveling setup is much handier to use. You also get the adjustable anti-scalp wheels to help you to remove the deck when needed. 
As for performance, both of them offer quite the same and you probably cannot tell much of a difference. We recommend you getting an s240.
When you need a well-performing lawn tractor for beginners.
If your requirements from the tractor are simple and basic, mainly need it for mulching the leaves and grass. 
If you are not fussy about the intricate features.
If having the chute or hopper system is not a priority.
Overall, if you are looking for a great lawn tractor that covers a standard area, mulches the leaves and grass for a regular household, you can opt for the s240 one as a simple and great performing tractor.
But if you are more particular about the upgraded features and do not bother to pay the extra price for the convenience, then x350 will not disappoint you. 
Faqs – (x350 vs s240)
42" or 48", which deck size should I choose?
If you are going to cover a large surface area, the larger the deck, the easier it is for you to mow. But if there is any narrow space at your house that is not wide enough for your 48″ deck to fit through, then opt for the smaller one. 
What machine should I use when I have to deal with a huge volume of leaves?
In this case, a lawn tractor with a bagger attachment may not be sufficient when you are handling lots of leaves. Consider using a powered tow attaching behind your tractor or using a power flow. This will increase the holding and shredding capacity and will help you deal with the huge volume of leaves more easily and effortlessly. 
Besides, adding some quality mulching blades is a good idea to handle the leaves. This can also be enabled with a side discharge. 
Would synthetic engine oil cause any issue with John Deere mowers?
No, you can use synthetic engine oil on your John Deere mowers. They specifically recommend you to use 5W30 or 10W30 regardless of the temperature and weather condition. However, this is not a replacement for regular maintenance and oil changes, you must carry them as suggested. 
Is hydrostatic transmission better for mowers or lawn tractors?
Hydrostatic transmissions are more helpful for driving compared to manual transmission. Shifting gears and throttle control can sometimes be complicated for a lot of people, that is why hydrostatic transmission is considered to be a more reliable option. 
What brand of engine does John Deere use in their lawn tractors?
Most of the heavy-duty engines and other pieces of machinery that John Deere uses are manufactured by themselves. For the machines that require less than 100 horsepower, they use third-party engine manufacturers like Kawasaki, Yanmar, and Briggs & Stratton. 
As a rule of thumb, when it comes to electronics, gadgets, or vehicles, opting for the latest or updated versions of a product is usually the better choice (there are exceptions, however).
As you have understood by now, the performance and efficiency do not drastically vary between John Deere s240 and x350. It comes down to your budget whether or not you are willing to pay the extra cash for the convenience and updated features. 
Enjoy Reading: