"Tight budget and perfection in cleaning do not go in parallel lines"- said the crowd once!
Who trusts that these days? No one!
The best deal now does not require money rather it requires some analysis and some inspection. Now, you can get the best deal within budget with use!
People are perplexed by the high price range and quality features of thousands of cleaners on the market, we are here to shower you with the best vacuum cleaners under $200!
We want you to experience the best products in the best price array.
Things to Consider Before Buying the Top Vacuum Cleaner under $200
Better things always cost more- a traditional belief goes like this. But things have changed and we all are in search of the best stuff at an affordable rate.
The concept of BEST changes from person to person. You cannot identify it to be the best one until it serves your needs.
We, here, will talk about your requirements because you are not here to waste effort and money on cleaners that don't fulfill your requirements.
Let us get in and know what you should know for buying a cleaner under $200.
User Requirements
It depends on you which one you want to go for. If you choose the best one and then suffer for the reason that it is affording everything else but not what you need, it will be a waste of money.
If you are a person who only requires vacuuming some rooms with carpeted floors, then any sort of regular vacuum cleaner will do it for you.
Different floor requires different treatments. If you want to serve both the carpeted floor and bare floor, you must choose something that has the feature of giving outstanding performances in both sectors.
If you want a cleaner that can help in the car or any small spaces then there are also specific models that afford you these aspects.
Type of the Vacuum Cleaner
There are bagless vacuum cleaners and bagged models. There are cleaners with regular air filtration and also with additional HEPA filtration for safety.
There are also canister models that can help you in cleaning the stairs.
For easy maneuvering, you can also rely on upright models. If you are not at home and want your house to be clean, you can pick up the robot vacuum cleaners.
Before you choose anyone, know the details of the type of vacuum cleaner.
Attachment Sector
Different vacuum cleaners come with different accessories. There is a cleaner that can only clean the hard floor and there are also cleaner that have added accessories for cleaning the carpet.
Some cleaners come with only dusting brushes and alternatively, there are also vacuum cleaners that can afford you accessories like a crevice tool, extended reach and etc.
If you have a pet, know that some cleaner is designed for your pet. These cleaners will offer you cleaning tools that gear up the cleaning of the pet hair and debris.
Weight
A person who has to clean both upstairs and downstairs must know the difficulty of bearing a vacuum cleaner. If you live in a house where you have to go up and down every time, you must select a cleaner that is lightweight.
You may feel that the built quality of the lightweight vacuum cleaner models is not high. If you think that, behold and think about it again. In modern days, you can see a lot of high-quality products that are actually lightweight.
Price
We didn't want to talk about the rice sector because all the cleaners we have mentioned are highly affordable with incredible performances. You can rely on these if you have a budget of $200. If you want something more reasonable then you can read our best vacuum cleaners under 100 dollars article.
Get in and let us know which one you want to pick up!
Best Vacuums under $200 – Reviewed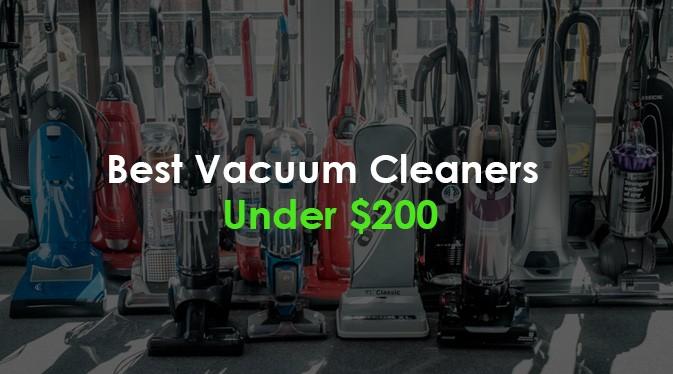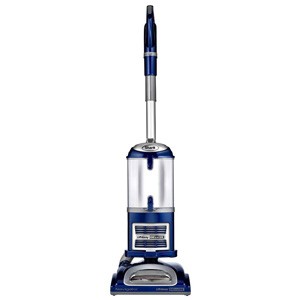 Weight: 125 pounds (Canister weight: 75 pounds)

Bin Capacity: 12 dry quarts

Batteries: No

Technology: Lift-away technology

Filtration: HEPA Filter

Included Attachments: 3 attachments

Warranty: 5 years limited warranty
Everything you want from a vacuum cleaner is here inside the Shark Navigator Lift-Away Deluxe Vacuum cleaner. All you need to do is press a button and you will get your house clean! As it is a lift-away cleaner, you can detach the canister and take it for cleaning the tough-to-reach areas. Only one push is enough to detach the canister!
This cleaner comes with a dusting brush to clean the house along with a 55-inch Crevice tool so that you can reach everywhere you want. The capacity of the dustbin of this cleaner is 12 dry quarts. This large capacity allows you to clean a bigger houses without any hassle of cleaning the dirt bin again and again.
For the ultimate comfort in maneuvering, this cleaner includes swivel steering so that you can have total control over your cleaner. Guide it the way you want, it will work for you! The dirt cup of this vacuum is very much easy to clean and you will never face dirty hands with this.
The weight of this cleaner is about 125 pounds and the canister is about 75 pounds. If you are a person who suffers from an allergy, this is just the right deal for you. It has Anti-Allergen Complete Seal Technology added so that you stay allergen-free. On the other hand, it also includes the HEPA filter that will keep the dist inside the cleaner.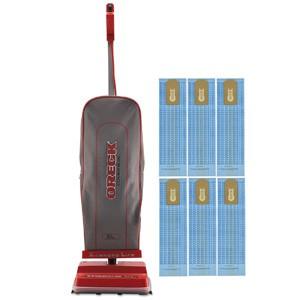 Weight: 9 pounds

Bin Capacity: N/A

Cord: 40 ft.

Batteries: No

Technology: Auto floor Adjustment

Filtration: N/A

Warranty: 1 year
Are you worried about your floor? If you have to worry about your floor type, this vacuum cleaner will sort things out. This cleaner has automatic floor adjustment technology. It has the ability to change settings between hard surfaces and carpets automatically. For this, you will not require to change the settings manually rather it itself will know how to change the modes.
It includes a helping hand handle too. This is very much easy to use. To make it easier, it has ON and OFF switches so that even if you are a beginner, you understand how to deal with your cleaner. For perfect grip, there is a handgrip that keeps your cleaner safe from falling.
It has a balanced brush roll that is very much powerful. You get double helix brushes whirls and so, cleaning your house will be easier than you have imagined. The cleaning path is about 12 inches which is enough to clean small to large houses. A large cleaning path will save you time too.
There will be no clogs and jams as it has a circuit breaker. For keeping away slippage, this cleaner has cogged V-belt. It only weighs 8 pounds. Though this is an older model, this cleaner is loved by users.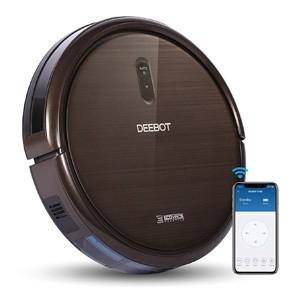 Weight: 7.05 pounds

Bin Capacity: N/A

Batteries: Included

Technology: Robot Vacuum Cleaning

Filtration: Air Filtration

Included Attachments: 4 attachments

Warranty: 1 year
If Robot Vacuum Cleaner is your choice, this cleaner is a must-try vacuum for you. High suction power is a positive aspect of this cleaner. If you want a perfect cleaning, you are free to increase the power by 2X and it only requires a remote.
As it is a robot vacuum cleaner, it has voice controls.
With the help of Google Home or Alexa, you can make your robot vacuum cleaner understand what you want! Not only voice controls, but this cleaner also has the Smart App to guide it for accuracy in cleaning. You can easily download the ECOVACS App and have fun with your cleaner.
You can customize the schedules of cleaning and if you want to examine the cleaning sessions, you can also do that. The accessory status will also be provided with this. You will also get error alerts if needed.
It has 3 different cleaning modes named as- Plus Single room and Spot Mode, Auto-Clean Mode, and Edge Mode. Sport Mode is basically for cleaning any specific area where Auto-clean mode is for smart-motion cleaning. On the other hand, the Edge Mode is for cleaning the edges.
The battery will serve you for 120 minutes after every full charge. It has anti-collision and anti-drop technology added. The filtration method is air-filtration and it includes large wheels so that it can climb the thresholds.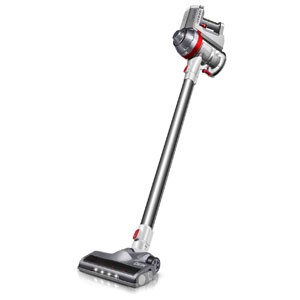 Weight: 4.7 lbs.

Bin Capacity: 0.5L

Batteries: Included

Remarkable Technology: Multi-Floor Cleaning Technology

Filtration: HEPA Filtration

Included Attachments: 4 attachments

Warranty: 1 year
The name is enough when it comes to Deik Vacuum Cleaners. If cordless models are your choice, you should not think twice before selecting this top-notch brand's vacuum cleaner. This cleaner is a 2-in-1 cleaner where there is no cord but the performance is better than the corded cleaners.
You can easily change this cleaner into a handheld model and take it upstairs or wherever you want for the perfect cleaning. This cleaner affords a powerful cleaning. This has the same performance on the low pile carpets and the hard floor.
So, you can use this cleaner on the bare floor and also on the low-pile carpets. A push-button is all you have to press when it comes to changing the modes between the carpeted floor and the bare floor. After charging, it will afford you a 25-minute continuous cleaning performance.
This cleaner is high lightweight and it also includes LED lights for indicating. You can easily empty the dustbin of this cleaner and you can store this cleaner on the wall! You will get an AC power adapter with this vacuum cleaner and a user guide is also added. The LED electric brush will help you clean the places where there is no light.
The battery is removable and the maintenance process is very effortless. The HEPA filter ensures that your house stays allergen-free the whole day. The dirt bin is 0.5L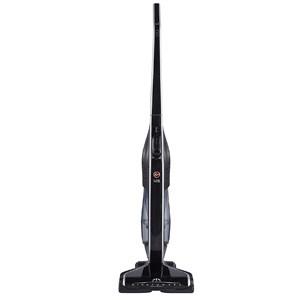 Weight: 7.3 pounds

Bin Capacity: N/A

Batteries: Included

Noteworthy Technology: WindTunnel Technology

Filtration: Air Filtration

Included Attachments:

Warranty: 2 years
Hoover is one of the most renowned companies when the discussion is about the vacuum cleaner. This brand affords an interesting feature with incredible performances. If you are here to get a cleaner that costs less than $200 and wants a top-notch brand, Hoover is the one you can pick up!
This cleaner works with the help of the battery. It has a fade-free lithium-Ion battery included which is enough to serve you amazing performance.
The batteries are interchangeable too. The technology this vacuum introduces you to is WindTunnel Technology. It ensures that the debris and dirt on the floor are removed deeply. It also helps the suction to lift properly to get a perfect cleaning. Places that are tough to reach can be cleaned with this cleaner as it has an extreme recline handle.
It can go under your furniture and the best part is you will not require moving the furniture for reaching those places.
For removing the dirt, this cleaner has edge cleaning bristles. This brush will clean the pet hair too.
With this cleaner, you get a charger to charge the batteries. 110 watts are required to run this cleaner and you can use this cleaner on the carpeted floor along with hard or bare floors. You also get a 2 years warranty with this kit.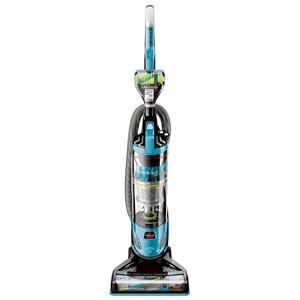 Weight: 17.2 pounds

Bin Capacity: N/A

Batteries: No

Noteworthy Technology: Triple Action Brush Roll

Filtration: Smart Seal Allergen System

Included Attachments: 5

Warranty: 5 years
Do you have pets in your house? Only pet owners know how tough it is to lean a house that has pets inside. Pets make the house dirty more than humans do and so, you have to be very cautious in choosing the right vacuum cleaner when you have a pet. With the powerful cleaning capability of this cleaner, you can clean your house faster than ever.
It has a 12.5 inch cleaning path and this is enough large to clean your house in the shortest time. You can clean the sealed hard floors and low pile carpets with this cleaner. Care floors are easy to clean and the upholstery, pet's bed, stairs, etc can also be cleaned the way you want!
It has smart seal allergen technology and this seals the allergen and all sorts of dust inside the cup. This technology ensures that no dust gets out and pollutes the air inside the house! It has a carry handle too so that you can carry it upstairs and bring it back downstairs whenever you want.
It also includes an extended cleaning reach so that you can go to the places that are not easy to reach and clean them to keep your whole house dirt-free! The pet turbo-eraser tool is great because it keeps the hair tangle-free.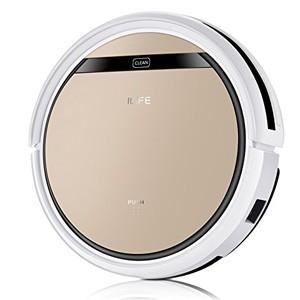 Weight: 4.9 pounds

Bin Capacity: N/A

Batteries: Included

Noteworthy Technology: i-dropping technology

Filtration: Regular

Included Attachments: 4

Warranty: 1 year
Yes, the name is very different! This cleaner by ILIFE is named as Mop Cleaner and it basically comes with a water tank.
With this cleaner, vacuuming, sweeping or damp mopping, everything can be done! It will also go on the hard floors!
The motor of this vacuum cleaner has recent technologies added and it is very much powerful. It has MAX mode so that you can gear up the suction and clean the house with high suction power. The pet hair technology is also included here and so, you should never worry about pet hair if you have this cleaner in your house.
The pet hair technology aids you in picking up the pet fur and other sorts of dust, debris, and dirt from the floor leaving it smooth as new.
You will fall in love with the light design of this cleaner and for being lightweight, this cleaner is easy to bear. The smart sensors of this cleaner will allow you to clean every hidden place in your house. It can recharge itself automatically and it will afford you 140 minutes of runtime after every full charge. It includes i-dropping technology for avoiding damage to the upholstery and furniture. It has 4 different cleaning modes too.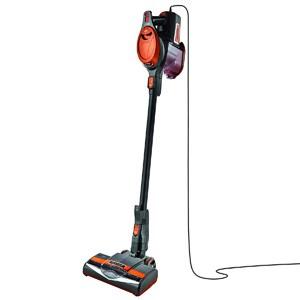 Weight: 13. pounds

Bin Capacity: 0.42 dry quarts

Batteries: No

Technology: Can be turned into Hand-Vac

Filtration: N/A

Included Attachments: Home and Car Detail Kit Micro Tools

Warranty: 5 years
If you are here in search of a cleaner that is ultra-lightweight and weight is the thing that makes you attracted to a cleaner, Shark can show your path. This cleaner by the best of the brand's Shark is amazingly lightweight and highly portable. It weighs less than 8 pounds.
The attention-grabbing fact about this vacuum cleaner is that it can be converted into a hand-vac easily. This is not a cleaner just for using at home but you can use this cleaner in your car to keep the car new. It will clean each and every tiny space and will make it eye-catching.
It does not only go for the bare floor but you can also use this for the carpeted floor. To switch the modes from carpet to bare floor, you only need to a push button. You can hand it only to the wall easily for storing it. Your furniture will be safe as it includes swivel steering technology. The cord is 25 ft. long.
In conclusion
We have mentioned all the things you will need for picking up the best vacuum cleaner under $200 from the market. Now, all you need to do is match your own choices to the features we added.
All of our picks have been examined in the field and so, you can feel free to pick any of them relying on us. They will not disappoint you and so neither we! Let us know your familiarity with the cleaners in the comment section.
Hi, This is George. Founder Of Vacuumist.com. Completed my graduation in Bachelor of Business Administration. Proud father of two lovely baby girls. Reviewing home appliances is my passion. Developing this blog to update and publish my recent reviews and research. Stay in touch.