For teens and adults, cleaning the house could be a tedious task. Now, imagine how awful it must be for our beloved grandparents!
They no longer can move as freely as they'd want, and that's why there are high-quality tools to help them during routine tasks like cleaning. One of those tools is the best lightweight vacuum cleaner for elderly people.
Today, we'll discover the top vacuum cleaners available on the market. They're there to make our lives easier by doing most of the job for us.
What to Look for While Buying a Vacuum Cleaner for the Elderly?
When looking for the best lightweight vacuum cleaners for seniors, you must keep some considerations in mind. Here's what you need to search for to buy the right machine:
Corded or Cordless?
The first thing you need to know is whether you want a cord or a cordless unit. Corded vacuums are more reliable, but they have certain limitations, such as needing a power outlet nearby.
Also, you won't be able to get that far from the power source unless the unit has a large cord.
Speaking of a large cord, the Oreck Commercial XL2100RHS Corded Vacuum Cleaner has a very long cord. You might want to check if you prefer corded vacuum cleaners over cordless ones.
Cordless units, on the other hand, give you exactly the amount of freedom you need to clean every part of the house without restraints.
The drawback is that the batteries don't last long. If you're lucky, it will serve you well for about an hour, but most don't go past the hour.
Seniors using cordless vacuums don't have to worry about a cable that could make them trip and fall.
Cleaning Head
The cleaning head lets you know how much time you'll spend doing the routes. There are vacuums like the Air Ram from Bissell, which features one of the largest cleaning heads.
Naturally, units like this one make it possible to cover a lot of ground quickly.
Maneuverability
We're going to cover three essential features in this category. First, you'll need a vacuum with accessible power controls. Try finding one that has the switches near the handle, right at the reach of your hand.
Also, you want to have a vacuum that offers different modalities. It is not only about using the machine as a stick, but you should be capable of reaching the trickiest places below furniture or corners.
Lastly, remember that you can get a versatile unit to perform several tasks. For instance, a stick vacuum could turn into a handheld device. Not all of them can do this transition, but some do.
Another sweet thing is leaving the vacuum cleaner wherever you want. It is only possible if the vacuum cleaner can stand without additional support.
LED Lights
Leaving dirty spots is an issue that we all face while cleaning, so we can only imagine how bad it could be for someone with compromised vision.
Fortunately, some vacuums offer a LED system that lightens up wherever our vacuum passes.
Pet-Friendly
Although most vacuum cleaners can lift pet hair off the ground, most don't do it too efficiently. More often than not, you'll find yourself having to clear a clog caused by the hair.
It is a process that requires a lot of patience, and it can sometimes be frustrating.
But there's no need to give up on our four-legged friends. Some vacuums deal with this issue very well by offering state-of-the-art technology that efficiently separates the hair from other particles.
Such is the case with Zero-M technology. It cleans everything! And when dealing with pet hair, the vacuum stores it in the compartment without creating clogs.
Also, this tech prevents the hair from wrapping and getting stuck on the brushes.
Zero-M technology is not available in every vacuum, so pet owners must make that extra effort and perhaps pay a little bit more. But, as long as it allows us to care for our pets, it is worth it.
Multi-Surface Cleaning
Always look for a vacuum that makes the transition from carpet to floor efficiently. Otherwise, you may have to buy yet another machine to clean each surface.
Bin Easy to Clean
The vacuum does the job for you, but you still need to collect the dust afterward. Seniors need to look for a machine that makes the emptying process as simple as possible without requiring too much effort.
Also, remember that not every vacuum offers the same dustbin capacity. Still, whether you get a large or a low-capacity bin, maintenance is always necessary.
What if the bin could empty itself, all by itself !!!
Check out the video below.
A Robot Cleaner
A robot vacuum cleaner is the best choice for seniors.
Robot vacuum cleaners do almost everything by themselves. If you want to forget about cleaning for a while, these devices are your best choice. They were quite expensive, though.
The following vacuum cleaners will be worthy of your time and money. For seniors, these units are among the best of the best.
---
Best lightweight cordless vacuum cleaner for elderly
---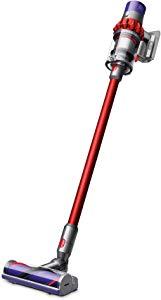 Dyson Cyclone V10 Cordless Vacuum Cleaner
There are many reasons why this vacuum takes our first spot. One of them is, despite looking very simple, it is incredible the stuff it can do.

The unit delivers high suction energy through the cleaner head, which uses a direct drive force that reaches deep into the carpets or rugs. On these types of surfaces, the vacuum removes debris or dirt regardless of how in-depth they are.

You can turn it into a handheld device. It is nothing innovative, as most vacuums offer this modality, but this one beats most of them by performing well over stairs and tricky places like on the sofa.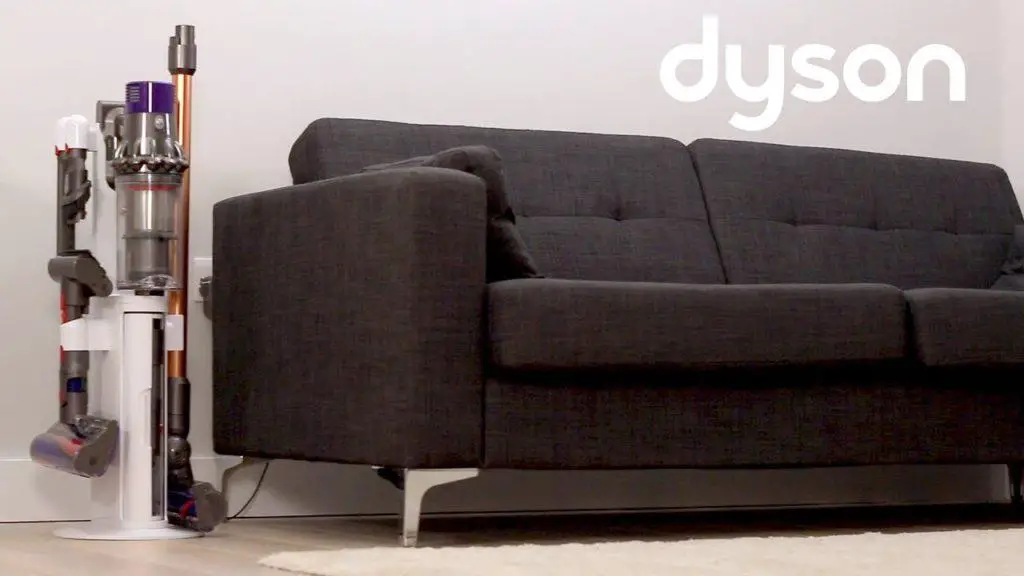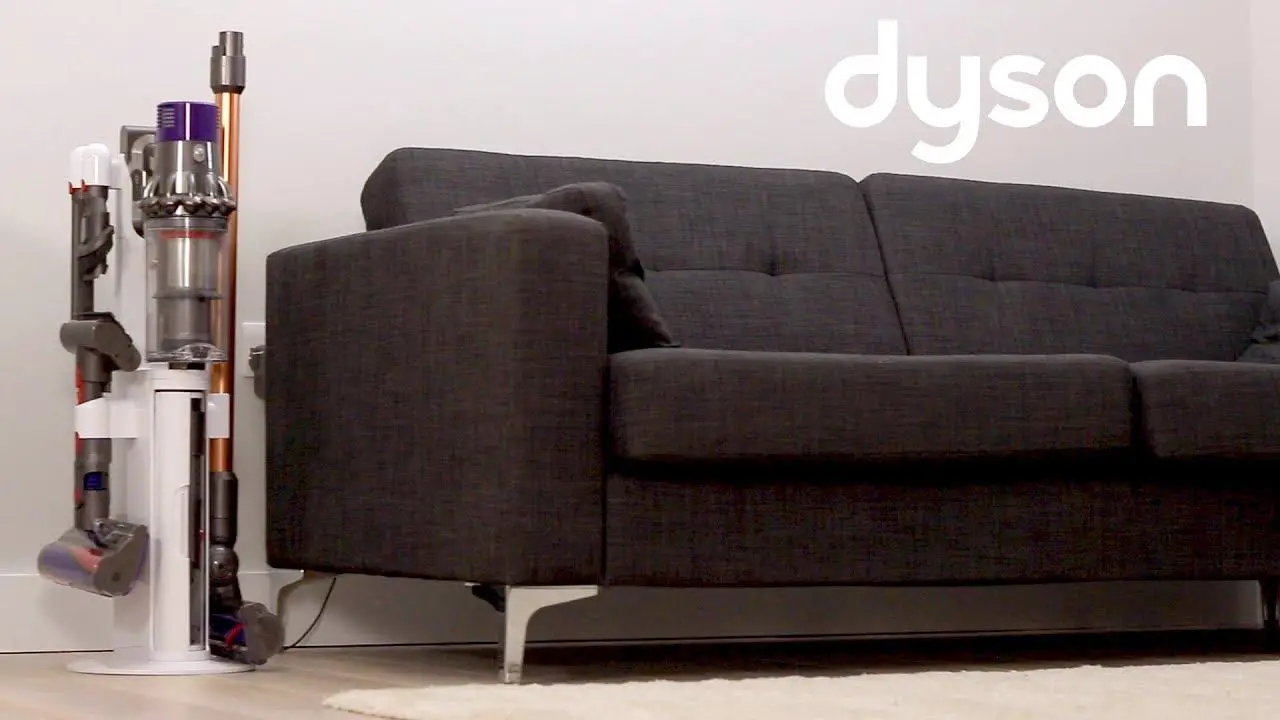 No need to point out how light it feels, but it is worth pointing out how balanced its performance is.
Seniors can use it to clean above-ground spots like on the ceiling without breaking a sweat.
On the other hand, if you want to reach below the furniture, you'll find out that the low-profile head, and slim structure design, allow the vacuum to reach those spots easily.
However, you may encounter some issues if you have pets. The hair tends to get stuck inside the compartment after releasing the cup.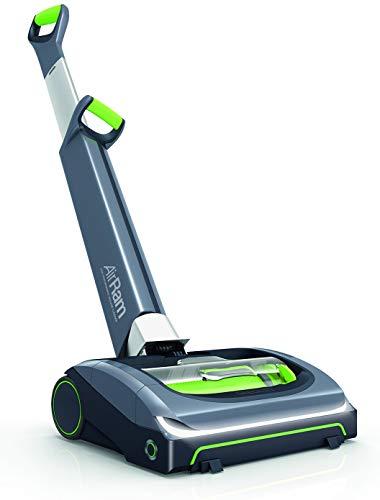 Bissell 1984 Air Ram Cordless Vacuum
As a power source, it uses a 22 Volts battery of lithium-ion quality, which is capable of working for around 30 minutes straight. When uncharged, you can get them out and recharge them once again.

The lithium-ion battery ensures a powerful performance, and since it doesn't use a cord, there are barely any limitations as to where you can use it. The agile structure and ultra-lightness make this machine a must-have for seniors.

They can use this vacuum to clean debris, dust, particles, and pet hair out of carpets and floor. When used on hard floors, the unit doesn't leave scratches on the surface.

The swivel steering and handle make it easy to reach under furniture. Here, the LED lights provide the vision you need to make sure not to leave dust behind.

If you consider this machine, keep in mind that it is not durable.

Check latest price >>
For elders with a physical ache, the sooner they get the cleaning done, the better. That's where this vacuum comes in; it is a vacuum with a large head that covers a lot of ground quickly.

It is lightweight too! Which means seniors can move it around the house as much as necessary.
The vacuum also features high-quality bristles, which remove dust and pet hair. If the particles are deep within the carpet's fabric, you won't have to do more than a couple of passes through to get everything out.
Another one of its benefits is the low-profile design. Seniors will be able to reach under and inside tight spots. The unit is lightweight too. There's no need to worry about physical efforts.
Be careful when using the vacuum to clean pet hair, as it may stick to the brush roll. Then, removing it would be very uncomfortable.
Cordless vacuums are among the best, but their prices are unaffordable in some cases. This vacuum, however, is completely the opposite.
---
These stated above were cordless models. Let's see what corded vacuum cleaners have to offer.
---
Best Lightweight Corded Vacuum Cleaners For Elderly
---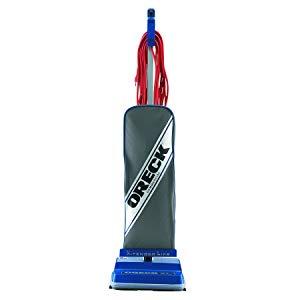 Oreck Commercial XL2100RHS Corded Vacuum Cleaner
As the words told just above, a long cord can be an extra convenience. This Oreck Commercial vacuum cleaner comes with a very long cord.
It is not only about the long cord. One of the reasons seniors will enjoy this vacuum is because of how intuitive it is. The power controls are right at finger reach near the handle, which allows the elderly to turn it on and off quickly.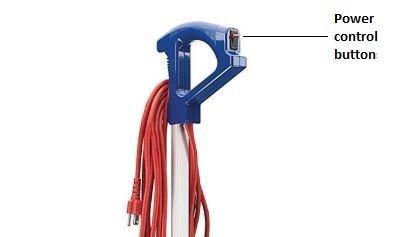 The vacuum also offers an automatic adjustment that makes it switch between floors smoothly. Use it to clean over carpets or hard floors, and the high-quality brush rolls will pick up everything.
Whether you use it on carpets or hard floors, the cleaning head, which measures 12-inch wide, covers plenty of range in less time.
Even though moving the vacuum shouldn't be a problem for most people, we do miss adding a pair of wheels.
@!Alert!@
The next two described vacuum cleaners are very cheap, both under 30 USD. And they are the most lightweight vacuum cleaners, too; they are made of cheap plastic – what else would they be?

Anyway, they do what they do. They are very lightweight, which is a big plus one, but they do not even stand a chance comparing the vacuums demonstrated above, nor with the next vacuum cleaners waiting to be reviewed.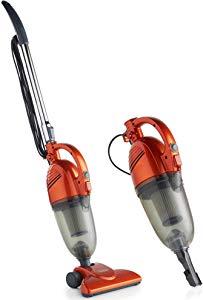 First and foremost, we do have to mention this unit is probably the most affordable you'll find in the market. Of course, that means there are both advantages and disadvantages.

Let's start with the advantages of using this machine.

One of the very first things you'll notice about this unit is how comfortable it is to handle it. The vacuum's wheels make it easy to maneuver the wand, and it makes it possible to clean tight spots like corners or furniture.

In these areas, the crevice tool provides powerful airflow to suction every bit of debris hiding in there. Everything goes right to the dust tank of 1.3L capacity. After use, the bag-less structure design makes it possible to empty the chamber quickly.

Additionally, you can turn the vacuum into a handheld device.

Everything sounds great. Then what's the catch?

Well, this vacuum is quite small. If you want to clean large rooms, you'll do better considering other units. Also, the plastic material is not durable. You have to keep track of this machine because it will most certainly break if it falls.
---
The vacuum cleaners narrated above, you might find one common problem for all. And if you are a pet lover and, most importantly, the elderly in your mind is a pet owner too, cleaning clogged pet hair at brush roll can be difficult.
I, a very able young man, find it very annoying and arduous to take a scissor and cut the wrapped pet hairs out of the brush roll. Think about how difficult it'd be for your old parents or grandparents.
Fortunately, Shark Co. invented a tech called Zero-M. It is the most effective hair wrap defense mechanism system up to now.

There are some models of this Zero-M line-up; I picked the lightest among them all – as your pick is for an elderly resident.
To know more about the efficiency of the Zero-M tech, Click Here.
---
Best Lightweight Vacuum for seniors regarding pet hair
Zero-M technology is quite efficient at what it does. No longer will you have to worry about getting hair stuck into the brush roll. It makes maintenance easier and hassle-free.
Since it is an ultra-light vacuum, you can clean large areas in less time. Maneuvering the handle is quite easy, and it allows smooth transitions from floor to carpets.
The swivel steering allows it to clean below and around the furniture without problems.
What may frustrate you is the fact that you can't detach the cord. You'll have to drag it with you when emptying the dust container.
This vacuum cleaner was picked for its lightweight. It is the lightest among the other vacuums of this Zero-M line-up. However, if you do not mind another .7 pounds added to this vacuum cleaner's weight, you can get a Shark ZS362.
It is a duoClean vacuum cleaner with this Zero-M anti-pet hair wrap tech. It is a very good choice for houses designed with both carpeted and bare surfaces.
Now, it is time to focus on a vacuum cleaner for bad back for seniors with the problem of back pain.
This vacuum cleaner below is for those who find it difficult to be at their feet for a long time.
---
Best Vacuum Cleaner for seniors regarding Back Pain
---

Shark IF251 IONFlex 2X DuoClean Stick Vacuum
Here's the ultimate choice for people that have back issues. Thanks to the MultiFLEX technology, this vacuum is capable of doing the cleaning without having us make awkward positions. If you ever had trouble reaching below the furniture, this machine is one that comes to save the day.

The MultiFLEX technology makes it possible to use the vacuum in three different modes: first, the upright mode we all know; secondly, the above-floor mode to help us get rid of spiderwebs and dust on the corners; lastly, the reach mode, which bends the vacuum's wand to access tight spots.

Regardless of how you use it, the DuoClean technology is yet another one of its benefits; It features a bristle brush, which combined with a soft roller, manages to remove dust and particles from floors or carpets, equally.

When you're taking a break, you can leave the vacuum standing wherever you like. It is great for taking a break while conducting a vacuuming session. Once parked, users have the chance to remove the pair of ION batteries, which are rechargeable as well.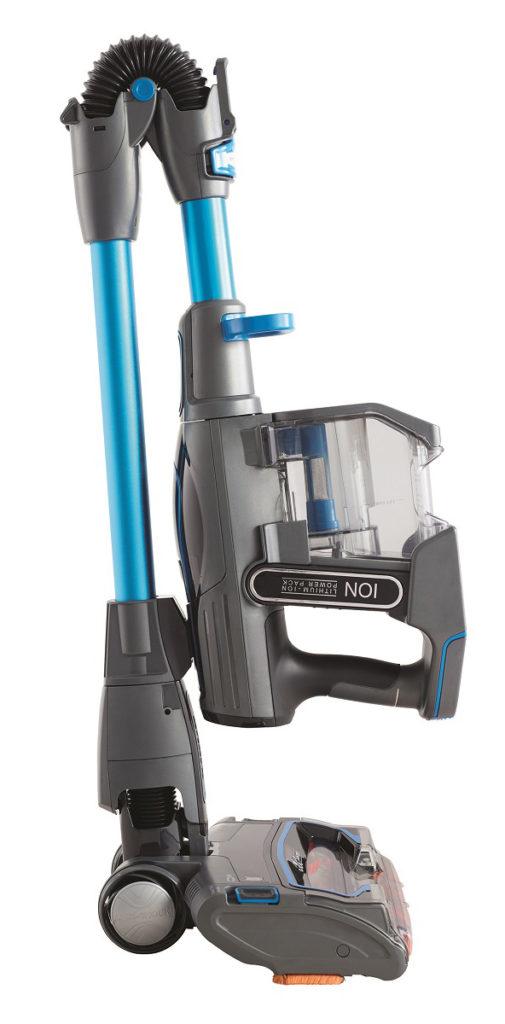 Shark ION flex self-standing

But here's when you notice its flaws. The batteries don't last long. It takes more than 3 hours to recharge them, approximately, and when working, they won't last longer than 30 minutes.
This vacuum cleaner is intended for elderly people with back pain. It can stand all by itself, and it can be flexed, breaking the stick, which allows the vacuum cleaner to get under appliances without having to bend yourself too much.
However, it needs some practice to master its maneuverability.
Best Vacuum for the Elderly Is a Robot Vacuum
People looking for the best lightweight vacuum cleaner for the elderly would do well taking a closer look at robots, as they're devices that do most of the work by themselves.
The elderly won't have to go through excruciating moments, like bending their backs or knees to reach certain spots.
If you can afford it, I'd suggest a robot vacuum cleaner would be the best investment for your parent's ease.
Then, the Clean Base takes the bot's dirt load and places it inside a disposable bag.
This feature helps senior citizens perform maintenance tasks without putting too much effort.
Other than that, the vacuum offers many incredibly useful things. It quickly adapts to new environments through the iAdapt navigation system, which features vSLAM tech to recognize the surrounding area and clean the floor efficiently.
There are nothing but benefits to using this machine. If they're willing to pay the price, seniors won't have to worry about cleaning for a while, as this machine will do it for them.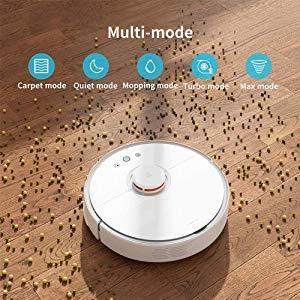 Roborock S5 Vacuum & Mop Cleaner Robot
Since the previous pick is out of reach for some budgets, we'll cover a cheaper cleaning bot. Perhaps this one is not as capable as the former pick, but it still delivers outstanding performance, improving the lives of many seniors out there.

For one, this bot offers the LDS Smart Navigation system, which is a sensor that quickly scans the area through a laser. After gathering the information, it maps your rooms through the SLAM algorithm. This process allows the cleaning bot to create a cleaning route it will follow.

When working, the robot initiates a high-energy fan working at 2000 Pa of suction capacity. The brush works well over most floor types. It also makes good use of both the side and rolling brushes to lift every debris or dust off the floor.
Perhaps the essential benefit this machine offers is its ability to work its way around obstacles. It will cross over 2cm in height, which includes thresholds or small objects.
This robotic vacuum may not be as capable as some other renowned robot vac, but at this price point – it is the most suitable robotic vacuum cleaner for an older person since it is a master at climbing obstacles.
Your grandpa does not have to be worried about a stuck vacuum cleaner often.
Additionally, it can mop. That is another service not offered by the vacuum cleaners shown above. See how intelligent it is in the video below.
Bionic mopping, self-adjusting brushes, and an infrared mechanism to prevent crashes are other highlights of this machine.
There are a couple of things we disliked; one, the low capacity of the water reservoir; two, the noise the robot makes sometimes. Other than that, it is a ten out of ten product.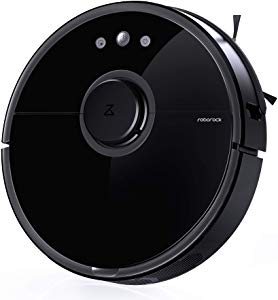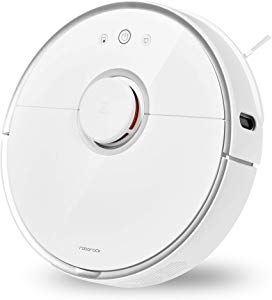 Conclusion
With the best vacuum cleaner for the elderly, our seniors won't have to worry anymore about hurting themselves as they try to get some pet hair from below the couch.
Consider all of the options to find the one you need, and it won't be long before you start noticing how these units improve your life.

Hi, This is George. Founder Of Vacuumist.com. Completed my graduation in Bachelor of Business Administration. Proud father of two lovely baby girls. Reviewing home appliances is my passion. Developing this blog to update and publish my recent reviews and research. Stay in touch.