For homes with big to moderate-sized yards, riding lawn mowers are a good investment. It is a matter of fact that different functionalities and brand value causes riding lawn mowers to vary greatly in price. That being said, you will find a working riding lawn mower for under $800.
That's why proudly saying, if you're looking for a riding lawnmower under $800, then you have clicked in the right place.
While buying a lawnmower, firstly, you need to consider the condition and size of your lawn. You don't want to buy what MR. X bought it just because it looks cool. Know your requirements first.
Although riding mowers are powerful, they are also fragile machines with complex mechanisms. An ill-fitting or poorly maintained engine can leave your machine useless in only a few years. If your machine should stall or break down, there is no substitute for proper maintenance. But riding lawn mowers are quite fun to operate and they are efficient as well.
A quick pro-tip before you leap towards the main article. If you don't like maintenance, then invest in a gas-powered riding lawn mower instead of an electric one.
How to buy riding/other lawn mowers on budget
A variety of options are available for you in the market depending on your budget and preference. If you're still unsure about what lawnmower to get, then this buying guide is just for you.
Categories of budget lawn mowers
Corded electric lawn mowers:

If you have a family lawn, then you can go for a corded electric lawn mower which has a price range between $150 and $250. These are the cheapest mowers in the market and they can get the job done smoothly. Corded mowers can cut grass as long as it's attached to a port. That's one of the downsides to this category of lawnmowers.

Hover lawnmowers:

Hover lawnmowers use the hover module to cut the lawn grass. Some models don't pick the leftover clippings up, which can be an issue. That's why you will need to rake them separately.
 Buying a basic hover lawn mower will cost you roughly $100. But you should expect to pay approximately $220 for a bigger machine that can cut different sizes of grass and has a collecting bag with it.

Electric Lawn Mowers:

electric lawnmowers weren't fancy back in the day. But interestingly it's gaining more and more attraction every day. Prices here vary from $300 to $800 depending on the features. Unlike corded electric lawn mowers, they are not constrained by a cable. You will be able to cut wherever you like. However, one limitation to this type of electric lawn mower is the battery life. Whenever the battery runs out, it will stop working.

Petrol-run pushing lawnmower:

Petrol lawnmowers are strong enough to handle big fields and lawns. You will be able to get one for anywhere between $300 from $800. But you will need to do a proper maintenance check-up almost every year.

If you want to get your mower thoroughly checked and serviced you may have to spend about $50, depending on where you live.

Robot/Automated lawnmower:

Robot lawnmowers might come off as a luxury but some brands sell base models starting from $800. After you successfully install the lawnmower, it will cut grasses according to your fixed height. It can also carry out mulching and keep your lawn looking fresh for the entire month.

Some mowers are quite efficient at cutting large-sized lawns and you can use them as a substitute for gas and riding lawnmowers.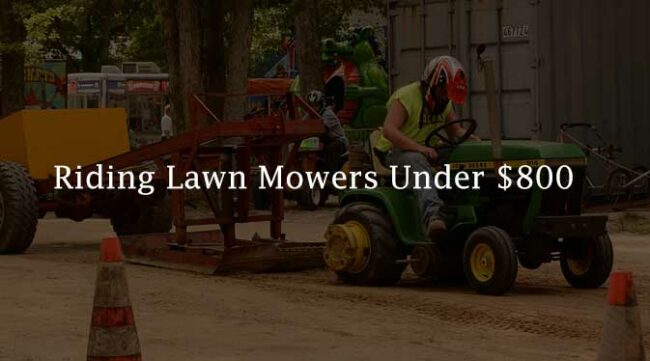 Riding lawn mowers are known to have complex mechanisms and the pricing also justifies that. In some instances, you may find discounted riding lawnmowers during festive seasons. So be sure to always keep an eye out for the best deals.
There are different riding lawn mower buying options available too. let's get to them.
Heavy-duty lawn tractors
As the name suggests, these riding lawnmowers are made for people having huge lawns or who runs a lawn mowing business.
These feel and look conventional, with a steering wheel similar to that of a car and an engine that's mounted at the front usually.
Engine sizes range from 16 to 25 horsepower.  Most heavy-duty lawn mowers have a single cylinder and some advanced models have the V twin engine.
These mowers range in price from 1,300 USD to 3,000 USD
Rear Engine mower
Rear engine mowers have their engine positioned underneath the seat or sometimes behind it.

That's where it gets the name from. This mower can be used in lawns that are too small for the lawn tractor but too big for a zero-turning mower.

Most of the rear-engine mowers are equipped with a single-cylinder engine that can produce 10 to 12 horsepower. The transmission is often a CVT with gear shifters.

The price of the rear engine mower ranges from $1150 to $2300
Zero Turning Mowers
This is becoming a favorite among homeowners as well as lawn mowing contractors because of its speed and efficiency.
Engine sizes range from 450 CC to 700 CC or even more. The output of the engine ranges from 11 horsepower to 25 horsepower.
This is also powered either by a commercially made V twin or a single-cylinder engine.
Typically the pricing of zero-turn mowers starts from $1100, but if you're lucky enough you might find one under a grand with discounts.
Riding Lawnmowers under $800 – Complete Guide 2022
Buying a lawnmower under $800 may be more difficult than it seems. Especially when you consider the prices of the latest models. In certain cases, you will be able to find discounted prices on the older versions.
Another option you have is to buy a used riding lawnmower. If you manage to find a lawnmower in relatively good condition, you will be able to bargain the price down to under $800. eBay, craigslist, and other similar sites are other good places to search for your desired lawnmower.
Craftsman T100 11.5-HP Manual/Gear 36-in Riding Lawn Mower – Best overall riding lawn mower under $800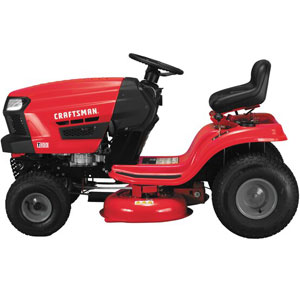 Product Description:

The craftsman riding lawn mower is a nifty mower that can get the job done with its 11.5 horsepower single-cylinder engine made by Briggs and Stratton. The maneuverability of the craftsman is also noteworthy.

It has a turning radius of 18 inches that will allow you to go past obstacles with ease. In addition to all that it also comes with a 7-speed transmission, that's easy to use.
While the brand new one costs roughly $1500, you will be able to get it from eBay at a much cheaper price. And this one's definitely worth a look.
Notable Features:
DURABLE: The 36-inch reinforced stamped steel deck easily cuts up to 2 acres
CUT: The included mulch package provides you with a cut that you'd be pleased with
COMFORT: Anadjustable low back seat allows you to travel in comfort, and ergonomically positioned controls are always within reach.
VERSATILITY: With the included hitch, you will be able to get more done in the yard.
Vintage Gilson Brothers Company Lawn & Garden Tractor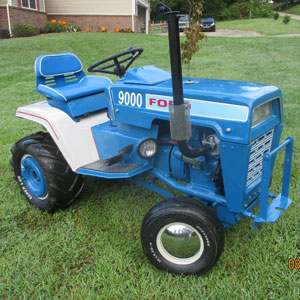 Product Description:

This is a classic lawn and garden tractor that started its production in the 80s. However, the built quality of this riding lawnmower has managed to withstand time and Gilson Brothers is still a trustworthy brand.
This mowing tractor is equipped with a 10 horsepower Briggs and Stratton engine. The gearbox is manual on this one. But considering the price you can get this one for, that's a minor compromise.
Notable Features:
Reliable Engine: The reliable Briggs and Stratton 10 HP engine is efficient and reliable
Vintage look: This one's a classic without a doubt. But being realistic, you should remember with age comes rust and stain.
Manual Transmission: Manual clutch system with a 5-speed gearbox
John Deere LT 160 riding mower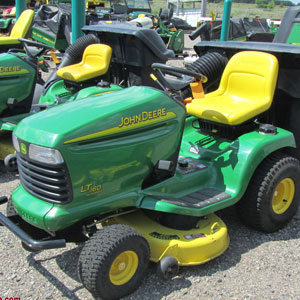 Product Description:

The LT160 series by John Deere was manufactured from 2002 to 2005. So considering the typical lifespan of a lawnmower, you will be in safe hands with this mower. This mower can be used as a lawn tractor because of its relatively big size.

It comes with a 16 horsepower one-cylinder engine of Kohler. The 2-gallon fuel tank would get you through the day without much trouble. Even though it's comparatively an old version, it has some nifty features but you'll have to get an additional deck for this one.
Notable Features:
Transmission: The John Deere comes with a hydrostatic transmission
Brakes: The mechanical disk brakes are reliable and solid
Powerful Engine: The 16 HP Kohler engine will hardly ever disappoint you
Cab: The open operating station comes with foam seats that have been recently installed.
Alternatives to riding lawnmower under 800 dollars
With riding lawn mowers you will either have to buy a used one or wait for discounts if you want something under $800.
However, if you can be flexible with your lawnmower preference then there are some great options.
So let's take a look at some of the best alternatives to riding lawnmowers for under $800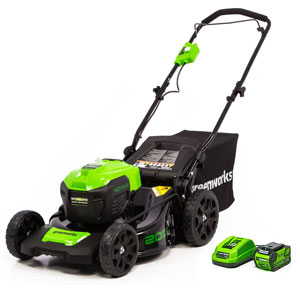 Product Description: This is a walk-behind lawnmower from the brand Greenworks. It's one of the bestselling lawn mowers under its category, so you will have your money's worth.
The modern technologies on this mower include the duel blade system in the cutting deck. This system of the Greenworks includes one 4 AH battery and a 2 AH battery. It also has smart cut technology that can adjust the running time and the power depending on the grass size and length.
Notable Features:
The 40V Lithium-Ion battery system powers numerous tools for full yard work. 
The 20-inch cutting deck provides an excellent mix of agility and cutting capacity
Innovative smart-cut mechanism changes to power or runtime dependent on grass size and thickness.
Dual blades can provide decent cut grass with quality mulching.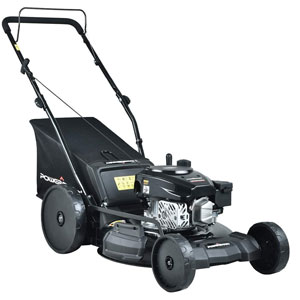 Product Description: This gas-powered lawnmower from PowerSmart comes with a 170cc gas engine that can take on the tallest and the toughest of grasses. The 4 stroke single-cylinder engine is coupled with an adjustable cutting deck.
With the 2-in-1 side discharge and mulching capabilities, you can distribute grass clippings to the side and restore vital nutrients to your lawn.
This gas push mower's 8-inch rear wheels make it easy to push around. This efficient design can enable you to operate far more efficiently.
In addition to all that, the lawnmower can be folded easily making it a bargain for this price range.
Notable Features:
OHV GAS engine that has a  capacity of 170CC and 21-INCH STEEL MOWING DECK
5 Position height adjustment: The adjustable height of the cutting deck has 5 different positions
Mulching and 2-in-1 side discharge capabilities make it quick and agile
Vertical storage and foldable handle put this lawnmower at a great advantage.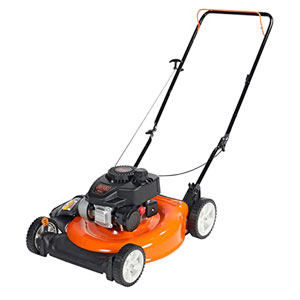 Product Description: It's a gas-powered lawnmower that is ideal for medium to small-sized lawns and yards. You will have to walk behind this push lawn mower but the 140cc engine won't cause you any trouble.
This also has height adjustment with two levers and six distinct height settings. You will have the opportunity to find the height setting that is appropriate for the work at hand, whether your grass needs a complete cut or just a short trim.
The 21-inch cutting deck will help you trim your lawn as quickly as possible. You will be able to mow more sections of grass with minimum breaks in-between.
Notable Features:
140cc dependable engine with fast recoil start mechanism
6 different height settings are available with a dual lever height adjustment system
Cutting deck with side discharge and mulching capability: a 21-inch cutting deck with side discharge and mulching
7-inch and 8-inch wheels that are capable of taking on different terrains.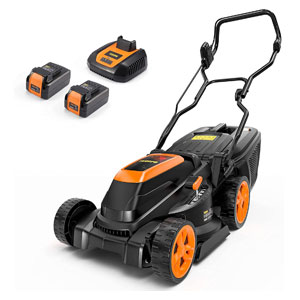 Product Description: Unlike the traditionally styled lawn mowers, this one is a 40 V battery run lawnmower with one 4 AH and one 2.5 AH battery that is efficient and can be charged whenever.
As it's cordless there's no worry about the mowing distance. You will be able to adjust the mowing heights according to its 6 different mowing heights.
After the grasses are cut, they go into the 10.6 Gallon grass box. Battery-driven lawn mowers make very minimum sound, in this case only 84 decibels.
So, you won't have to worry about disturbing your neighbors anymore.
Notable Features:
Two powerful 40 V batteries: One 2.5 Ah and One 4 AH
The 15-inch mowing width is ideal for small and medium-sized gardens. The unique combs allow you to mow nearer to the edge.
10.6-gallon grass bag: The centrifugal blade produces powerful winds, which can easily take in more than 95 percent of the grass into the collecting bag.
Minimum sound while operational
Foldable without dissembling.
Frequently Asked Questions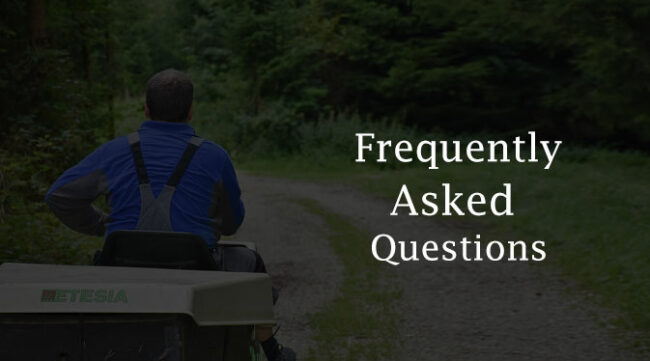 Should I buy a lawnmower or a lawn tractor?
It all comes down to the size of your field/lawn. People having bigger than half acres, should get a lawn tractor. Pushing a lawnmower back and forth for hours isn't a smart move by any means.
Riding mowers decrease the mowing time and increase efficiency.
What size mower deck should I get?
Having a big mower deck will enable your lawnmower to cut grass much faster. However, you should also consider the size of your gates and other relevant measurements before going ahead with a big mowing deck.
Generally, for one-acre fields a deck of 42" should be appropriate.  A bigger deck of 42" to 46" is appropriate for fields that are over an acre but under two acres. But if you have a much bigger field, then consider getting a lawn tractor with a 48" mowing deck.
Why isn't my lawnmower cutting grass properly?
Among a variety of reasons behind the uneven cutting of the grass, lack of tire pressure is right at the top. If the tires are uneven, the grasses will come out looking rough.
Other than that, issues with the mowing deck or the blades can also cause improper grass cutting. So be sure to run a proper diagnosis of your machine.
What gas should I use for my lawnmower?
You should use good quality gasoline that doesn't have lead in it for 4 stroke engine mowers. Gasoline with an octane rating of roughly 87 should get the job done.
For 2-stroke engines, you should combine the gasoline with engine oil made for that specific type of engine. 
How much oil does a lawnmower need?
Push lawn mowers need two-thirds to a three-fourth gallon of gasoline to function to the best of their ability. In the case of riding lawn mowers, you will require additional oil but it largely depends on the size and model of your riding lawnmower.
Normally, you will be provided with a user's guide that provides detailed information about your oil economy. Following that will increase the longevity of the mower.
What types of lawn mowers are available?
The classification of lawnmowers is typically based on their operation method. Some of the well-known categories of lawnmowers include:
Reel lawnmower
Self-propelling lawn mower
Riding lawnmower
Electric lawnmower
Zero turning lawn mower
Mulching lawnmower
Robot/Automated lawn mower
Conclusion
To sum things up, there are multiple different variations available. It can get tough to choose a specific one for you.  Finishing the article by saying what I said at the very beginning, first understand what your need is.
How much are you willing to spend? Then do your research on which lawn mower suits your requirements perfectly.
As consumers, we normally look for a budget-friendly option with high quality as well.

Hence, we tried to allow you to check out some of the best budget riding mowers. They come at an affordable price, with all the amazing features we have discussed above.
Still too costly? wish to continue using a reel mower? Amazon has a service you can use to get help assembling one. Click here to learn more about them: 'Reel Push Mower Assembly'
Enjoy reading: