Built-in Kitchen vacuums have been around for some time now. They have had quite the run over the past few years, with demands skyrocketing.
And that's where the SweepoVac built-in kitchen vacuum comes in.
The SweepoVac kitchen vacuum has a lot of features for you to consider. Aside from having some noteworthy features, its price tag is also pretty affordable. Furthermore, from a usability standpoint, it is best at what it does.
Throughout the SweepoVac review, we will be going through every feature, being as nitpicky as possible. 
Sweepovac Reviews – The Built-in Kitchen Vacuum Cleaner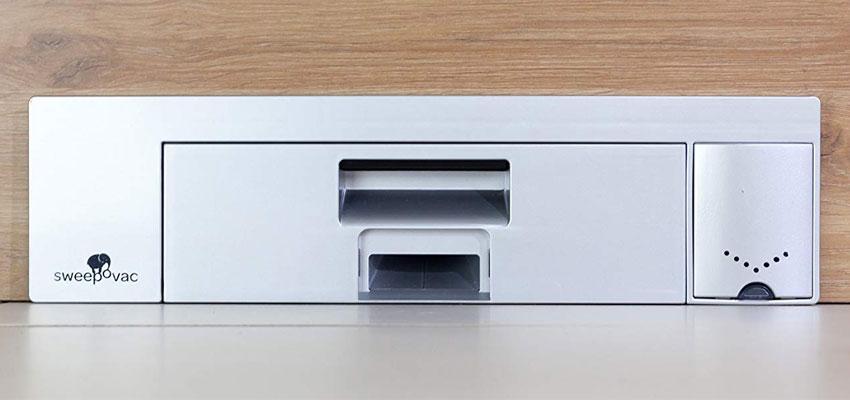 Dimensions and installation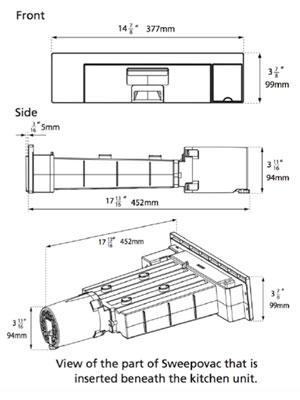 The SweepoVac built-in kitchen vacuum, as the name suggests, blends well with your home environment. Coming in at 14-7/8″ Wide x 4 1/2″ Tall x 18-1/4″ deep, it can fit in most cabinets without much of a hassle.
Also, because of such dimensions and smart design choices, it doesn't even take 30-minutes for it to be ready to go.
Robust Build Quality
The SweepoVac kitchen vacuum features some hefty materials. The entire body seems and feels solid.
Because of such heavy-duty materials, you can easily expect its lifespan to be more than enough to get you through a good chunk of your life!
Design
Most of you won't bother with the design of a kitchen vacuum. It's a vacuum. How good-looking can you expect it to be?
Well, the makers have certainly given some thought to this matter. The design choices they made, sweepovac we mentioned earlier, give them a lot of headroom to play with.
Not only is the design convenient, but it also complements your kitchen, although not substantially.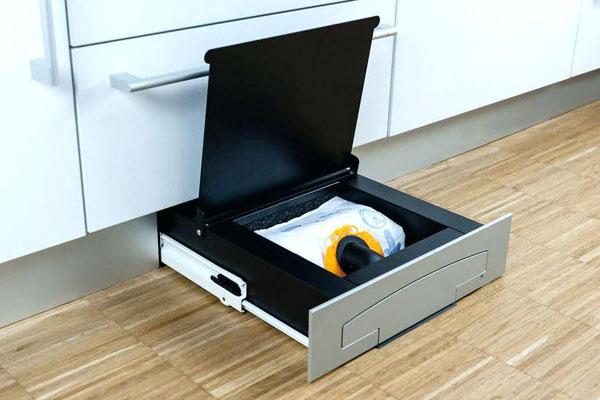 Also, because of such a smooth and subtle design, you won't even notice it's there. It blends in well with your workspace. So, the SweepoVac shines in the design department as well.
Technology
Unlike some of the cheap vendors, they didn't cheap out on the technology they are integrating with their products.
For instance, the toe-kick vacuum design isn't that old. But the way the folks at SweepoVac have implemented it is commendable.
This toe-kick cabinet vacuum does a good job of taking in dust and pet hair. You have to take it close to the vacuum and hit the switch with your toe, and within 3-seconds, you get a clean workspace.
Included accessories
The SweepoVac comes with anti-bacterial bags and filters as added inclusions.
Now the SVB1500 anti-bacterial bag does a really good job of keeping odor and foreign particles at bay. It is compatible with both versions of the SweepoVac kitchen vacuum.
Also, another thing to note here is the inclusion of an indicator that lets you know when to replace the bag as it is full.
Another noteworthy inclusion is the hose-attachment expandable brush nozzle. Now it is compatible with version two of the SweepoVac kitchen vacuum, which is a bummer.
As the Snap-On hose itself is pretty powerful, you don't need the hose attachment. But it's good to have as a secondary option.
Note that the hose can cover an area anywhere from 1.8 to 5.5-meters, which should be more than enough for the average use case.
Apart from these included accessories, you are getting a post-motor filter with both versions, which offers a decent amount of protection against dust and debris.
Features and Benefits Of Sweepovac
Low-profile design
The makers at SweepoVac have done a good job of keeping their design subtle yet functional.
One of the key benefits of having such a well-thought-out design is the fact that it blends in without leaving the slightest trace of its existence.
The SweepoVac dimensions are also something to consider, as they pave the way for an effective kitchen vacuum.
Furthermore, you cannot forget the fact that it's so easy to install, as opposed to some of the existing brands out there.
All in all, such a complementary design does deserve some kudos because of its overall usability.
Superior suction capabilities
It is one of the main traits of the SweepoVac kitchen vacuum.
Although you are getting that manual functionality where you take the dust and pet hairs, and other debris to the face of the vacuum, the Snap-On hose offers much better performance.
It covers a decent amount of space and does a good job of collecting dust and pet hair, even from the tightest corners.
Good functionality
The good and easy functionality offered by the SweepoVac installation is commendable. Quick and easy toe-kick functionality offers good functionality and usability.
Paired with the suction performance and germ-free operation, you are looking at a product that will offer a pretty good value for your money.
Less maintenance
The design execution often sets the tone for a good product. We can say the same for the SweepoVac. The bags for SweepoVac are anti-bacterial and sterile. So, you can expect cleanliness to be on point.
Also, the post-motor filter makes a significant amount of contribution to giving you a better experience with this household item. Also, do note that the need for central VAC support isn't compulsory.
Despite having such sophistication, this kitchen vacuum doesn't seem to need a lot of maintenance work. It is one of the best advantages and deserves kudos as well.
SweepoVac: About the Brand
You may know about brands that will offer the least number of features for a whole bunch of cash. Also, there are those brands that don't need any specific recognition. The users speak on their behalf.
Frequently Asked Questions
Q: Is it a standalone unit?
Ans: There is no need for support from a central VAC system.
Q: What type of voltage requirements am I looking at?
Ans: It is a 120-volt standalone unit.
Q: Is it necessary to buy the power cord separately?
Ans: No, they are included in the box.
Q: Are the anti-bacterial dust bags included in the box?
Ans: Yes, they come with the unit.
Q: What's there for installation?
Ans: You get a template bracket and 4-screws to hold the unit in place.
Final thoughts
The SweepoVac built-in kitchen vacuum takes a really good approach to keeping your kitchen nice and tidy. It's one of the very few household items which have such low visibility with such a high rate of performance.
From the review, it is clear that this particular item is all-around kitchenware. The SweepoVac kitchen vacuum is something that will give you no regrets.
So, from our point of view, we think it is worth the price it beholds. So, you shouldn't think twice about making a purchase decision

Hi, This is George. Founder Of Vacuumist.com. Completed my graduation in Bachelor of Business Administration. Proud father of two lovely baby girls. Reviewing home appliances is my passion. Developing this blog to update and publish my recent reviews and research. Stay in touch.