With an ever-increasing hectic life, modern homes tend to require a lot more facilities than they did even 20 years back.
Not long back, family members having to split days to mop the entire house was a thing.
Quite shocking, huh?
However, thanks to the rising popularity of advanced tech vacuum cleaners, modern lives have become much simpler.
Keeping up with the fast-moving technology in the 21st century, our home appliances have evolved greatly. And so have our indoor mopping buddy, vacuum cleaners.
Those of you who depend entirely on such electronic cleaning machines are well-known to two renowned brands- Rainbow and Dyson. But which one should you go for?
Rainbow Vacuum vs. Dyson Cordless
Which one to get- Rainbow or Dyson?
Even though both brands have their oomph to them, having to choose between the two might be a bit difficult.
Especially when you need to keep multiple factors in mind while making the purchase, it's wiser to go through a comparison between the two beforehand.
To make your decision-making process a little easier, we're here to lend you our helping hand to choose your helping hand.
All that needs to be done is check your list of preferences along the way while we bring various factors that need to be considered before buying. So let's get started, shall we?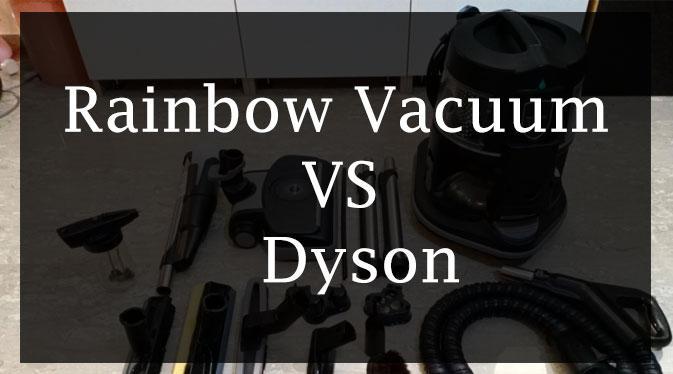 Taking the Surface under Consideration
First things first, know your indoor needs. Starting from hard floors to carpets, the vacuum cleaner of your choice must meet your specific requirements.
In case your house contains only carpeted floors, you can go for either of the two choices.
However, in case your cleaning area comprises both carpeted floors and hardened surfaces, such as wooden floor paneling, the wiser option is to opt for the Dyson V11 Torque Drive.
Made for all sorts of flooring, Dyson guarantees a clean, polished look for all floors.
On the other hand, Rainbow E2 only serves the purpose of deep cleaning carpeted areas.
However, these vacuum cleaners provide the users an added advantage- both are designed to suck out the pet hair from the sneakiest corners of your rooms and save you from a backbreaking day.
Keeping up with the fast-moving technology in the 21st century, our home appliances have evolved to a great length. And so have our indoor mopping buddy, vacuum cleaners.
The operation of professional standard cleaning company in South Jersey are highly dependent on these vacuums.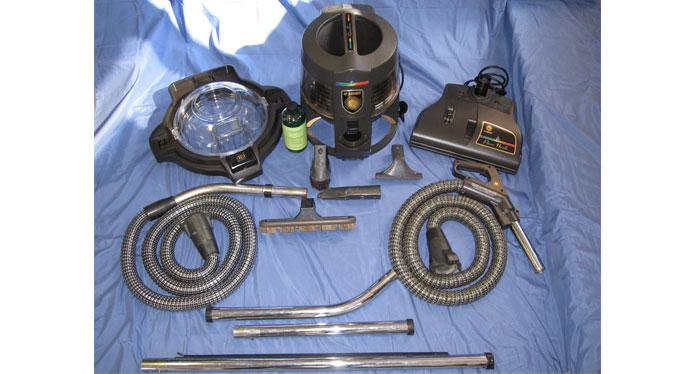 Cords- Yes or No?
Although this does not seem like such a big concern to most, you might want to put a dash of thought into this while buying a vacuum cleaner.
Being a cordless version with a powerful 7-cell lithium-ion battery system, the Dyson Turbo Drive can be a good deal if you want to avoid the hassles of wires coming in the way.
Contrarily, the Rainbow model consists of a typical corded vacuum cleaner. However, the cords are relatively longer and will cause no difficulties while reaching for a spot fairly away from the power source.
Depending on your preference, the judgment for going with or without cables relies on you.
Image credit: https://www.usatoday.com/story/tech/reviewedcom/2019/07/30/dyson-v-11-torque-drive-finally-sale/1870710001/
Suction Capacity- How much is really enough?
Here comes the tricky part. For a good cleansing of all unwanted debris and pet hair, good suction power is vital. While the suction power of Dyson is at 185AW (Air Watts), Rainbow E2 has a quite lower power at ~165AW only.
This means Dyson is comparatively a tad bit more efficient at its thorough cleaning system throughout the nooks and corners of the rooms.
Nevertheless, to cover up for its downer in suction power, the Rainbow model provides an extra upholstery tool.
However, before you decide on which to get depending on the suction power only, hold on for a while until we explain it all.
It might be helpful; how well does Roomba work on carpets? 
HEPA Technology- Is it efficient?
Now, heading off to the air filters- which is better performing? Both these models have the currently famous HEPA technology, which removes at least 99.97% of debris, pollen, and airborne particles up to 0.3 microns.
All the same, an additional perk in choosing the Rainbow E2 series is that this offers a certified allergy and asthma-friendly deep cleaning.
So those who tend to suffer from dust allergies and, as such, whilst owning a pet, this is the right one for you!
If you are thinking about which one is great for your dog, I suggest you to watch the video. 
Dust Bin Capacity- Choose your type
The Dyson V11 Turbo Drive consists of a comparatively smaller bin capacity of 0.75 L only compared to its other models.
Even though that may be the case, this product does a good enough job for a full house cleaning without any issues. If you require decent dust storage for day-to-day cleanups, this can be your first choice.
However, as opposed to frequently used traditional dustbins, the Rainbow E2 series type 12 has unique storage.
The vacuum will directly pull out all the dirt and move it to the water basin with a large capacity of 2.36 L.
Although this may seem like a filthy way to polish your room, the water bowl can be very useful for rinsing the bin.
Just throw away the grubby water, cleanse it with soap water, and you're good to go. An added advantage of this water bowl feature includes zero possibility of triggering your asthma or dust allergy concerns. So, the choice is yours to make!
Weight- How much is okay?
Regarding vacuum cleaners, weight may play a significant role in your selection process. Weighing about 6.68 lbs., the Dyson V11 vacuum cleaner is a wiser choice if you experience any backache issues from time to time.
Quick and easy movement is guaranteed in this model due to its being super lightweight.
On the other hand, the Rainbow E2 model is undoubtedly very bulky and weighs about 17 lbs. Hence, unless weight is an issue for you, this can be a good choice given its other benefits, such as the water basin, low maintenance, and additional suction accessories.
Noise Reduction Quality
Moving on, both models do a good job regarding noise reduction.
Along with Dyson being renowned for its low noise features, the Rainbow E2 also comes with a sound reduction acoustic foaming that makes it stand out.
Whichever you choose, heavy and loud noises will be completely avoided while giving you a headache-free cleaning.
Docking to Save Some Space
This Dyson model provides the extra convenience of a docking station to put away your vacuum and additional attachments.
Hence, if you all need to pack up your vacuum cleaner in a minimal amount of space, this is, without a doubt, a perfect choice for you.
Then again, if space isn't an issue for you and you have enough storage facilities indoors, choosing the Rainbow model will be no biggie.
Price
Those of you who have a bit of knowledge of these brands already know what I'm about to say.
Dyson comes with a standard price tag which is easily affordable by all.
Conversely, Rainbow vacuum cleaners can be a deal-breaker for you when it comes to affordability.
With a comparatively higher pricing value, this will still stand up to its worth- thanks to the extra pros alongside great durability and stronger vacuums.
Rainbow Model E2 Type 12 – Check customer reviews here
Dyson V11 Torque Drive Cordless – Check customer reviews here
Extra Features
Accessories and additional luxury features can play a big role when purchasing a vacuum cleaner as it provides more ease while saving up both your time and energy.
Advanced technology is an add-on to the Dyson V11, which offers multiple features, including intelligent cleaning modes, and a built-in LCD screen to display run time, performance as well as maintenance reminders.
Moreover, the intelligent mode comes with 3 distinct inputs, including an eco-friendly aspect for those who like to keep it green!
In contrast, the Rainbow E2 Type 12 comprises several accessories to make sure that no dirt accumulates even in the toughest corners of your room. It comes with 6 different tools, such as a floor brush, dust brush, and crevice tool, for an easy dirt-free result.
Which Should You Really Pick?
Well, both Dyson and Rainbow are surprisingly amazing at their job. Starting from its basic cleaning ability to a range of multitude advanced features, remember to keep your requirements in mind when you go for the purchase.
If you wish to go for a reasonable bargain with go-to facilities to clean both hard floors and carpeted areas, the Dyson V11 Turbo Drive is definitely worth the try.
On the other hand, Rainbow E2 Type 12 will allow you to experiment with a range of tools. Furthermore, you get to try out the new water basin feature that comes with it, besides ensuring a long-lasting laidback experience.
Whichever you decide to buy, don't forget to keep the maintenance under regular check so you can make it last longer. So, good luck with your purchase!
Related Vacuum Comparisons 

Hi, This is George. Founder Of Vacuumist.com. Completed my graduation in Bachelor of Business Administration. Proud father of two lovely baby girls. Reviewing home appliances is my passion. Developing this blog to update and publish my recent reviews and research. Stay in touch.