What is the best lawn mower for small yards? This question needs to be addressed like lawns today have become smaller, and professional grooming is often inconvenient for the average homeowner.
If you've got a small yard, getting it professionally mowed every time is unnecessarily expensive. The smarter and more efficient choice would be to buy a lawnmower of your own.
The good news is, you don't need to get the bulky, commercial ones. There are great lawnmowers specifically designed for small yards.
They will save you money without demanding much effort on your part. Sound good?
Scroll down for an in-depth review, comparison, and insights into the best lawnmowers for small yards.
Understanding Lawn Mowers: Different Types
Before we begin, you must be familiar with the different types of lawnmowers. In this section, we will cover the basic grounds for you to understand our reviews.
There is a detailed buyer's guide at the end to further assist you in this matter.
Let's overview the different types of mowers sorted by power options.
Gasoline Powered
These mowers run on petrol, so there are no cords involved. They are heavy, powerful machines designed to cut grass fast. Its superior capabilities are most suited for medium and large-sized lawns.
The downside to this type of mower is that they need high maintenance. You will have to pay for engine servicing and gasoline at regular intervals.
More often than not, they are on the expensive side of the price spectrum.
Enjoy reading: Finding cheap gas lawnmower under 100 dollars or less
Electric
These are corded mowers. You will have to keep it plugged into an electrical outlet during the entire runtime. So there is a limited radius of your lawn you can cover, given the length of the cord.
These are perfect for small and medium yards. They are the most common and inexpensive type.
Cordless
Cordless lawnmowers also run on electricity. But instead of a cable, they use batteries.
These mowers set no movement restrictions for you, unlike the corded ones. However, the crucial aspect of these mowers is their battery capacity.
If the battery capacity is low, mowing the entire lawn in one go might be difficult. You might need to replace batteries or wait for them to recharge mid-job.
Cordless lawnmowers with high battery capacity are an idea. But it will also cost you a few more bucks.
Push Lawnmowers
These don't run on gas or electricity. Therefore they make no noise. You push it to cut grass. It requires a minimum level of fitness on your part for manual propelling.
They are inexpensive, low maintenance, and usually smaller than other types. But the downside is that they are not great with tall grass or tough weeds.
10 Best Lawn Mowers for Small Yards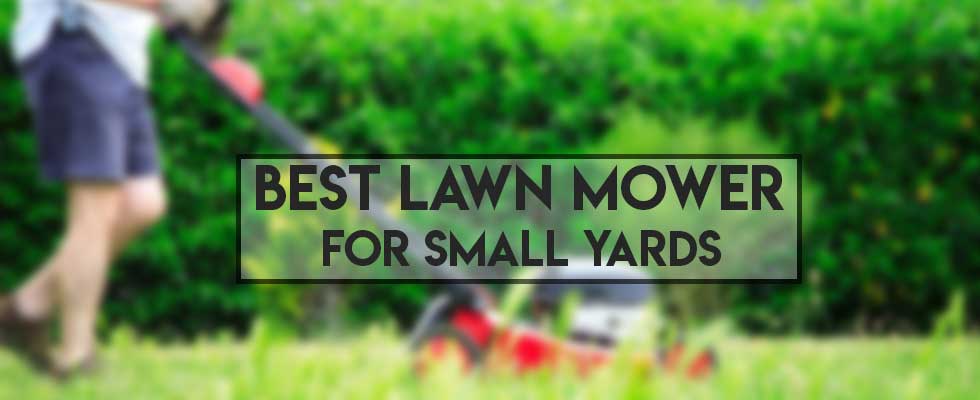 01) Honda HRX217K5VKA 187cc Gas –
21 in. 4-in-1 Versamow System Lawn Mower with Clip Director and MicroCut Blades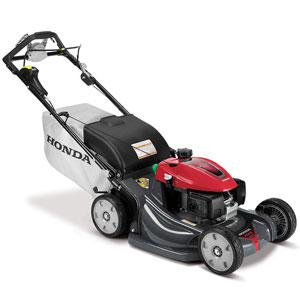 Specs
89 lbs
Cutting width 21″
Maximum cutting height 4″
Honda GCV200 engine
Pros
Self-propelled
Adjustable cutting height
Easy to start
Cuts of tall, thick grass
Cons
Comparatively smaller gas tank
This mower is an old-school machine with modern perks. It has a very powerful engine, and it weighs on the heavier side. But the makers have given it great simplicity in terms of control.
It has a rear-wheel-drive which is much easier to maneuver than front-wheel drives. To adjust it to your walking speed, just turn the dial, and you are good to go.
You can also run it in self-propelled mode. This makes mowing seem like less of a chore.
The dual-blade technology results in finely cut grass. You can mulch, bag, or discharge the clippings. You can even choose to simultaneously bag some clippings and mulch the rest.
There is a knob that allows you to determine how much of the clippings should be bagged or mulched.
The cutting width is 21". It's not sufficient for medium or large-sized lawns. But for small yards, it gets the job done. The same goes for its smaller gas tank.
The cutting height can be set to any of 7 different modes. Thanks to its powerful engine and dual blades, it can cut through taller, tougher grass like a knife through butter.
It's easy to start. Most of the time, you can get it running at the first pull. Assembling the mower isn't complicated in the slightest.
It is a versatile mower very suitable for small yards and hilly lawns.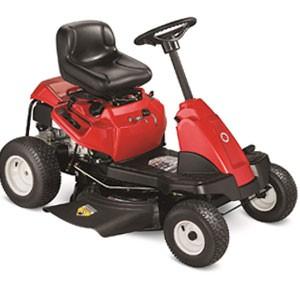 Specs
Weights: 336 lbs
Troy-blit 382 cc motor
Cutting deck: 30″
Pros
5 cutting heights
Good for beginners
Great performer on small, flat yards
Fairly quiet
Cons
Not suitable for hilly terrains
Shifting from forward to reverse gear is not smooth
Plastic, slippery footrest
The engine used in this mower is certainly dependable. It generates enough power to cut a foot tall of wild grass with ease. It uses a 6-speed manual transmission.
It's better to go with the neutral gear in the beginning. That way, you can feel out the mower before you decide to make adjustments.
Assembling the mower isn't difficult if you know your way around a few tools. If not, the instruction manual will guide you. Once assembled, the lawnmower doesn't look gigantic. That's an indicator of easy storage solutions.
The 30" cutting blade is wide enough for small yards. It is preferable even – since it can fit through narrower gates. The navigation system could be better.
In hilly slopes, it's hard to drive forward and mow effectively simultaneously. But it makes sharp turns with accuracy, thanks to its 18" turning radius.
The seating is very comfortable. So is the padded steering wheel. However, the steering wheel is fixed, whereas the seat can be adjusted according to the heights of its riders.
The shifting stick is in an odd position – between your knees. It can be uncomfortable for some people. The cutting height can be adjusted in 5 positions. The mower cuts well and fast in all modes.
If you suddenly switch from forward to reverse gear, the blade stops. If you want to cut grass while going backward, the ignition should be in "mow in reverse" mode.
The gas tank can hold up to 1.3 gallons. For small to mid-sized lawns, that's plenty of fuel to finish a mowing session. There is a meter that shows the fuel level so you'd know when to refill.
The Troy-Blit is not perfect. But it's reasonably compact, efficient, and convenient. As far as entry-level riding mowers go, this is one of the best lawnmowers for small yards.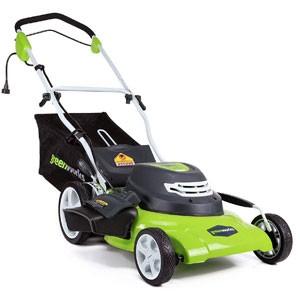 Specs
20″ deck
12 Amp motor
56 lbs
Pros
Lightweight
Inexpensive lawn mower for small yard
Convenient to use and store
4-year warranty
Cons
Maintenance level: Moderate
The cord gets in the way
Need to buy an extension cord separately
This electric lawn mower boasts a 12 Amp motor. That is unexpectedly powerful for a lawnmower of its size. Needless to say, it cuts through the most stubborn of grasses.
The 20" deck allows you to quickly mow through smaller yards. It is not a self-propelled mower. Despite being a manual drive mower, it's so lightweight that it takes almost no effort to push it around.
The lawnmower starts at the simple push of a button. It has foldable bars intended to save storage space.
The maximum clipping height is 4 inches. You can make 7 different height adjustments within this range.
It bags and discharges quite smoothly. The bag is easy to remove. A sideways discharging system is a nice touch. But there are some issues with this mower when it's in mulching mode.
It leaves clumps of grass behind. So you might need to take mow through the same spots again.
As easy as it is to maneuver, you can easily run over the extension cord by mistake. It takes some practice to learn to move the card as you mow.
You should buy the extension cords in a color that stands out. That way, you can avoid running it over or tangling it up.
The Greenworks requires some extra maintenance work to remain up and to run. Mulch and dirt can easily get to the motor compartment. The entrance to the bag can sometimes get clogged.
Cleaning the machine is pretty simple and straightforward. But you have to regularly check for any signs of clogging (i.e., noise).
If you prefer plug-and-play rather than having to charge batteries, this is a great push lawn mower for your yard.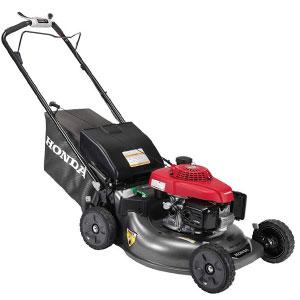 Specs
GCV160 engine with auto choke
Cutting width 21″
84 lbs
Pros
Powerful engine
Hilly yard lawn mower
5-year warranty
Cons
Have to separately adjust the height for each wheel
No washout port
This gas lawn mower for small yards houses a 160 cc Honda engine. It cuts through blocks of tall, moist grass in seconds.
If you are looking for a self-propelled lawn mower for a sloping yard, consider this mower. Its powerful motor and smart drive technology allow it to smoothly mow up hilly yards.
You can adjust the speed of this mower according to your own pace. You can also adjust the cutting height to 6 positions. But you have to adjust it separately for all four wheels. This can be time-consuming and frustrating.
It has a 21" cutting width. Having twin blades does not double this mower's ability to clip grass. Sharpening these blades can be more complicated than the regular ones.
But when you put it in mulching mode, you can see the finest clippings discharge from its sides. It also features a grass guard.
It can cut in reverse when you let go of the speed adjuster. The wheels are pretty solid. The rear-wheel drive gives the entire machine a nice balance. It has good navigation capabilities.
If you have a yard with large slopes and tough weeds, this lawnmower will do the trick.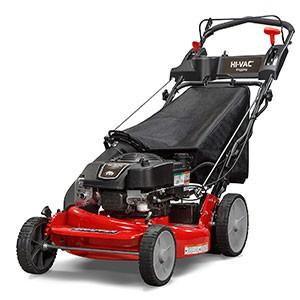 Specs
Weight: 90lbs
Engine: Briggs and Stratton 850
Cutting width: 21″
Pros
HI-VAC technology
Self-propelled
3-year warranty
Cons
Does not come with oil
Not for mulching
Complex assembly
The engine on this machine is a beast. This gas-powered lawn mower is practically unstoppable in a small yard.
What makes this mower stand out is Snapper's HI-VAC technology. It picks up the tiny clippings from the mowing. So your lawn looks tidy every time you mow it.
It is a self-propelled push lawnmower. That means it requires no muscle power to operate the machine. You just have to navigate the mower. It will drag itself in your given direction.
This small yard lawn tractor has excellent navigation too. The ball-bearing rear wheels see to it.
However, its primary function is to bag clippings. You can use it for mulching, too if you buy the kit separately.
The deck is 21" and made of steel. Therefore, it can push through solid clumps of grass. The cutting height is adjustable.
You can choose from 7 different preset positions to find out which works best for you.
You might need to seek out some outside help to assemble the whole thing. Nevertheless, it is an amazing gas lawn mower for small yards.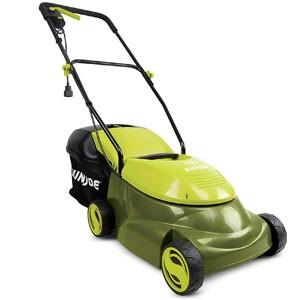 Specs 
12 Amp motor
14″ cutting width
Weight: 29 lbs
Pros
Low maintenance
Super compact
2-year warranty
Cons
Narrow deck size
Inexpensive
No mulching
This electric lawn mower is the ultimate bang for your buck. If your mowing needs are moderate and your yard is small, this could be a smart investment. You don't lose all that money for features you wouldn't need.
The Sun Joe itself is very small and compact. It has a cutting width of 14". It's narrower than the lawnmowers we have reviewed above. But it could be just the perfect width for a small lawn.
The narrow deck size has an upside too. You can store it directly inside your house.
The mower is very easy to assemble. It can bag up to 10.6 gallons of grass. However, it cannot mulch.
There is a height adjustment control that can set the blade into 3 different positions. However, the maximum cutting height is less than 3 inches.
So if you have foot-long grass in your yard, you cannot just power through and expect it to clip them all. Forcing it into high clumps of grass may cause the motor to fail.
The Sun Joe is quite the product for having your basic lawn mowing needs to be met. Considering the 2-year warranty on a mower this affordable, you cannot go wrong with it.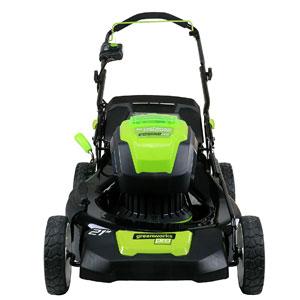 Specs
21″ deck
Cordless lawn mower
2.0AM batteries
Pros
Comes with two batteries
Long battery life
Push button start
Cons
Bulky
Hard to use in hilly yards
the bag is difficult to empty
By any means, this lawnmower is not restricted to small yards only. It matches the prowess and stamina of gas-powered mowers. It is a cordless model, so you can drag it from one end of your lawn to another without any attachments.
It has a solid, bulky build. The 10-inch rear wheels make way for smooth maneuverability.
However, it is made for flat yards. Mowing large slopes with this lawn mower won't yield satisfactory results.
The deck width is a standard 21 inches. The cutting height has 7 adjustable positions. The controls are conveniently placed.
It is a classic 3-in-1 lawnmower. It can bag, mulch, and discharge from the sides. However, emptying the bag is rather time-consuming.
It comes with an extra battery. Each battery takes 30 minutes to charge. And they each provide a 45-minute runtime.
Often only one fully charged battery will suffice for small yards. In the case of bigger yards, the spare battery can recharge while you mow using the first one.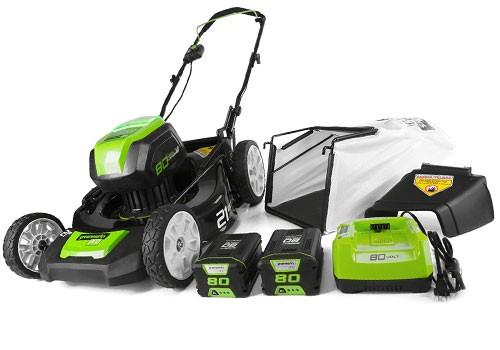 The lawnmower is easy to assemble and easy to start. A mere push of a button will get it instantly up and running. For cordless fans who want a powerful machine, this is a great choice.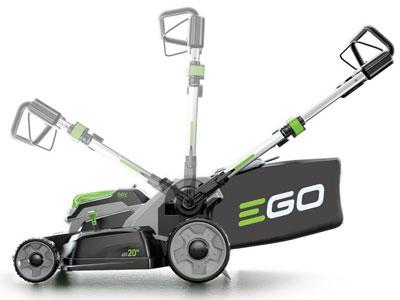 Pros
Four-wheel deck adjustment
Quiet
5-year warranty
Cons
Need to buy batter and charger separately
Batteries are expensive
This is a mid-range electric lawnmower. It generates enough power to cut through tall grass. And it comes in a handy, cordless design.
The deck size is 20". Adjusting the height of the blade is made simple. You can choose a height out of 7 different settings without having to adjust each wheel separately.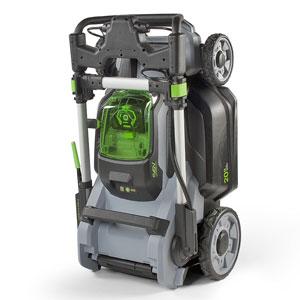 It is foldable for effortless storage and cleaning. It's also water-resistant and weather resilient. On top of its durability, it comes with a 5-year warranty too.
However, this electric lawn mower doesn't come with batteries. It isn't very pleasant. You have to buy batteries separately, and they can be expensive.
You should consider the cost of batteries as well before you decide to buy this. We gave out a sigh of relief when we found out there was a separate 3-year warranty on their batteries.
The battery takes 30 minutes to charge and delivers a runtime of 45 minutes. It should be enough for a small yard.
It has built-in safety measures. You cannot just accidentally start it up. Overall it's a good lawnmower with plenty to offer.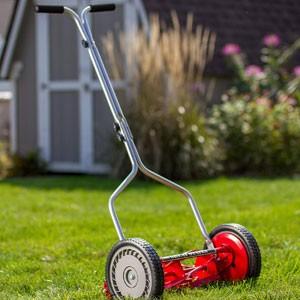 Specs
21 lbs
14″ deck size
maximum cutting height: 4″
Pros
Competitively priced
Environment friendly
Low maintenance
This is a minimalistic push-reel lawnmower. It is most suitable for really small yards with low-length grass.
It is super lightweight at 21 lbs. Anyone can maneuver it with ease. The cutting reel boasts five blades.
The mower is supposed to be balanced on two wheels. There is a t-shaped handlebar with a very good grip. Since it barely weighs anything, pushing it around is almost effortless.
It has a slender body. It takes up very little space, and you can store it anywhere.
Since it doesn't have a motor, it is totally environmentally friendly. It is low maintenance as well. You don't have to worry about batteries or oil changes.
It doesn't come with a grass catcher. But you can buy the catcher separately and attach it.
It is a competitively priced machine meant to perform basic mowing tasks. It will not fare well against tall grass or thick bushes.
If you have a very small lawn and don't want to spend money on features, you wouldn't need, this could be your holy grail.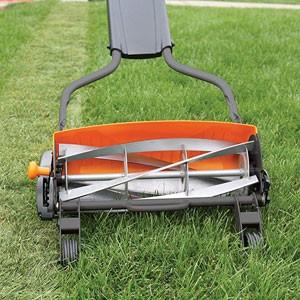 Specs
Cutting width: 18″
Weight: 52 lbs
Pros
Lightweight
Quiet
Low maintenance
Cons
Cannot use the full range of its height adjustment options
Struggles on sloped yard
This Fiskars push reel mower is sturdier and more efficient than the Great States one. It has a wider cutting deck of 18". It is easy to set up. You can do it by yourself.
It uses the force of 7 blades to clip grass. When we tested it out, it performed fairly well on a flat yard. Even though its maximum cutting height is supposed to be 4", it has trouble cutting in that range.
However, at the height of 3 inches, its performance is enhanced.
This eco-friendly piece hardly makes any noise. It's easy to use. Even elderly people can push it around without straining their muscles. The build feels solid and durable – not at all flimsy.
Maintenance mostly revolves around adjusting the blade if it gets displaced. Other than that, once you set it up, you're good to go.
It comes with a 3-year warranty. This is one of the best deals for a small-yard lawn tractor.
Check out a used riding lawn mower for sale for under 500 dollars
Small Yard Lawn Mower Buying Tips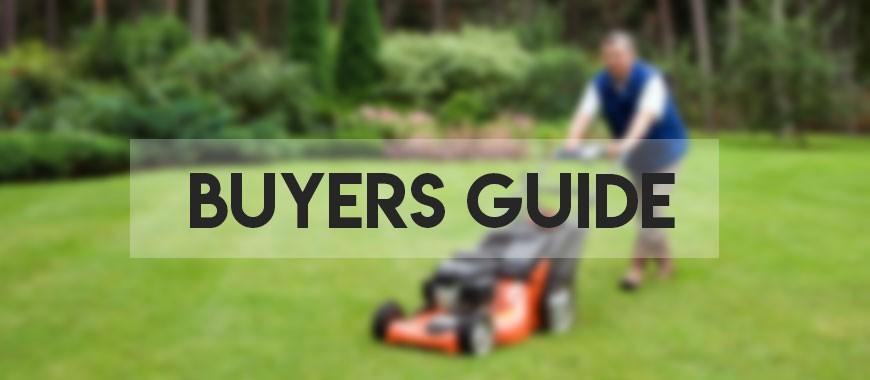 Before you invest in a lawnmower, you should know what to look for. Since you want the best lawn mower for your small yard, certain features will benefit you more than others.
Deck Size
The deck size of a mower determines how wide it can cut. The wider, the better because it will take you fewer trips across the yard. For smaller yards, 14" to 21" should be sufficient.
Height Adjustment
You shouldn't only look for a mower with height adjustment options. Pay attention to the method of adjustment it uses.
Can you simply adjust the blade to your desired height? Or would you have to adjust it manually for each wheel?
For beginners and pros alike, integrated adjust control is always better.
Power Option
You should decide beforehand which power option you are most comfortable with. Gasoline mowers are the most powerful. Consider these corded mowers for a yard with shabby, tall grass.
If you are more comfortable with cordless mowers, consider the runtime and charging time of the battery.
Push or Self Propelled
Lightweight mowers are easier to push around in flat landscapes. But you can push them up and down slopes.
Even if you manage to do that, it wouldn't be able to cut grass properly.
Bulky mowers with manual drives would take a good amount of muscle power to operate. It can be really tiring.
For hilly yards and sloped lawns, self-propelled mowers are most suited. They drag themselves – you guide them towards any path you want.
Bagging
Check if the mower comes with a detachable bag. If it doesn't, it's always better to get one. The bag should have the capacity to hold most of the grass you can clip in a session.
The bag should also have a convenient discharging method.
Mulching
If you want to mulch your lawn, make sure the mower you choose has mulching capabilities. The fineness of the clippings and the discharge method – all contribute to the nutrition of your lawn.
Frequently Asked Questions
Q) Do I need to sharpen the blades?
When they no longer cut grass at their full efficiency, you can take the blade to a shop for sharpening. If you have already sharpened your blade a few times, you can try replacing them.
Q) Is it safe to use lawnmowers?
The instruction manuals given by manufacturers clarify how to use mowers safely. Many lawnmowers nowadays come with additional safety options.
Reel mowers are perfect for small yards. Amazon has a service you can use to get help assembling one. Click here to learn more about them: 'Reel Push Mower Assembly.
Verdict
All the lawnmowers we reviewed have their individual quirks.
But if we narrow our choices down to the best lawn mowers for small yards, we favor the Snapper HI-VAC, Honda 3-in-1 Self-Propelled Gas Mower, and Greenworks Pro over other models. So that's it. These are our best lawnmowers for small yards.

Hi, This is George. Founder Of Vacuumist.com. Completed my graduation in Bachelor of Business Administration. Proud father of two lovely baby girls. Reviewing home appliances is my passion. Developing this blog to update and publish my recent reviews and research. Stay in touch.