Three years ago, in early 2019 Quantum Vacuums introduced their new vacuum product, Quantum X. It was on sale for a few months, giving it more demand.
Also, the key demand maker was, "It was the very first Upright Vacuum Product from Quantum."
Quantum products are pretty much simple, easy to use, and easier to assemble (Only 2 pieces to attach). Quantum X uses water filtration technology which is much more efficient for any general user.
It serves heavy-duty performance for day-to-day users.  If I want a handy vacuum cleaner with easy operations, Quantum X is the one for me.
Quantum X Vacuum Review
Let's have a quick look at the key specifications;
Specifications
| | |
| --- | --- |
| Upright Capacity | 1.5 L |
| Product Quality | Bagless & Corded |
| Body | 18" Extending Body |
| Clearance | 4" |
| Weight | 17 lbs. |
| Length | 10" |
| Width | 12" |
| Height | 47" |
| Filters | Water Filter |
| Included Accessories | Wet or Dry Hose |
| Price | $400 |
| Warranty | 1 Year |
Then comes about what I get; while I open the box of Quantum X;
Accessories In the Box
Opening the box, I get the following accessories as;
A flex hose
A crevice nozzle
A dusting brush
An upholstery tool
An inflating tool
Water Basin Brush
But still, I can say a few words more about the specification of Quantum X, provided for me.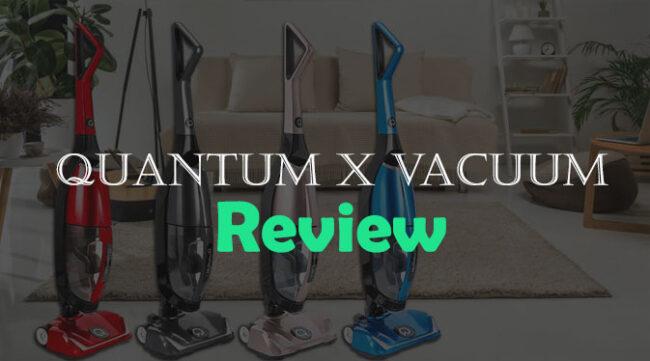 Cleaning Power or Suction
While I am talking about a vacuum, suction is the most valuable parameter for me as a user. Though the company has not listed the exact suction power of the machine, I can assume this is around 300 AW.
Now, so many vacuums out there cannot reach 300 AW, so Quantum X will certainly be working far better than any of the other vacuums out there. Also, they have advertised that it will work anywhere and mess, which is relatable.
A very important fact is that vacuums that use water filters lose their power after days of use.
Because when the dirt and debris clog up in the filter, it reduces the suction power of the machine.
But in that case, Vacuum x uses a water filtration technology, which helps not to clog junk and lose power.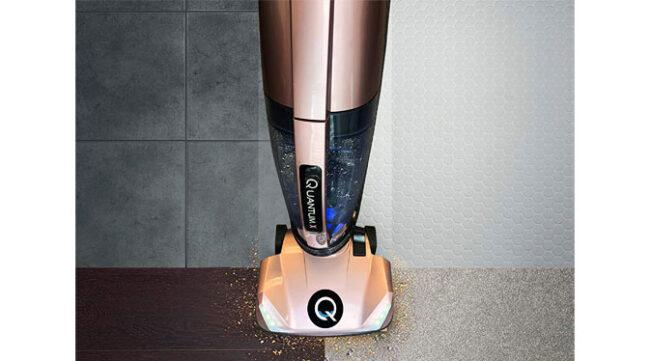 Input Power
Quantum X runs at 8A. It consumes around 870 watts through a 120V / 60 Hz Socket. (American Standard)
Simply it cannot be called a power-hungry gadget, and it is way more efficient than so many other models in the market.
The Dust Capacity
As it is a water-based vacuum, it has no bag for dirt picking. The water basin of Quantum x is used for filtering the water from dust and approaching for further procedure. The basin of it works as the dustbin.
The one with my Quantum X has a 32 oz Capacity. The capacity is enough for a household dust cleanup.
Also, I don't need to worry about changing the filters or even cleaning it.
Dimension and Weight
Opening the box with all accessories, it weighs about 17 lbs or 7.71 Kg. After the assembling process, the length, width, and height become 10, 12, and 47 inches.
Warranty
Quantum X is backed with a 3 years warranty. But if my problem is with the brush roll or belts, the warranty won't cover it.
The warranty is appropriate enough for a regular household user like me.
But a very valuable part here is that I can talk about some pros and cons of my Quantum X;
Pros and Cons
| | |
| --- | --- |
| Good Sides | Bad Sides |
| Zero Filters | Way Heavier |
| Parts are Durable | Cord Doesn't stay Attached |
| Reaches more areas | The basin gets smelly depending on the dirt type |
| Can Inflate and Deflate | Hard to push for the heavyweight |
| Purification and Aromatizing. | Warranty facilities could be made better. |
Video Walkthrough
Now, if I say some practical things about my Quantum X, after using it for a few days, literally the product has a good capability to satisfy regular household cleaning.
There are a few facts that make this product different than any of the others in the market right now;
First comes No Filters; On my Quantum X, it doesn't have any foam or paper filters. As a result, there is no hassle of cleaning the filter.
All you need to do is, empty the water basin. Quantum X runs with Micro Silver Technology, which is completely new in this criterion and very effective in killing germs and providing clean safety.
Simply it reduces the germs in the exhaust air by around 90 %. So, there is no doubt that this machine provides better hygiene for my home.
Then I can undoubtedly say that the vacuum has provided highly durable parts. According to the factory claim and information, I can be much assured that Quantum has quite a large lifespan.
The materials used in the production are properly graded. The plastics are graded, the steels are stainless, and the wire hose is even crushing resistant.
The device is way more convenient than regular vapes; it Has the ability to purify and Aromatize the ambiance.
I get the button for the purification process, which works around 15 minutes to 2 hours intervals.
A facility that must be noted is Reach. Quantum X has an incredibly higher reach. Of its comfortable shape, it can reach many more areas of the room where the regular vacuums fail to reach.
Even with the inflating and deflating feature of Quantum X, I can use it for blowing the leaves in the case of the trees around my place.
At the very end, the fact we need to take under light is the Usability of Quantum X;
If I have bought an expensive product and found that pretty much unusable practically, that would never be expected. But after I bought Quantum X, the experience was quite smooth;
The vacuum is versatile. It can reach almost everywhere in my house and clean all floors. The company provided all the necessary tools and accessories in the box; I could even use it for blowing leaves around.
The head can be rotated 180 degrees, which is a good advantage for me. Also, I don't see any other vacuum that can provide lower ground clearances like 4 inches. So, the cleaning quality is better here.
Vacuum X comes with LED lights, which I don't see with many other vacuums. It is highly helpful in the time for cleaning the room in lower lights or cloudy weather.
No matter how low the lights in the room are, I can easily perform cleaning with those LEDs.
Well, in conclusion, the product is literally a complete performance package. I don't expect anything else from a vacuum for my home.
The price-to-performance ratio is pretty good and makes it a good one to buy. However, it has a few bad sides, like the heavyweight and sometimes the hardness of moving.
Apart from those minor cons, the Quantum X is a close-to-perfect device and is recommended regular cleaning tool for household users.
Meta Descriptions: Want a detailed idea about Quantum X? you are at the right place. Please read it carefully.
Sources:

Hi, This is George. Founder Of Vacuumist.com. Completed my graduation in Bachelor of Business Administration. Proud father of two lovely baby girls. Reviewing home appliances is my passion. Developing this blog to update and publish my recent reviews and research. Stay in touch.