Whether it's a human or a cute little puppy, long hairs always need more attention and better care. And if you got any of them, no wonder, your vacuum will suffer more than anything with the tangling hair in it. So, this being an issue – I will guide you to your best vacuum for long hair.
With a brush-covered with hair, it will be tough for it to perform its best. But hey, whatever the problem is, your pet needs a proper solution for its shedding, doesn't it? With the problem, comes the solution too.
Without causing any problem to your vacuum, now you can clean the house and have a pet at a time! Nope, it's not magic. Taking the best vacuum for long hair can do this easily for you. There are too many varieties in the market. Which one will you choose? Let's take a look!
Buying Guide: How to pick the best long hair vacuum cleaner
Of course, every person in the market goes to have the best product. If you are in the market in search of a vacuum cleaner, you are no different than them too.
But the matter is, which one is the best differs from the person who is going to use it. So, as you are going to the market, take some time from that and let's know which vacuum cleaner will be the perfect vacuum for long pet hair (dog/cat) and you.
Price
It is not something to be bothered about while going to buy something. The money you can afford to have a vacuum cleaner, you must spend that.
There is a vacuum cleaner with a price of 699 USD. Besides, there are some 399 USD and 90 USD even. So, is the cheapest one is the worst?
Of course not. Just take a look. Is it has all the quality that you needed from your vacuum cleaner? Then take it.
Purpose
There are 3 types of vacuum cleaners in the market. Cylinder vacuum cleaner, cordless vacuum cleaner, and upright vacuum cleaner.
Now, if you are confused about the types, you must ask yourself, what is your purpose to get a new vacuum cleaner?
If you are more eager to clean the carpets of your house easily, then an upright vacuum cleaner is the best for you. It takes less place too.
It is tall. So, storage will take less space. If you want to have both hard and soft surfaces cleaned up, then the cylinder vacuum is the best.
It has got some advancement in it. So, with the proper service from the past, you will get accuracy from it.
And if you have a huge house and want to maintain your peace at the utmost level, no wonder, the cordless vacuum cleaner is the best one.
Review
There are so many reviews you will get about the options of vacuum cleaner you are trying to choose. You can compare them.
You can read the reviews if you have the time. That may take a little bit of time from you. But at the end of the day, you will get the benefit.
Tools and specialty
Every vacuum cleaner has some unique tools and features. Some have a backup, some have stair tools, and some have the opportunity to use them through a smartphone.
Get the details and consider your decision. If you have a pet, if you want hygiene, if you want to control allergens- there are so many requirements you may have. Take that cleaner which meets all your requirements up.
FAQs
Which type of vacuum cleaner will be perfect for me?
It will depend on the type of your house, the purpose you want to serve through the cleaner. Upright, cylinder, and cordless- all of them are good. But they have their unique specialty.
Should I consider a HEPA filter?
If you have an allergy, asthma, or any respiratory problems, then you should get a vacuum cleaner with a HEPA filter.
How often should I clean my house?
It will depend on the location of your house and the dust which is on it. If you have a pet, then, of course, you need to clean your house more than normal.
How often should I change the dust bag?
It depends on the dust it has contained. Always the dust amount doesn't be the same. Besides, the size of your house also matters here.
Will vacuum cleaner be enough for the cleaning of my house?
Of course, it will be. But it only will provide you good service, if you take the perfect one for your house.
Best Vacuum For long hair – Best brands compared in 2022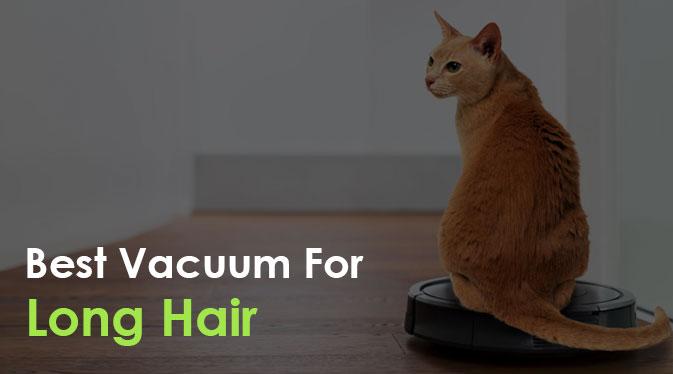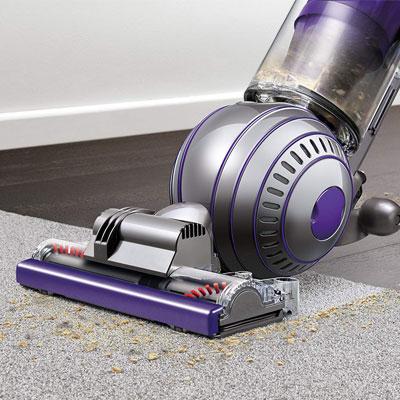 Specification
Power: 306 AW

Weight: 17.35 pound
Reason to buy
Suction ability is the most

An additional tool for easy cleaning

Easily cleanable
Reason to avoid
Don't work properly in thick carpets
Taking care of a pet is important. But you need to think about your family member's health too. And Dyson Upright Vacuum Cleaner does the work perfectly.
If you are searching for a vacuum cleaner for long hair pet, that not only cleans your home but also ensures hygiene, this one is the best you can ask for.
It has a more powerful suction ability. Long hair for pets on carpet/hardwood can be a matter of worry.
Whether your carpet or the tiles, you can easily get away from all the hair, bacteria, and dust through this machine. How much deeper it is, this machine will go there for you through its radius root suction technology.
And guess what! You don't have to do it manually.  
Turbine, combination, and stair tool – Dyson Upright Vacuum Cleaner is all in one. If you are bothered about your allergy, that will erase your tension for sure.
It has ball technology to increase maneuverability, which is good for your furniture. It's easy to clean the vacuum too!
02) Shark APEX Upright Vacuum – Zero-M Anti-Hair Wrap, & Powered Lift-Away with Hand Vacuum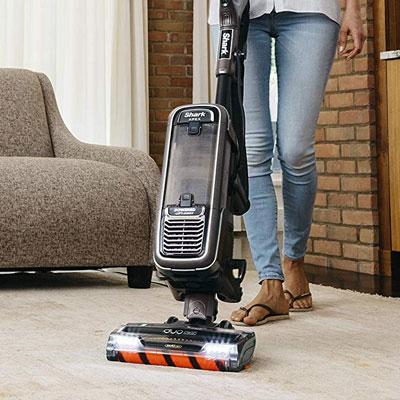 Specification
Reason to buy
Better technology to clean every corner of the house

Clean itself continuously from hair
Reason to avoid
Sometimes M feature doesn't work

Expensive than others
Before you go, here is the mega pet hair vacuum guide from Shark
Have you got any problem while cleaning your room, regarding the dust and pet hair lying under the furniture?
Those things remain so far and reaching it seems nearly impossible. Now, that is a very odd and pathetic matter if you need to put all the furniture from your house here and there while cleaning the dust.
So, what you are going to do? Is there any simple solution for it? Yeap, there is! And the name of this solution is Shark APEX Upright Vacuum.
Dust or hair, how far it is in, this vacuum cleaner will get it. It has three awesome features. With the Shark DuoClean, you can clean all the surfaces, whether it is your carpet or tiles!
There is a powered lift away, which has the ability to detach its head and reach all the way through your house. Pet hair can cause a problem for the machine. So, Shark APEX Upright Vacuum erased the probability totally by using zero-M technology to clean itself.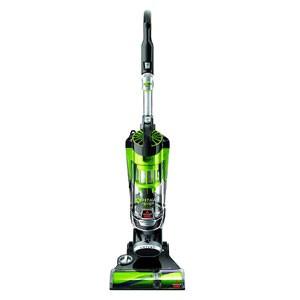 Specification
Reason to buy
Has some awesome and new features

The perfect brush for the pet hair

Available in plastic and metal

Cyclonic pet hair spooling system
Reason to avoid
Brush roller in it doesn't have a warranty
Whether you are going to buy a laptop or a vacuum cleaner, having more options creates the scope of getting the more perfect material. Bissell Pet Hair Eraser is something like that.
Have you thought about which type of vacuum cleaner for long hair you are going to buy? The metal cleaner will be a little bit heavier than the plastic one. So, do you want to choose a plastic made vacuum?
Awesome! But, what you will do if your cleaner doesn't have the option? Thinking about the customer, with some new and advanced features, Bissell Pet Hair Eraser has been made. It has the perfect brush, which won't get any problems with your pet's hair.
There are some new things on it too. Turboeraser tool, 2 in one pet brush, snap in the handle- so many things are there to make your job easier! With its perfect suction ability, you can clean every inch and edge of your house.
Maybe you are looking for more Bissell Models. Don't worry! We have a list for you.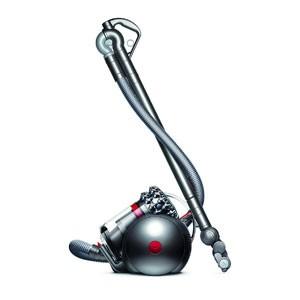 Specification
Power: 250 AW

Operating radius: 35 ft

Weight: 17.64 pounds
Reason to buy
Easy to clean

Very efficient

Hygienic

Cinetic tip to get the toughest dust particle
Reason to avoid
Make much noise

Short cod

Carpet attachment is just air driven
Cleaning the house can be tough. But the part that is tougher is cleaning the vacuum.
But if you got Dyson Cinetic Big Ball Vacuum, you don't need to worry about this thing. Dyson Cinetic Big Ball Vacuum knows how to do its job perfectly done.
While other vacuums will need something more to be in motion, you don't need to touch this one even. All you need to do is make a way to remove all the dust. This vacuum does separate all the particles and gets itself prepared for cleaning by itself.
While for the other cleaners you have to buy a bag, cleaning materials, etc, Dyson Cinetic Big Ball Vacuum will offer you no hidden cost or extra effort. It is so efficient that, where other vacuums fall down while toppled, Dyson Cinetic Big Ball Vacuum picks itself up. You don't need to replace its dust cup even.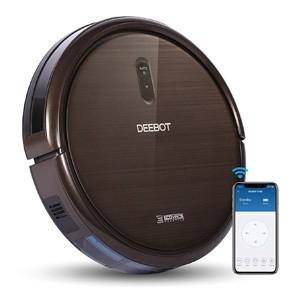 Specification
Power: -+1000 Pascal

Weight: 7.05 pounds
Reason to buy
Easy to access

Can be used through App, remote control

Can be controlled through Google voice and Alexa

Clean all the edges

Provides maximum work
Reason to avoid
Sometimes its censors may fail to work. Though it's a very rare circumstance
All the vacuum cleaners have their own specific unique feature. But, ECOVACS DEEBOT N79S Self-Charging Robot Vacuum, this one is totally different. You don't even need to get up from your bed. Just by using App, you can get your home clean. The total operation process is very easy.
For this, all you need to do is use Google home voice or Alexa and give the direction. Sounds so simple, isn't it? It really is simple!
It has all the quality as the other cleaners. But it will do the work with maximum accuracy while you will use the App or remote control.
It has Auto cleaning options. Besides, with its three different types of cleaning specialty, you will be easily able to get rid of all the dust from all the edges of your house.
Air filter, large wheel, auto-censor to avoid collision, 120 minutes battery life, and so many more things. So, do you want something that efficient?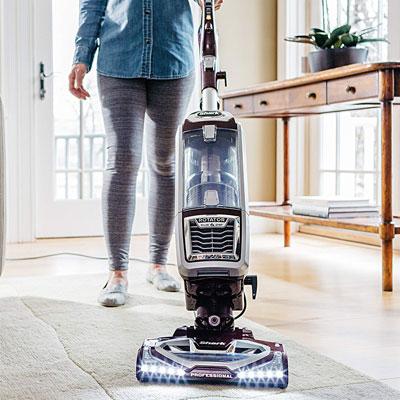 Specification
Power: 270 AW

Weight: 15.4 pounds
Reason to buy
Fingertip used Vacuum cleaner

Works on all the surface

LED light

The great ability of suction
Reason to avoid
Powerhead is narrower

Always goes to the heavier side most
Getting something perfect to clean every possible surface is tough. Some vacuum cleaners may work on the carpet, but that will get a problem with the thick ones. There are some who only are able to clean the tiles.
But, what about the other place? Is that a good option to have more than one vacuum for home cleaning purposes? Of course not!
Here comes the Shark Rotator Powered Upright Vacuum. With this ultimate cleaning machine, you can enjoy an easy cleaning phase. Soft, hard- whatever type of the surface is, you can easily use the vacuum to clean it. The deep cleaning places which are almost impossible to reach, Shark Rotator Powered Upright Vacuum will give you access to there too.
Dust, stuck-on debris, or pet hair- this machine will manage all for you. And that is only through pushing the on/off button. You may have something to clean in the night.
Without hampering others, you just can enjoy the LED light of it. With almost all the useful features, you can think of about Shark Rotator Powered Upright Vacuum!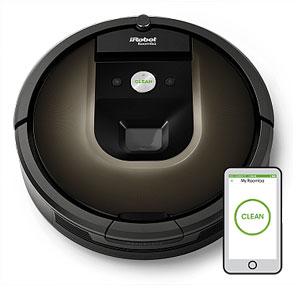 Specification
Power: 5X AW

Weight: 8.7 pounds
Reason to buy
Easy to use

Can be controlled by App

Can be used through a smartphone

Get recharged automatically

Clean all the corners of the house

Cover multiroom

Can work on all the surface

Voice-activated control

Good for long hair pet
Reason to avoid
See the world around you. Everything is changing. Whether it's the workplace or home, technology is getting everywhere in human life. And it is making our day-to-day job easier.
So, what is wrong if it includes in our household vacuum cleaner too?
So, what can technology improve with the day-to-day use of vacuum cleaners?
Your answer is- iRobot Roomba Vacuuming Robot. Roomba has the iRobot 2.0 specialization and with the visualization, it can easily clean all the corners of your house easily. It works on charging. And it works 120 minutes in a row after a full charge. After that? Then, it just takes time to get automatically recharged and start working by itself.
It's the best vacuum for long human hair too. If you are not in the mood of getting up and doing household chores, Roomba can do all the cleaning for you and you can use and control it by just using the App on your smartphone! It's simple, posh, and effective. How all these things can be possible?
Let's just use this. You will get to know it. [Check the difference between Roomba 980 vs 960]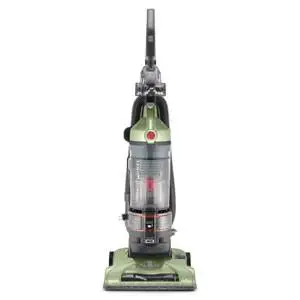 Specification
Reason to buy
Wind tunnel

Rinsable filter

Upright vacuum. Cleaning upwards is easy with the dusting brush.
Reason to avoid
No reason to avoid it. But before buying it needs to be checked properly.
While you will start cleaning the house, you will be in need of picking up the vacuum cleaner sometimes. There are so many things that need to be cleaned up too. But, how you will do that if your vacuum cleaner is a heavier one?
That's how weight matters and you can just choose a less heavy cleaner for you. Wait that is not the only reason to go for Hoover T-Series Upright Vacuum. There is something more. And that is the upright design.
It will literally help you to get away from all the dust and debris, from both the ground and up of it. Besides, it has a rinse-able filter, with wind tunnel technology. It has 8 inches stretch hose too.  Some vacuum cleaners can't clean both thick and thin carpets.
Hoover T-Series Upright Vacuum has a total of 5 types of cleaning for carpets. So, whatever type of carpet you have, don't worry. The HEPA media filter provides a 99.97% guarantee of cleaning all the dust from your house. So, what are you thinking? Need one of them?
Maybe you should check the article best Roomba models for pets. Check the guide for long hair.
Verdict
Everything is important. All the things around us make our life perfect. So, if you are thinking much before buying a vacuum cleaner, that is normal too.
With a pet of long hair, it needs to be ensured that your kids and others around the home are safe.
And, buying the best vacuum for long hair can erase all these tensions from you. With a small house and cat to maintain, I am happy with my cylinder vacuum cleaner. Which type of vacuum cleaner you are in need of?