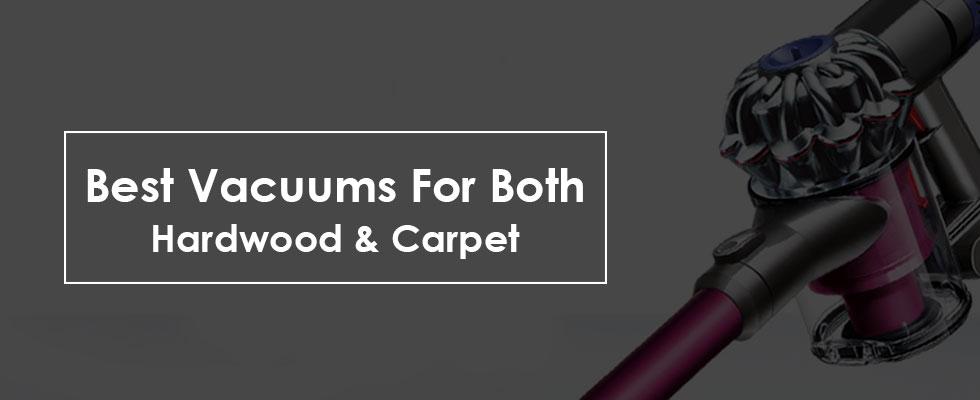 Are you looking for the best vacuum for hardwood and carpets? That means you want it all. You want your vacuum cleaner to perform whatever condition it confronts.
I cannot blame you. If I go quite aback, the question people often ask is, what is the best vacuum for hardwood floors or the best vacuum for carpet? Usually, they didn't ask me for both.
The thing is, science was not advanced like today's is. One vacuum that'd clean it all – was a myth those days. Well, those days are over.
With the help of modern science, you can ask me now for the best vacuum for pet hair and hardwood and carpet – I won't mind.
A bit chitchat first. As I was saying, science has been being gone forward. Some marvelous vacuum cleaners are introduced to us by several vacuum cleaner manufacturing co, like Dyson, shark, etc.
But whenever you go to the internet, to us – the reviewer community; in quest of getting your desired all-rounder vacuum cleaner, you get the same old crap.
They do not update themselves with recent innovations without knowing the crucial parts of vacuum cleaners.
I ain't saying these vacuum cleaners are bad; these are just old. These vacuum cleaner has served us well, but unfortunately, these vacuum cleaners' time is over.
Within a mile, these cannot be compared with the modern vacuum cleaners with anti-tangle, vacuuming and mopping simultaneously, etc.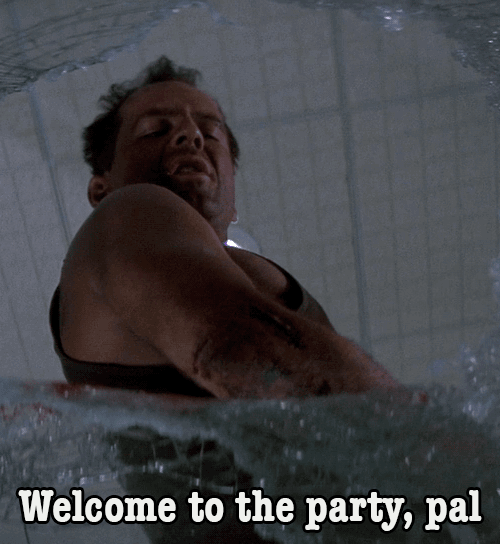 This article is loaded with the most recent promising vacuum cleaners, not with the old vacuum cleaners.
From these, the Shark NV752 is the oldest. It is like Master Po from kung-fu panda or master Splinter from teenage mutant ninja turtle. One impressive vacuuming machine it is.
I have divided the consumer community's demand for their vacuum cleaners into some divisions and found the best vacuum cleaner for them from the very recent innovations of the vacuum cleaner manufacturer companies.
Best Vacuums For Carpet And Hardwood Floors – Unbeatable Guide (April 2022)
Every vacuum cleaner has dual settings. Bare floor mode and carpet mode. What they actually do is, just stop the brushroll on bare floors.
But bare floor requires more care.
Hard bristled brushroll is great for carpet, they go deep and clean the deepest debris. But it scatters the dirt and creates a problem while vacuuming bare floors, so this brushroll is turned off in old vacuum cleaner models.
To efficiently clean bare floors, you'll need a soft brushroll into your cleaner head. Some vacuum cleaner companies put dual brushroll into the floor nozzle to clean bare floors effectively.
Say, Shark for an example. Some other companies provide an extra floor nozzles with a soft brushroll within it. You'll have to change that before cleaning bare floors. Like Dyson V7 absolute. This is a pain in the ass though. Anyway, it is there.
What I'm trying to implement is,
Whenever you are going to buy a vacuum cleaner for hardwood and carpet, always look for two types of brushroll dedicated to two types of floor in one vacuum cleaner.
Owner of big houses: Carrying ease
Suppose you are a proud owner of a multi-storied big house. You are likely to carry your vacuum cleaner around your house every now and then. You cannot just lift the bulky structure of your upright vacuum cleaner through the stairs.
You should look for the canister lifting feature here. Different manufacturers have this feature by a different names. Shark has this feature named Lift-AWAY, and Bissell has this feature named Lift-off. Anyway, by holding the canister with one hand and the wand with the other – carrying your vacuum cleaner will be very easy.
Owner of pets – Suction power
It has come again. If you have a pet and you want to remove pet hairs from the carpet, your vacuum cleaner is going to need a lot of strong suction power.
Anti-tangle
Another very big problem is wrapped hair on the brushroll. It was a very annoying thing all along until now, about which you had nothing to do about. Moreover, sometimes pet hair wrap even ends by malfunctioning the vacuum cleaner.
Now some vacuum cleaner company like shark and Bissel takes this matter very seriously and come ahead to solve the issue. And they are not failed I'd rather say. Their new anti-tangle technology won't revoke the hair wrap, but it will be minimized by far for sure. The remaining hair wrap won't create much annoyance like before.
Dyson also has an additional accessory called a tangle-free turbine, but that is not much efficient. We'll look into it later.
Spillage
If you ever read your previous vacuum cleaner's manual carefully, one thing you would get on a constant basis. They instruct you to never vacuum water or any other liquid material. It was also written that this would surely damage your vacuum cleaner.
But the thing is, necessity can never be impeded by boundaries. If your house is full of children, what would you do? They also do not go by the rules. No matter how large you want that, haha.
What I'm trying to say is that kids are fun. But they create more mess, and they spill. And as vacuum cleaners cannot do anything about this, what options are left?
Some mopping devices are available nowadays. But they cannot do vacuum cleaning. Two big full-size machines for cleaning seem a bit exaggerated. What if your vacuum cleaner could clean the spillage?
In this article, I will talk about a Bissel vacuum cleaner variant that can vacuum both dirt and spillage. This type of vacuum cleaner cleans Hardwood floors the best. You will get the shiniest look as it uses soap water (well, not exactly soap water; just keeping things simple).
Let's check some top vacuum cleaners for hardwood and carpet from Shark
Best shark vacuum for hardwood floors and carpet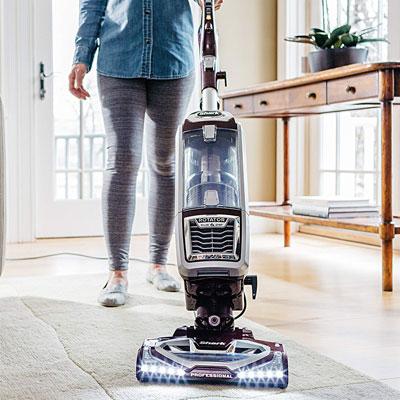 Suction power
The suction power is measured at 24 kPa, and that's marvelous. The corresponding competitor from Dyson is the Dyson DC65.
Dyson Company is known for its most efficient motor. That motor is inside the Dyson DC65, and that supplies 26 kPa. Very close.
Hardwood and Carpet
As said earlier, it is an old model. It does not come with a duoclean cleaner head like most other recent vacuum cleaners.
But it is the most effective hardwood and carpet cleaner of the old-modeled vacuum cleaners. That is why the Shark NV752 manages to get a position on this list. It's because of its very structured speed settings.
There are three settings – Hardwood mode, low pile carpet mode, and high pile carpet mode.
The brushroll rotates at different speeds like other conventional vacuum cleaners, but the speeds are set so perfectly that makes it a very good choice for hardwood and carpeted surfaces. 
Moreover, you'll get a hardwood floor attachment specialized in hardwood floor cleaning.
Upholstery
For upholstery cleaning, adequate accessories are provided. Check later for them. The most convenient upholstery attachment is the mini motorized dust brush.
It transforms the vacuum cleaner into a mini handheld vacuum cleaner where that mini brushroll is motorized. Great for upholstery cleaning.
Carrying ease
It is a Lift-Away vacuum cleaner. You can detach the canister. That allows you to clean under narrow furniture with the floor nozzle. It gives a great carrying convenience too.
Anti-tangle
There is nothing to prevent the hair wrap. Some later Shark vacuum cleaners have Zero-M technology, built to prevent hair wrap. But in this model, you won't get that.
Other specs:
Weight: 15.8 lbs. Lightweight comparing other full-sized vacuum cleaners.
Bin capacity: 1.5 quarts. It's a big dust cup.
Cord length: 30 ft, very long.
Cleaning path width: 11.5 inch
Hose length: long 15.4 ft.
Light: There is an LED light on the cleaning head and the hose.
Customer complaints
No auto cord rewind
Pet hairs get tangled
30 ft long cord can be suffocating, but the 'No auto cord rewind' enhances the lifetime of the vacuum cleaner. Auto cord rewind puts pressure on the socket joint and makes it tear over time.
And about pet hairs getting wrapped all over the brushroll, it was common then. You can get vacuum cleaners with anti-tangle benefits now. They'll appear next.
Attachments:
Hard Floor Hero
Crevice tool
TruePet Mini Motorized Brush
Pet Multi-Tool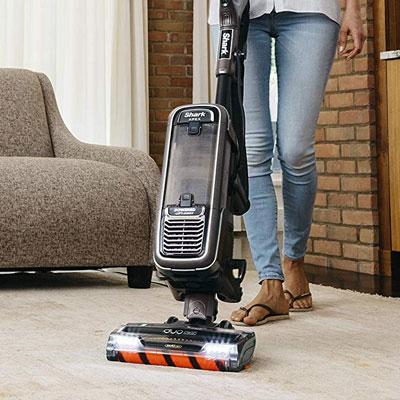 This is a very good choice for hardwood and carpets. It has canister detachment capability, does great to prevent hair wrap, has strong suction power required to get the dirt out from the carpet, and dual brushroll to perform equally on carpets and bare floors.
Suction power
Suction power is about 250-270 Airwatt. It is greater than most other vacuum cleaners.
The motor that powers the suction is 1350 watts. Sharks engineering is good in that it allows it to intake more dirt with low suction power compared to other vacuum cleaners when it comes to cleaning.
This vacuum cleaner possesses top suction power, a great choice for hardwood and carpets.
Hardwood and carpet
It is a DuoClean vacuuming machine. Shark calls their vacuums which come with multi brushroll in the one-floor nozzle, DuoClean.
It is an accumulation of two brushroll. One is soft-bristled, while the other is hard. Both rotate simultaneously, allowing you to clean bare floors and carpeted surfaces simultaneously without going through any hassle like changing the specialized floor nozzle, etc.
Upholstery
With other regular attachments, you will also get a mini motorized brushroll here. Transforms the vacuum into a great handheld vacuum cleaner right away to clean sofas, couches, curtains, etc.
And because the brushroll is motorized, it will do great picking pet hair up. This mini brushroll doesn't have anti-tangle tech, though. Hair wrap will occur while cleaning using the mini motorized brushroll.
Just to remind you, this vacuum cleaner has an anti-tangle feature for its main brushroll, which comes in the floor nozzle.
Carrying ease
It is also a Lift-Away vacuum cleaner. You can detach the canister.
Anti-tangle
Let me introduce you to the first anti-hair wrap vacuum cleaner in this article. Shark named their anti-tangle tech the Zero-M technology. It applies a very sophisticated mechanical thought to prevent hair wrap.
The hairs are wrapped by two or more bristles. There are hard clothes to block the free space between the bristles.
And there are spikes at the upper portion of the floor nozzle to break hair wrap at the very first while the brushroll is spinning.
Other specs:
Weight: 16 lbs; it seems a bit heavy. But with the swivel steering, I do not think so.
Bin capacity: 1.5 quarts.
Cleaning path width: 11.2 inch
Light: There is an LED light on the cleaning head and the hose.
Customer complaints:
Still, there are hair wraps
The Zero-M technology needs the brushroll to be spun more than regular to prevent hair wrap.
The spikes need to get in contact with the remaining hair wraps, and to do so – you will have to maneuver the vacuum cleaner some more, even after the cleaning is finished.
Anyway, sometimes you will still have to put out some hairs from the brushroll depending on the hair produced in your home. But it will never be like before, that's for sure.
Attachments:
A 12" crevice tool
A Pet Multi-Tool
A Deep-Cleaning Motorized Pet Tool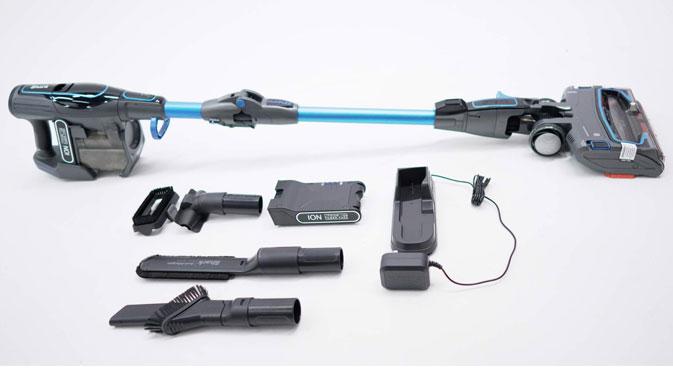 The only cordless model from a shark is here.
This might help: Shark Ionflex Vs. Ionflex 2X
Suction power:
Suction power will be reduced. Please be advised that you won't get the old massive suction power from a cordless vacuum cleaner because a battery will never be capable of giving what corded machines do.
You will have to maneuver some more than the corded one would require. Suction power is measured at 100 AW.
Hardwood and Carpet:
It is also a DuoClean vacuum cleaner, a perfect match for both hardwood and carpeted surfaces.
Refer to the upper vacuum cleaner to learn more about the DuoClean system.
Upholstery:
It can be transformed into a mini handheld vacuum cleaner very easily. Easy upholstery cleaning.
Carrying ease:
Since it is a cordless model, and the bin is not so big – this allows this vacuum cleaner to maintain a very slim figure, haha. It is a lightweight vacuum cleaner, and carrying here and there is easy.
Anti-tangle:
No Anti-tangle tech is applied here.
Other specs:
Weight: 8.7 lbs. Very lightweight.
Bin capacity: .3 quarts.
Battery: Two batteries are provided.
Runtime: 

Without the nozzle: 11 minutes in max, 23 minutes in extended
Floor: 12 minutes in max, 20 minutes on extended
Carpet: 11 minutes in max, 14 minutes on extended
Cleaning path width: 8.5 inch
Light: There are LED lights available.
Customer complaints:
Some complain that it behaves like a self-propelled vacuuming machine. There is a forward force that runs the vacuum cleaner forward.
Since it is lightweight and motor power is good – two brush rolls work like two tires here. It will be easy to push the vacuum cleaner front, but you will feel it when you pull it back towards you.
We are now talking about a good innovation. We have to bend our knees when trying to clean under furniture.
This specific vacuum cleaner can be flexed. It flexes at the upper middle portion of the wand. This allows it to break the solid straight structure and go underneath furniture without bending its knees.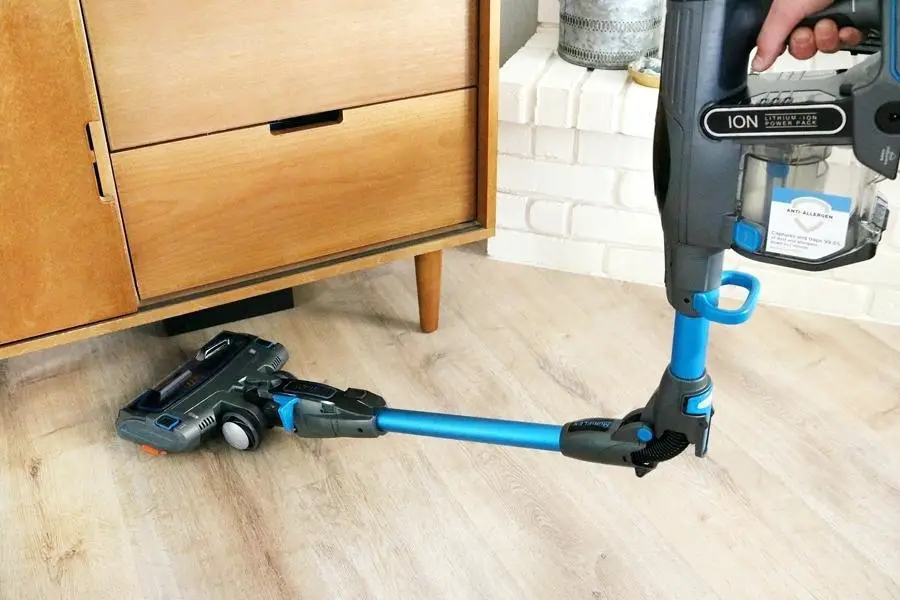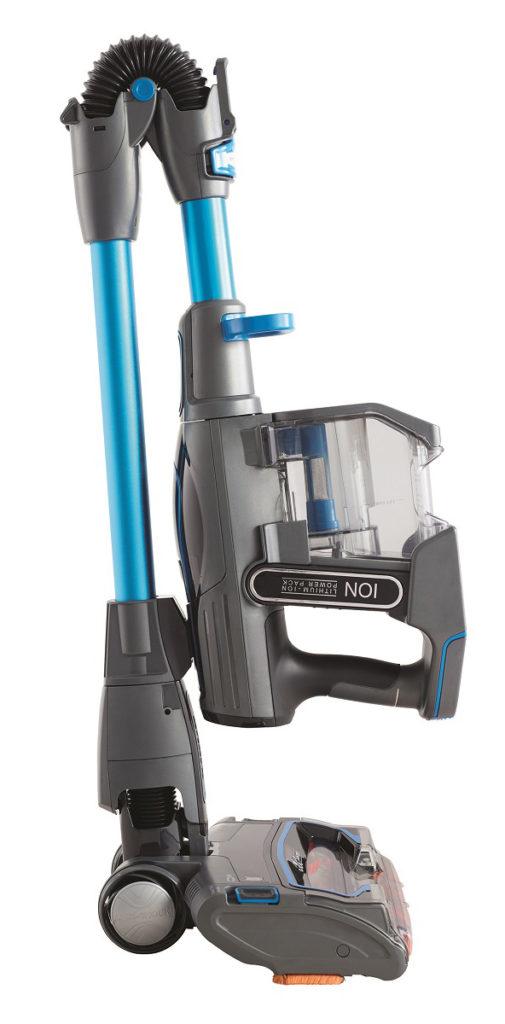 Attachments
Duster crevice tool.
Wide upholstery tool.
Dusting brush.
Anti-allergen brush
One charger.
Two batteries.
Best Dyson for carpet and hardwood
Let's check what promising Dyson vacuum cleaners are there for both hardwood and carpet.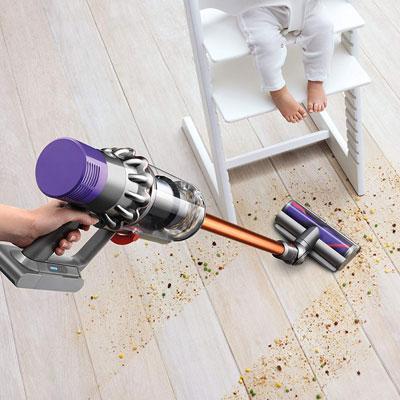 This is the latest model from Dyson cordless V series.
Suction power
Whenever it comes to suction power, without any doubt, Dyson is the best. They create the most powerful motor.
Even though the Dyson V10 Absolute is a cordless vacuum cleaner, it provides a solid 150 AirWatt while we try to measure its suction power. Which is more than many regular corded upright vacuum cleaners.
It is because Dyson's founder James Dyson is an engineer himself, and he brought cyclone technology first into the vacuum cleaner market.
The air is sucked by above 15 mini cyclonic tubes with flexible heads. For this, no pre-motor filter is needed. A dirty filter blocks air resulting in reduced suction power.
With this very advanced tech, Dyson produces the best suction power in the vacuum cleaner industry.
Hardwood and Carpet
This cordless cleaner has a hard-bristled brushroll inside it. Along with its greatest suction power, the Dyson V10 Absolute is a great vacuuming machine for carpeted surfaces.
To efficiently meet your bare floor cleaning needs, there is an extra floor nozzle that comes with it. It has a very soft brushroll within it.
And in my opinion, it cleans bare floors better than any other cordless vacuum cleaner on the market. Another type of floor nozzle is also available here; it is called a torque drive cleaner head.
It is specially made for cleaning carpets very quickly yet robustly.
The only problem is that you have to change the floor nozzle often while swapping through different floor types.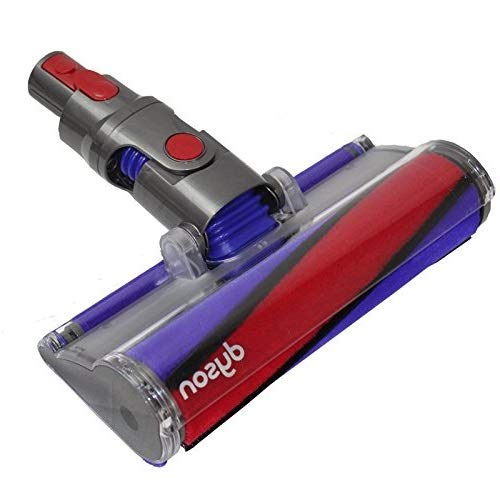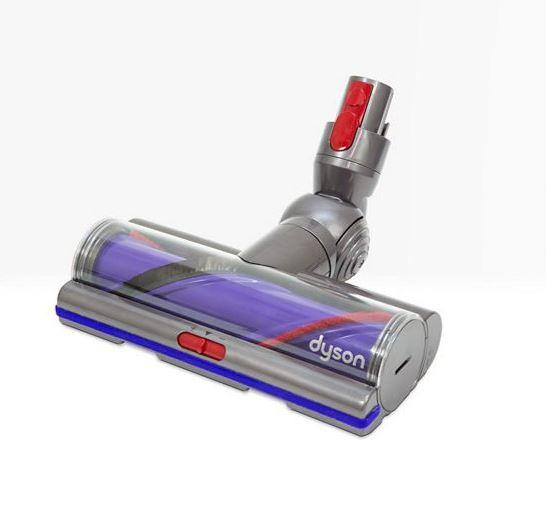 The two types of cleaner heads are depicted above. The first one is the soft roller cleaner head. The torque drive cleaner head is the next one.
If you already have a previous model of Dyson cordless vacuum cleaner, you can try the soft roller cleaner head by purchasing it separately.
Please select your desired model correctly before checking out. Check here.
Upholstery
For the first time in the Dyson V series, a mini motorized brush is introduced in V10 Absolute vacuum cleaners. So the ultimate upholstery cleaning solution is finally provided in a cordless Dyson vacuum cleaner.
Before, you would get only a pet multi-tool and some other accessories.
Carrying ease
The Dyson V10 Absolute is very lightweight, only 5.9 lbs. Can you imagine a vacuum cleaner that weighs less than 6 pounds and yet is so powerful? A big plus one.
Additionally, it allows you to move the vacuum cleaner here and there very easily.
Anti-tangle
Dyson has not done anything yet with the brushroll to prevent hair wrap.
However, they have a special attachment tool called Tangle-Free Turbine Tool. It is a mini attachment that consists of two oval-sized brushrolls that rotate counter to each other.
This is a very advanced mechanical thought, and hair does not get wrapped. It is tested and verified. This is the most effective solution for hair wrap I've seen.
What if your Dyson v10 stopped working after cleaning the filter? (read now)
The problem is it is not self-motorized. This rotates with the aid of air suction. So whenever you try to clean high piled or shag carpets with it, by applying pressure, the rotation will be stopped.
So it won't do anything then. But it does the greatest on bare floors because there's nothing to prevent the rotation.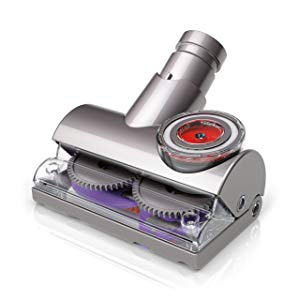 Another problem is you have to buy it separately. Click Here to learn about the pricing.
Other specs:
Weight: 5.9 lbs. This is the most lightweight vacuum cleaner.
Bin capacity: .76 liter.
Battery runtime: About 40-60 minutes. This is very impressive to get such battery backup in a cordless vacuum cleaner.
Cleaning path width: 9.8 inches. The cleaning path is wider also than most vacuum cleaners.
Customer complaints
The only complaint I heard is getting tired of swapping the floor nozzle.
The Dyson V10 Absolute has done everything right. Even the multi-surface necessity is also solved. You will have to change the cleaning head often, but you will get the cleanest surface with your Dyson V10.
I cannot say a thing or two about its bin cleaning system. It has the most sophisticated bin-cleaning system I have ever seen.
It is not possible to describe the easiness of Dyson V10 Absolute's bin cleaning system in a word. Check the video below to get a clear picture. 
Attachments
Torque drive cleaner head
Mini motorized tool
The soft drive cleaner head
Combination tool
Mini soft dusting brush
Crevice tool
Docking station
Charger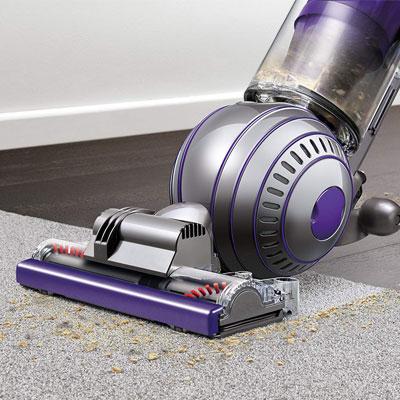 You have seen the best cordless vacuum cleaner for hardwood carpets provided by Dyson. Let's see what upright vacuum cleaners Dyson has to offer. We are getting to know about the Dyson Ball Animal 2 now.
Suction power
Dyson cordless model fascinates the world by counting suction power. A massive 306 Airwatt of suction is constantly going on after you switch on the Dyson Ball Animal 2.
This is the most suction power measured from the vacuum cleaners featured in this article. The same technology is applied to the Dyson V10 absolute.
Hardwood and Carpet
In terms of cleaning both hardwood and carpet, Dyson ball animal 2 will do great also – But with changed engineering. What they call it –an 'Active Base Plate' is present here.
What does it do? It is a self-moving plate that can move up or down by itself according to the surface. During bare floor cleaning, it stays down and secures the perimeter – stopping the dirt from scattering.
While on carpets, it moves up by itself according to the height of the carpet – allowing a safe passage where dirt and debris can be sucked.
Upholstery
A long hose will be your all-time associate to fulfill upholstery necessities. It is very long. About 15.4 ft. Using it, you can cover any place from the ceiling to the floor.
Carrying ease
This is the segment where all these good things stated above might get faded. This is one big vacuum cleaner, and there is no such thing called 'canister detachment'.
This will not be as arduous as you think while vacuuming for this excessive weight. But think about carrying this bulky and heavy vacuum cleaner passing stair steps, I'd say a big no.
Anti-Tangle
Another letdown. Nothing is implemented to reduce hair wrap. It is a big vacuum cleaner with a big cleaning path with a long brushroll. You will suffer getting those tangled hairs out of the brushroll.
Good luck with your scissors. Anyway, Dyson does not leave you out wide in the open. They provide the Tangle-Free turbine tool here. You know what it is.
Other specs:
Weight: 17.35 lbs. HEAVY! But not just give up yet. You must check the next customer complaints section.
Bin capacity: You will get a very big 2.2 quarts dust cup.
Cord length: 35 ft, the longest.
Hose length: long 15.4 ft.
Cleaning path width: 15.35 inch
Customer complaints:
Very heavy!
Pet hair gets tangled
You have nothing to do with the hair wrap. But for the weight it brings, I have some words to say. For easy maneuvering,
Dyson has put the circuitry in a ball and placed that at the joint of the cleaning head and the canister. The ball rotates, aiding you while roaming with it.
This is not hard work. The ball makes it a lot easy to maneuver around. I haven't found one person complaining about its weight while vacuuming.
I have found scared people get scared just by hearing its weight. To them, it is not as it seems.
Attachments
Combination tool
Tangle-free turbine tool
Stair tool
More attachments are available also (To get these also, check here); they are:
Articulating hard floor tool
Mattress tool
Multi-angle brush
Carbon fiber soft dusting brush
A tool bag
Reach under tool
And the three said up above
Read later: Best vacuum under $200

If you do not own a pet or just have only one cat that doesn't shed very much – you may consider Dyson ball multi floor 2 instead of animal 2 with a reduced price.
Suction power
Suction power is reduced than the Dyson Ball Animal 2 vacuum cleaner. It is now 250 AirWatt.
Hardwood and carpet
The same Active Base Plate is also used here.
Carrying ease
Weight is also a bit reduced. It is reduced to 15.6 lbs. You still cannot detach the canister. It won't be easy to carry this vacuum cleaner from one floor to another.
Anti-tangle
Nothing has been done to prevent pet hair wrap.
Other specs:
Weight: 15.6 lbs.
Bin capacity: 1.6 quarts.
Cord length: 31 ft, the longest.
Cleaning path width: 15.35 inch
Attachments
Stair tool
Combination tool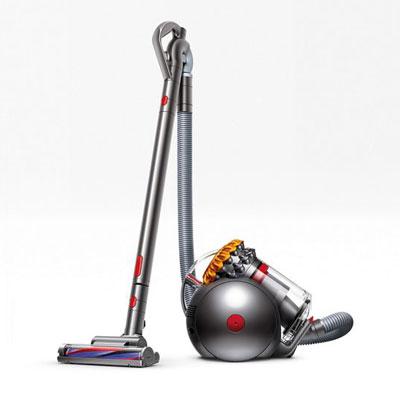 The only canister vacuum cleaner on this list. Let's see what this possesses to offer.
Suction power
It is measured at 250AW. Same as the Dyson Ball Multi-Floor 2 Full-size upright vacuum cleaner.
Hardwood and carpet
In the Dyson Big Ball Canister vacuum cleaner, Dyson has implemented a very bright idea in the brushroll. To clean both hardwood and carpet efficiently, a hybrid brushroll is introduced here.
The brushroll has 1644000 carbon fiber filament, which acts as a soft brushroll to clean the hard floor. In this very same brushroll, 6124 stiff nylon brushes are placed to clean carpeted surfaces.
Upholstery
It is a canister vacuum cleaner. No need to think about upholstery cleaning additionally. The hose is long enough to reach anywhere.
Carrying ease
As a canister vacuum cleaner, it is already designed to go anywhere.
A very big roaming convenience is also available in the Dyson Big Ball canister vacuum cleaner. It adjusts its position automatically whenever toppled.
The ball-lookalike portion is engineered such that the center of gravity is placed at the middle point, and thus it goes straight to its standing position if toppled.
Anti-tangle
Like the previous Dyson vacuum cleaners, you won't find anything that prevents hair wrap.
Other specs:
Weight: 17.64 lbs. However, nothing to worry about the weight. It's a canister vacuum cleaner.
Bin capacity: You will get a big 1.68 quarts dust cup.
Cord length: 21 ft.
Maximum reach: A long 35 ft. will be covered.
Attachments
Turbine head
Stair tool
Combination tool
Best Bissell vacuum cleaner for pet hair and hardwood and carpet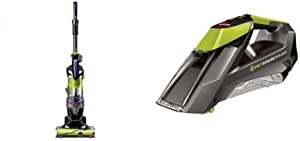 Welcome to the complete vacuum cleaner on this list. Without a minor lacking of bare floors, it can do all sorts of cleaning.
Suction power
It draws strong suction power like most of the rest. The exact measurement is not figured out yet. It necessitates 840 of current to create this strong suction.
Hardwood and Carpet
There is no soft-bristled brushroll. It would be best if you relied on its strong suction power while cleaning hardwood floors.
On the other hand, the hard-bristled brushroll is very convincing. It cleans carpets very effectively. And since the brushroll ensures anti-tangle dirt and pet hair collection, nothing could be better.
Upholstery
Premium attachments are available for upholstery cleaning. And ONLY this time, you will get a pet-friendly mini motorized brushbar that prevents pet hair wrap too. 
This feature is long-awaited for everyone. We have had anti-tangle before in previously described vacuum cleaners, but all of them were restricted to the floor nozzle only. 
Only in Bissell Pet Hair Eraser Turbo Plus (24619), will you get such extensions.
Anti-tangle
Nothing to say additionally in this segment. You already know that this is the most effective anti-tangle occupier vacuum cleaner on the list. Let's figure out how the anti-tangle works here.
Bissell engineers have applied a very simple but effective thought to overcome this big problem – hair wrap. Short-distanced bristle helps hairs to get wrapped.
They made the distance long. And they place the suction channel as lower as possible. There you go; long hairs get sucked up even before they get a chance to get tangled.
Spillage
For the first time in this article, spillage appears. Let me say something about it. If you own pets, and if they are not well pot-trained – it is possible that carpets are their favorite place to do that.
If you have kids near you, what do they do? They spill. This vacuum cleaner does not actively clean spillage, though.
But you can get a Bissel Pet Stain Eraser carpet cleaner bundled with this vacuum cleaner. The pet stain eraser is only a carpet cleaner, though. You can't clean spillage on bare floors.
Other specs:
Weight: 14.2 lbs. Lightweight but full-sized upright vacuum cleaner
Bin capacity: .79 quarts.
Cord length: 30 ft, very long.
Cleaning path width: 12 inch
Bin cleaning Beside Dyson, this vacuum cleaner also focused on efficient bin cleaning that wouldn't require getting hands dirty. Dirt, along with pet hair, gets spooled in the dust cup by cyclonic air pressure.
This keeps the hair and dirt alongside, like a circle. When you want to empty the dust cup, just push the button, and these dirtballs will fall by themselves.
Customer complaints
I stand in the same position again. Auto cord rewind is not good for your vacuum cleaner. This tears the wire from the socket.
Attachments
LED lighted crevice tool
Pet TurboEraser tool (Motorized)
2 in 1 pet dusting brush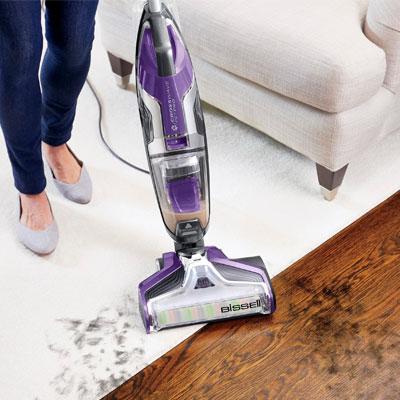 This one is the one for spillage. This vacuum cleaner cleans spillages.
Hardwood and Carpet
A hybrid brushroll is installed inside this vacuum cleaner. To ensure spillage cleaning, most of the spaces of the brushroll are occupied by soft bristle, which is great for hardwood floor cleaning.
This is the best bare floor cleaner in this article. Since it does not just suck the dirt up, it mops the floor and gives it a very shiny look.
There is a hard bristle, too, to clean pet hair and other debris from the carpet, but you will have to pass the vacuum cleaner some more to clean the carpet.
But oh man, did I forget about the spillage. Do not worry about any spillages on your carpet, and this vacuum cleaner will take care of everything.
Carrying ease 
This vacuum cleaner does not have a canister detachment system. But this is an almost stick vacuum with a very sleek and minimalist body. Moreover, it is very lightweight. You can carry it anywhere.
Anti-tangle
Bissell claims that the brushroll can prevent hair from being wrapped up for up to 8 inches long hair.
Spillage
This is the only self-spillage cleaning vacuum cleaner featured here. The soft brushroll does a great job while cleaning spillage. There are two water tanks built into the body.
One carries the spillage solution, and the other one is for regular dirt and dirty water that just cleans the spillage.
Cleaning the brushroll is very easy too. The self-cleaning dock is available. Just place the vacuum cleaner there, put in some water, and switch on the vacuum cleaner.
It will do the rest by itself; It will be cleaned all by itself. Check out the video below
Other specs:
Weight: 11 lbs.
Bin capacity: .45 quarts.
Cord length: 25 ft.
Cleaning path width: 12 inch
Customer complaints
Pet hair still gets wrapped.
According to the brushroll type, the brushroll is not capable of preventing hair wrap effectively like the Bissell Pet Hair Eraser Turbo Plus (24619). You can get the same feature without this anti-tangle brushroll at a much-reduced price. Check the vacuum cleaner here 
Best hoover vacuum for hardwood floor and carpet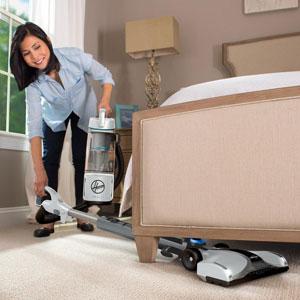 This vacuum cleaner is not as capable of cleaning both hardwood and carpet as the others do. This does not have a soft-bristled brushroll and does not have any measurements taken to prevent hair wrap.
But where this vacuum cleaner really shines is – It is the techiest vacuum cleaner here. And the provided attachments are very handy and top-notch.
Suction power
Suction power is low comparing the previous vacuum cleaners.
Hardwood and Carpet
I have declared already that it does not have a dedicated soft brushroll to clean bare floors. It does what other conventional vacuum cleaners do; it stops the brushroll while cleaning bare floors.
But still, it can be the one you were looking for. How? Let me decipher.
I have seen many people who hate to change the floor settings every time S/He change the floor while cleaning.
If your home does not get that dirty, you do not need a soft brushroll to clean the bare floor, but if you also get annoyed changing the setting from hardwood to carpet and carpet to hardwood – this is exactly the vacuum cleaner you need.
Because it has sensors installed within its floor nozzle! The sensors sense the floor type and stop and run the brushroll automatically, all by itself!
Carrying ease
Like the shark Lift-Away vacuum cleaners, the canister can be detached. It is a very good aspect of the Hoover React (UH73550PC).
Upholstery
This vacuum cleaner is a master of cleaning upholstery with its sophisticated attachments. You will get a mini brushroll along with some other very handy attachments.
Check the photo below to get apprised about its belongings.
Anti-tangle No such facilities, brother. Hair will be wrapped.
Other specs:
Weight: 18.6 lbs. Very heavy
Bin capacity: 1.58 quarts, big.
Cord length: 30 ft, very long.
Hose length: 6 ft
Cleaning path width: 13 inch
Customer complaints
The hose is too small
Very heavy
Other than the floor sensing capability and interacting with the vacuum cleaner via smartphone application – this vacuum cleaner has some bad sides.
I do not know why they made the hose too small and why the machine is such heavy.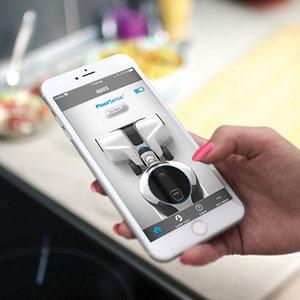 Attachments
XL crevice tool
Accessory bag
Dusting brush
Baseboard Duster
Flexible Dusting brush
Hard floor duster
Powered stair tool
Upholstery tool
Anyway, if you do not mind letting go of some attachments and the canister lifting ability – but want a long hose, check out this hoover react. This costs lower too. Check here.
If you do not want to sacrifice the canister lifting facility, you can still have a relatively longer hose in this Hoover React model; attachments are pretty too. Check here
Related Guide: Best cheap vacuum cleaner under 100
How to choose the best vacuum for both carpet and hardwood for you
There are some common aspects of vacuum cleaners that differ from user to user according to their need.
Suction power
Don't even blink to think about what purpose your vacuum would be serving. Whether you have a pet or not, your home is full of kids, or you are you – no matter what, always go for a vacuum cleaner with good suction power.
Good suction power means less pass while vacuuming, which means less work.
Weight
Weight is the very first thing to look out for. If you feel discomfort with a heavy vacuum cleaner, never buy it, no matter its features.
However, if you do not have a problem with a heavy vacuum cleaner, you should overlook this because heavy vacuum cleaners usually provide additional usefulness, like a big dust cup.
Bin capacity
Big homeowners need a good bin capacity. It is annoying to pause the cleaning session and go to empty the dust cup quite often.
If you frequently conduct a big cleaning session, you might want a vacuum cleaner with a bigger dust cup.
Dust cup cleaning
Dust cup cleaning is another important thing to look for—the system, how messy the system is, or how easy the cup cleaning mechanism is.
I wouldn't say I like to get my hands dirty after vacuuming.
In recent days, vacuum cleaner manufacturer companies are applying different mechanical engineering when it comes to dust cup cleaning. It is not just "open and shakes as long as the dirt isn't out" anymore.
Cleaning path
If you do not have a problem maneuvering a vacuum with a wide cleaning path, go for it. A wide cleaning path means a wider clean area with one pass.
Hose length
Every upright vacuum cleaner usually has a hose to provide an upholstery cleaning solution. Check its length.
If the vacuum cleaner has the facility of lifting the canister off from the vacuuming, then the short hose length might not be a problem.
Especially if you are comfortable enough holding the canister with one hand while vacuuming with the other.
Otherwise, go for the one with a long hose. The upper step of your staircases and the upper portion of your curtains are quite far from you are right now.
Cord length
Another important aspect is the cord length. Some people want short cord lengths cause it is quite difficult to manage long cords while vacuuming.
If your room is small, it creates circles on the floor that often get in the way of cleaning.
But your room is big, with only one power outlet – a long cord will be a game-changer. Do not get pulled back by the cord provided.
Battery life
Many do not like cords, me too. But with a cordless vacuum cleaner, you must sacrifice one thing – the runtime. You just cannot run your vacuum cleaner forever.
Check the manuals, and check anything to get info on battery life. If you frequently operate long vacuuming sessions with a cordless vacuum cleaner, long battery life will be needed.
Light
Lights are needed to clean dimly lit areas, like in between two pieces of furniture.
Lights are a pretty common thing on a vacuum cleaner nowadays. Check how efficiently the lights are placed.
As describing the common features are over, let's take a glimpse at some specific user preference-related needs while choosing the best vacuum cleaner for hardwood and carpet.
Best vacuums for carpet and hardwood.

Hi, This is George. Founder Of Vacuumist.com. Completed my graduation in Bachelor of Business Administration. Proud father of two lovely baby girls. Reviewing home appliances is my passion. Developing this blog to update and publish my recent reviews and research. Stay in touch.