Shark has added a new member to its Rocket line – the DeluxePro. The essence of DeluxePro is to bridge the shortcomings of the classic Rocket and deliver a superior experience.
The new additions in this model look very promising for a vacuum cleaner of its price. DeluxePro has several intriguing versions to match the ever versatile needs of its users.
In this article, we will do a complete Shark Rocket Deluxe Pro review including all its variants.
Here, some amazing features that vacuums of shark DeluxePro series offer are given below. By going through them, you can get a clear picture of them.
After that, specifications of the members listed under the Shark DeluxePro are also given nevertheless. I am sure you'll find that interesting too. So, dig deep below, won't you?
Shark Rocket Deluxe Pro Review – Explore The Best Features in 2017
Before we start analyzing every feature and its worth, let's go over the Shark Rocket DeluxePro's listed specifications first.
| | |
| --- | --- |
| Features | Shark Rocket DeluxePro |
| Weight | 8 pounds |
| Power | 500 watts |
| Surface Types | Bare floors, carpeted floors, walls and ceilings |
| Dust cup capacity | 0.22 gallons |
| Handheld | Yes |
| Swivel Steering | Yes |
| Cord Length | 30' |
| Power ON/OFF | No |
| Suction Control | Yes, 2 settings |
| Filtration | 2 washable foam filters |
| Hard floor Genie | Yes |
| Crevice Tool | Yes, 12" |
| Pet Upholstery Tool | Yes |
| Car Detail Kit | No |
| Mattress tool | No |
| Dusting Brush | Yes |
| Wall mount | Yes |
| Headlight | Yes |
| On board accessories clip | Yes |
| Warranty | 5 years |
If you want a better understanding of how all these features tie up together, read our in-depth review of the DeluxePro below.
Accessories
The DeluxePro variants differ from each other mainly by the accessories that they come with. We will discuss the unique attachments of each version near the end.
All Shark Rocket DeluxePro variants include a generous set of accessories.
Handheld portion
Motorized floor brush
Hard floor genie
Dusting brush
Upholstery tool
12" crevice tool
On board accessories clip
Extension wand
Wall mount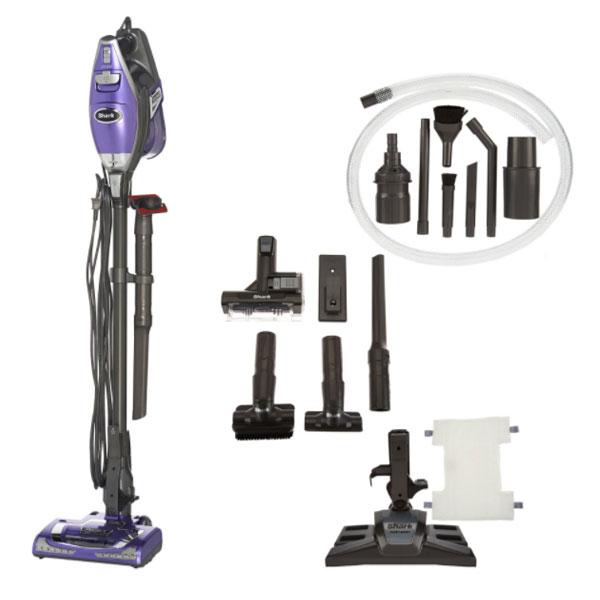 Build & Design
The Shark Rocket DeluxePro has a very maneuverable weight for a stick vacuum at just under 8 pounds. The dimensions are 47.5" high x 10.25" wide x 13" deep.
There is an ergonomic handle on the top for ease of use. Just ahead of it, there is a control for adjusting speed to your liking.
The DeluxePro comes with a 30 feet power cord. The length is a big advantage while cleaning larger rooms such as halls.
The power cord does not have an auto rewind feature though. If you are clumsy, chances are you will trip over the cords every once in a while. We would have preferred if it were a cordless vacuum.
Apart from this, the DeluxePro has a convenient design overall. It can be transformed into a handheld for cleaning above the floor – furniture, walls and ceilings.
It has ten bright headlights at the floor base allowing for easy dust spotting in dimly lit areas. Shark has included its swivel steering feature in the DeluxePro as well, for easy navigation.
Our rating: 7.5/10
Power
The Shark Rocket DeluxePro requires an input power of 120 volts and produces a power of 500 air watts. Since you have to plug the vacuum into a power socket, it rids you of the troubles of replacing and running out of battery.
It uses a cyclonic technology that claims to maintain the original suction power throughout the stick vacuum's lifetime. Many users have vouched for that as well.
The vacuum cleaner indeed delivers a powerful suction.
Our rating: 8/10
Cleaning Performance
Shark Rocket DeluxePro comes with a variety of tools. For bare and hard floors, Shark has included the dusting tool and hard floor genie.
The dusting tool can be used to remove debris from all surfaces, including hard floors and carpets. Remember to run the DeluxePro on setting 1 while cleaning hard floors so it does not damage the floor with excessive suction.
The specialized hard floor tool, the hard floor genie, comes attached to a washable microfiber cloth. On the upside, it wipes the floor without leaving behind any scratch marks. On the downside, it can get dirty rather quickly so you have to pause and wash it.
It has the motorized floor brush to work on carpets. The brush can dig deep into carpeted surfaces and clean out dust. If you want to clean your carpets and rugs with non-electric attachments, set the power setting to max suction to get the most out of it. Users have deemed the DeluxePro's performance on carpets and rugs more than satisfactory.
If you have pets at home, you can use the upholstery tool to pick up pet fur out of bedding, carpets and upholsteries. Pet hair on bare floors can be cleaned with the dusting brush.
You can convert the stick body of the vacuum to a handheld to clean furniture and walls. For places out of your hand's reach, Shark has included a 12" crevice tool in the DeluxePro. The crevice tool's convenient length allows it to clean as high as the ceilings.
Our rating: 7.5/10
Filtration
Shark has incorporated two foam filters inside the DeluxePro. Many vacuum buyers have a noticeable preference of Hyper Efficient Particulate Air filters because they tend to block out allergens.
Though the cyclonic technology captures a lot of dust particles, we would have preferred the HEPA filters too. If you have allergic residents at your home, you should consider a vacuum cleaner with HEPA filters.
The foam filters of the DeluxePro have a possibility of getting clogged at times. Unfortunately, there are no indicators to let you know when that happens. To prevent clogging, it is recommended that you wash them once a month.
Our rating: 6/10
Bin Capacity and Maintenance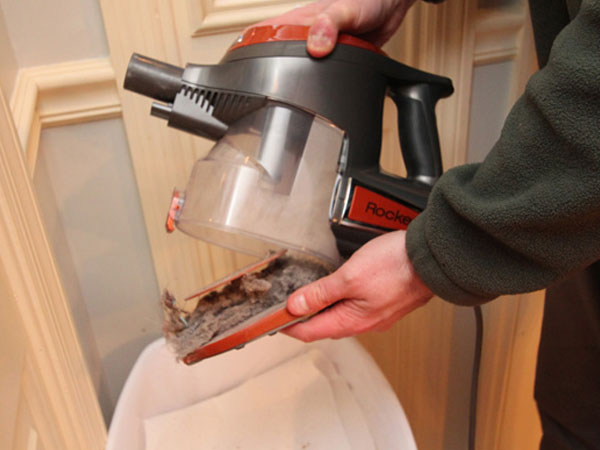 The bin volume of the Shark Rotator DeluxePro is twice as much as the classic Rotator. At 0.22 gallons, the bin is large enough if you have a small apartment. If you vacuum 2 to 3 average sized rooms at a time, the dust cup has your back for the whole session.
Yet compared to its competitors, 0.22 gallons does not seem much. If you attempt to clean multiple rooms with larger cleaning areas, the dust cup will fill up at some point before you finish.
For larger cleaning spaces and messier situations, taking trips to the garbage can becomes inevitable.
You have to manually clean out the dust cup, though it is somewhat convenient. There are latches on both sides of the dust cup base to eject the dust cup. Take it over to the trash can and press the button on the front. The bottom door of the cup will fling open to dump dust into the trash can.
Our rating: 6/10
Ease of Use
Due to its heavy motor, Shark Rotator DeluxePro cannot stand on its own. You would have to hold it in a standing position while vacuuming.
The swivel steering is handy. It is capable of turning the floor base to 45-degree angles but not 90 degrees, unlike the Dysons. It takes a bit more effort to cover all parts of the floor.
The on-board attachments clip was intended to make detaching and reattaching tools on the cleaner head easier. It does not truly serve its purpose. You have to use both hands to make use of the clip.
The tube is plastic-made and has to be handled with care.
Assembling the vacuum cleaner is easy. But storing it away requires disassembling it which could have been avoided.
Maintenance is fairly easy but once in a blue moon, the motor can get clogged. If that happens, it will block suction and need to be attended immediately.
We have no complaints about the crevice tool and headlights.
The wall mount is a smart storage solution in terms of saving space.
Our rating: 7/10
Pros and Cons at a Glance
Pros
Lightweight and maneuverable
Awesome carpet cleaning abilities
Hygienic dust cup maintenance
Long cord
Long crevice tool
Extension hose
Swivel Steering
'Never fading' suction
Bright headlights
Convenient wall mount
Cons
No auto cord rewinding feature
No full bin indicators
Relatively small dust cup
No HEPA filters
Cannot stand on its own
No height adjustment options
No power ON/OFF switch
Shark Rocket DeluxePro – Variants
Shark Rotator has a number of variants in Amazon. They all share the same core specifications. We will offer a brief description that tells you how each model differs from the rest.
1. Shark Rocket DeluxePro HV320
That is the base DeluxePro model we just discussed above. It comes in green color.
2. Shark Rocket DeluxePro HV321
The DeluxePro HV321 does not differ from the HV320 except for in terms of colors. The HV321 comes in lavender color.
3. Shark Rocket DeluxePro TruePet HV322
This variant of the DeluxePro series especially targets pet owners, hence the nickname 'TruePet'. It comes with an additional TruePet mini motorized tool that picks up pet hair and loose debris with remarkable efficiency. For deeper cleaning in handheld more, this tool can prove to be useful.
4. Shark Rocket DeluxePro HV323
The HV323 is a bit more expensive and more armored with tools than the HV322. It has the TruePet's mini motorized brush and also a new attachment – the pet multi tool.
If you have multiple pets at home or a serious hair shedding problem, this vacuum cleaner will make sure your home is spared of all the hair.
5. Shark Rocket DeluxePro HV325
Shark Rotator HV325 does not have the TruePet's mini motorized brush. Instead, it has a 2 in 1 pet multi tool attachment.
Whom is Shark Rocket DeluxePro Best Suited to?
To be honest, you should only go for the DeluxePro series if you don't mind a bit of manual labor.
Since the dust cup is small, chances are you will have to empty it during cleaning sessions. If you get the variants with specialized pet tools, the vacuum cleaner will pick up more hair and dust thus fill the dust cup even quicker. Assembling and disassembling requires physical work on your part too.
If HEPA filtration is a must for you, the DeluxePro does not live up to the criteria. There are a lot of available options in amazon with HEPA filters, like Dyson. But those are a bit more expensive as well.
On the other hand, if you have trouble with visibility, we recommend you get the DeluxePro because of the terrific headlights.
If your floor is covered with carpets and thick rugs, the DeluxePro will be able to give them a good cleaning on a regular basis.
If your cleaning needs go far beyond the floor to walls, furniture and ceilings, Shark Rocket DeluxePro is an excellent choice in a reasonable price.
Related: Shark Navigator vs Rotator comparison guide
Final Thoughts
The DeluxePro's cleaning capabilities are up to the mark, we have to admit that. It is an efficient vacuum cleaner that comes with a 5 year warranty and good value.
If you have read the full Shark Rotator DeluxePro review, you already know its strengths and weaknesses. We would like to add that it could be thought of as an alternative to Dyson DC59 at a cheaper price.