Dyson has been playing a flagship role in its household solutions in the market. Their products are pretty much saviors for consumers' household activities.
Being a user of it, you certainly have the wish to run this conveniently without any kind f disturbance and delays. But you cannot find an electronic device without a flaw.
Similarly, users of Dyson vacuums have a common problem with their Dyson pulsing.
If you are a user of it and you are a part of this crisis, you know how disturbing it can be in some cases.
Whatever, if you go through different user communities on the internet, you certainly can find there are large numbers of users having the Dyson starting and stopping issue and complaining that their Dyson vacuum is pulsing.
It is noted that Dyson has several models around in the market, such as Dyson DC58 or V11, along with some similar models; the procedure and reason behind pulsing are the same.
So, you just need to learn some basics about why it happens and what you need to do to fix or troubleshoot your Dyson pulsing.
The whole article will be in a random order, as usual. Read carefully so that you don't miss any part.
Why is My Dyson Pulsing – Vital Causes Behind the Issue
In case your Dyson is pulsing, maybe there is a blocked airflow in the vacuum.
There may be different reasons behind it, but the most probable causes behind the problem may be the power section, charging MAX function, or blockages.
The very obvious reason behind your Dyson is pulsing. Maybe it's a power section failure.
If the charging is not appropriate, this can be a reason behind the pulsing.
If you are a regular user of Dyson, then you must be aware of the MAX function. If that function is not working properly, it may be a reason for the device's pulsing.
Blockages in the engine are always unwanted, whatever the machine you are using. Blockage can also make your Dyson keep pulsing sometimes.
If focusing on the issues we have mentioned here doesn't make any change, then go for the further steps we are describing below.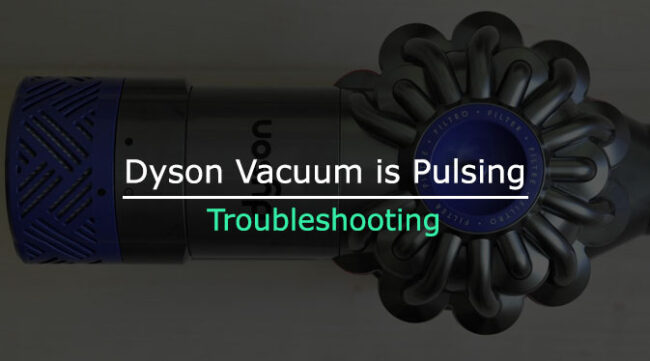 Valid causes behind a Dyson vacuum is pulsing
Floor Tool Clean Up
Though there are varieties of floor cleaning tools for your Dyson, the matter is, whenever you are not cleaning it properly for a longer period, this may lead you to issues like not working properly.
It is seen in many cases that the machine often starts pulsing while there is no cleanup for a larger period.
For better maintenance of your cleaning tool for your Dyson;
Let it cool down before the clean-up session.
Disconnect the floor and wand. Also, make sure there is no hair, debris, or similar objects stuck in the machine internally.
Internal cleaning up is sometimes highly important; you shouldn't let any dust inside for making interfere with your future worktime.
If the brush tool has bristles, then make sure that the bristle portion is safe from hair or similar objects.
Remove all sorts of neck blockages from the vacuum.
Finally, place everything back in its place and start the machine again. Check whether it is pulsing like before or not.
Accessory Blockage Issue
This one is pretty common for your Dyson vacuum if you do not clean it and maintain it in a regular way. To keep your machine safe from pulsing and accessory blockages;
Cool it down as usual.
Just clean the bin properly and then set it back in its place.
Start your vacuum and check whether it is still pulsing or not.
Related: Why is your Dyson flashing blue light?
Wand Blockage
Wand blockage sometimes makes clusters that create pressure over the whole system. This pressure leads the engine to pulse continuously.
To get rid of this;
Separate the wand and floor attachments properly.
Look inside the wand and clear up if you find any blockage in it.
Make sure there is no obstruction inside it.
Set the machine up at its place again and check if it is pulsing like before or not.
Bin Cyclone
If the bin cyclone is not cleared, you may face issues like the device Pulsing continuously. Just go through these steps for clearing the bin cyclone;
Pressing the bin release catch, clean the bin inlet, and remove all kinds of dust and debris stuck into this.
If there is too much dust and they are not getting cleaned, use a cloth to clean them up.
After cleanup, shake it over the waste bin.
When things are all done, connect the power again and check whether your Dyson is still pulsing like before or not.
Emptying the Bin
Emptying the bin is sophisticatedly an important task in this case because, if it is too full, then the machine will significantly stop working.
Because it creates pressure on the machine in the lack of proper storage, which makes the device pulse continuously.
You can just press the bin release catch and easily empty it instantly. Just try to clean it and remove all dust stuck in the bin. Once you are done, place it back in its place and check whether there is the same pulsing.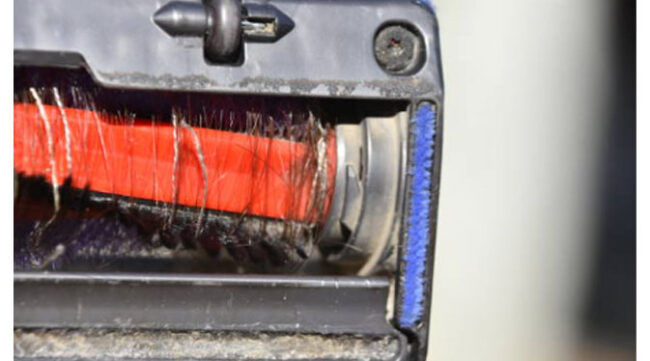 Filter Cleanup
Once the filter of your Dyson is dirty, the machine may have to struggle with simple tasks on your regular day. As a result, sounding like pulsing continuously is not a big deal In that case.
So, we would recommend you clean the filter at least after every regular period.
Whatever the model of Dyson you are using, to clean the filter of it,
Let it cool down as usual.
Pull the filter out of the vacuum by rotating clockwise.
You can rinse the paper filter. Keep cold water flowing until you find it visibly clean and usable.
Also, you need to clean the outside of the filter; otherwise, after soma days for sure, it will make a layer of dirt over the filter body.
After every time you clean the filter up, leave it for at least 24 hours to dry it and get usable on the work.
Sometimes if after cleaning the filter, if the machine keeps pulsing and you visibly find the filter is dirty, then you better change the filter.
All the processes we have discussed already can solve the issue, but sometimes the situation is more complex than these steps may not be able to solve the issue properly.
You may keep in mind that your Dyson vacuum is compiled with a number of micro components and complex parts. Each of these can be trouble which may cause a crisis like the Dyson vacuum not working properly.
If the issue still remains, try these steps to fix your Dyson pulsing;
Find the motorized head of the vacuum and clean it. This may be a reason for the pulsing issue.
If the brush bar is dirty, go for cleanup for it. Be a bit cautious that you don't damage the brush heads.
Cut away the debris or fiber and hair-like dust properly.
Your Dyson vacuum has to deal with a massive amount of dust and dusty materials every single time. As a result, being stuck in the dust is a very common thing for it.
And you need to clean the device on a frequent period so that the stuck dust won't damage the machine.
And in the end, you have a clear idea about how to deal with your Dyson Vacuum Pulsing. For users of different models such as V6, V7, V8, or V11 and any of the similar ones, the issue works the same.
Dyson Starting and Stopping Easy Fix
So, undoubtedly you can apply the steps we have mentioned to fix your Dyson Pulsing.
Sometimes the users change parts and get some unauthentic products that don't fit properly in the machine and may even harm your vacuum significantly.
While you are changing any of the parts, we would highly recommend you get Dyson Authorized products and spare parts for it. Also, model generation may make differences in functionality.
So, you should always have an idea about your device's stock manual properly.
And If going for all of the steps even doesn't make any changes to the vacuum, we would suggest you call your nearest Dyson Customer service and seek expert help.
Next Reads:

Hi, This is George. Founder Of Vacuumist.com. Completed my graduation in Bachelor of Business Administration. Proud father of two lovely baby girls. Reviewing home appliances is my passion. Developing this blog to update and publish my recent reviews and research. Stay in touch.