I don't consider myself a hardcore lawn mower expert.
But I know a thing or two about lawnmowers for sure. Owning a moderate-sized lawn made me so. I had to go ahead and figure out what was good for my lawn and, much more importantly, what was not.
I have seen people struggling over this, which fueled my wisdom pursuit. People often ask me how I have been managing to keep my lawn in such great shape constantly.
There's another question I frequently get, "is it possible to get a good gas lawn mower for under 100 dollars?"
Well, the answer here is both yes and no. You can get your hands on a quality gas lawn mower for below a hundred bucks.
But I don't think you can get a brand new one paying this price. Setting aside a gas lawn mower and getting a new electric self-propelled lawn mower would be a tough task.
And that's when our burning question comes, how could a person possibly get a gas lawn mower for such a low price?
The answer is to get a used one.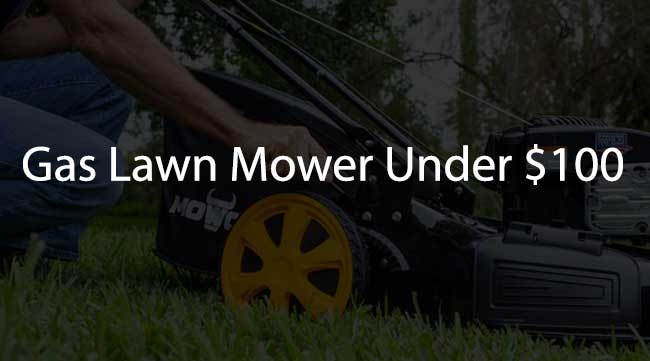 Used or new – When the budget is 100 bucks?
So, we have a problem on our hands, getting a gas lawn mower when our budget is so tight. The answer is to get a good used one.
You'd have to go through the process of buying a used mower, though. It is risky; a single misstep could ruin your buying experience.
Before moving on to my next solution, I'd like to let you know that marketplace like eBay is available nowadays.
eBay tries to keep the marketplace safe, so I bet you'd be safe from fraudulence if you bought from eBay. There still would be possibilities of things going wrong.
Let's get an idea,
Positive sides of purchasing from sites like eBay
You might find gems under a short budget. People often need haste money, and they sell an almost new product for almost half the main price.
There's a chance that you even might get a gas lawn mower with a warranty at this price point.
This point is for online purchases; you can search from listings from all over the US. A vast number of opportunities.
Negative sides of purchasing from sites like eBay
You will not find your desired products every time. If you are a cautious buyer, someone like myself; sometimes you just don't get what you are looking for.
This is a direct contradicting point from the 2nd one written above. Most of the time, you won't get warranties. If your newly purchased used mower starts to malfunction, it is bad news.

Most of the time, you will get a 7-day warranty period, though it's good news that if it is a bad mower, you will notice it immediately. Or if you don't, you must leave within the first 7-days. But still, why undergo such a tussle?
Shipping can be a problem for mowers. It's not a phone. The seller cannot just toss it into a package and send it over.
So, buying a used lawnmower has its drawbacks. What do you want? Do you want to retreat and purchase a new one?
Before you decide on anything yet, let me let you know the good and the bad about buying a new one. Moreover, before you decide anything, I'd like to humbly remind you that buying a used lawnmower has its perks too.
Positive sides of purchasing a new lawnmower
The sky is the limit here. There's a vast number of options available in the market. Surely, you find what you desire.
INNER PEACE! Things won't go wrong; you will have a warranty for your new mower.
They even let you do a test run for a day or two, giving you a chance to ensure that you are choosing the right one.
Negative sides of purchasing a new lawnmower
If you have plenty of money, there is none. Heck, I'd reprimand you if you want to go for used mowers while you have the money.
As said before, buying a used one has its perks. If you can be cautious and ensure some things, this used mower might be a better purchase than a new one. Now let's get some insight into these things.

Checklists:

I assume you already know your requirements and what capabilities your gas lawn mower should perform. Now your task is to find a similar from the internet. See which existing gas lawn mower will be perfect for your lawn. Then search for a used one.

You should know the current market price of your coveted gas lawnmower. It helps to bargain.

For every mower, blade height adjustment is an important matter. You must check it before buying.

The seller's reputation should also be checked.

Contact the seller personally and know about its previous usage. How frequently does it function, is there any rust, etc.
Go to eBay.com. Search gas lawn mower and set Price + Shipping: lowest first from the filter settings located at the top right side.
eBay AI will automatically remove irrelevant results like accessories etc. You will find plenty of suitably used gas lawnmowers.
Toro 22'' self-propelled walk-behind Lawnmower
I like this lawnmower from Toro. It is compact, but the Kohler engine ensures your needed power. If you haven't decided which lawn mower you should get yet, keep this gas lawn mower on your list.
Highlights:
It has a 'Quick wash' setting. It is placed at the mower housing. Very convenient to wash the grass accumulated below the mower.
Five height adjustments.
You can adjust the front and back tires separately.
Here is the front view. Don't end up with a decision yet. This toro gas lawn mower is currently priced at 41$. I am guessing it will be sold for under 60$ if someone doesn't bid prices ridiculously high.
Here, the seller confessed about the worn front tires while all the tires were dirty. Look out for such condition describer too. And here, in this case, these worn tires reduced the price.
This lawnmower is cheap. Well below that 100-dollar mark. Since you already confirmed that your budget is 100$, let's get stretched at its best and see what eBay can provide.
Lawn Boy 20″ RWD Self-Propelled Lawn Mower
How cool is that? A lawn boy can be bought for under a hundred. And if you check the real image, you won't see any damage done. And its bidding starts from $89.
Let's see what this lawn mower offers,
4-stroke Briggs&Stratton engine
If you don't know, it's also a self-propelled gas lawnmower.
6.75Ft-Lbs gross torque.
Other than some dirty tires, as you can see no other visible damage. It's glowing. I am very fond of This type of deal. Like brand new, ready to use, and Cheap! You can use it right after purchasing.
Both of the lawnmowers above were used.  You can also get company-refurbished items from eBay. Let's check one of those.
Troy-Bilt 21" Self-Propelled Lawn Mower
It is a refurbished lawn mower
It features:
A Briggs&Stratton 163cc EXi 725 series engine.
You also know this from the name. It has a 21" cutting width.
Dual-lever deck height adjustment: using this dual lever, you can change six different height settings. The measurement is 1.25inch – 3.75inch.
The rear wheels are larger than the front ones. 11 inches.
Comes with a deck wash adapter. It can be attached to a garden hose. Effortless deck cleaning.
It's sold for around US $300. Here, you can get the same performing refurbished one just for $140.
What's the difference between a used and a refurbished lawn mower? Refurbished lawnmowers are repaired by certified personnel.
The good thing is it works the same as a new one would. And you can get the same performer paying half the regular price.
Should I look at craigslist?
You should not. Check craigslist only when all options are lost. If you can get it from trusty sites like eBay, don't check craigslist.
New lawnmowers under $100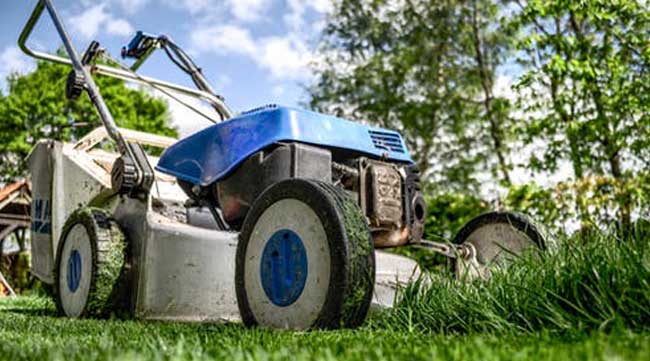 Sorry to put your hope up. As said before, it is not possible to get a new gas lawn mower at such pricetag. Gas lawnmowers are masterpiece examples of modern engineering. They are not cheap.
Let's see the cheapest gas lawn mower found online currently. You may find a cheaper option if you visit your nearest lawnmower store.
And it is best if you physically go to a store and purchase from there. Sadly, we are undergoing a pandemic. The stores may be closed.
Let's see our cheapest option right now.
Hyper Tough 20-inch 125cc Gas Push Mower with Briggs & Stratton Engine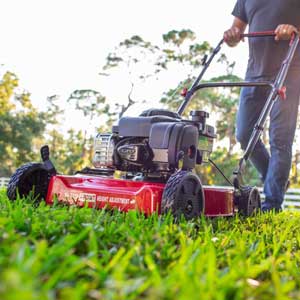 It is from Walmart, and it is priced at $168. Hyper Tough is making its way through the lawnmower industry. They are known for providing cheap while okay performer gas lawnmowers.
Still, it is priced way over a hundred dollars. I am not putting effort into describing its specs. Just know that it is a 20" Gas mower with a 125cc Briggs&Stratton engine inside.
I got impressed with these two with such price tags. To know more, please visit the Walmart listing.
As for now, I see that only two of these are left in stock. It might get out of stock. If it's out of stock, you are out of luck, unfortunately. You won't find such cheap gas lawnmowers until it is re-stocked.
Cheapest gas lawn mower available online
Since I am not sure about the previous Walmart gas lawnmower, I found another cheap one from amazon.com
21-inch & 144CC, PowerSmart Gas Powered Push Lawn Mower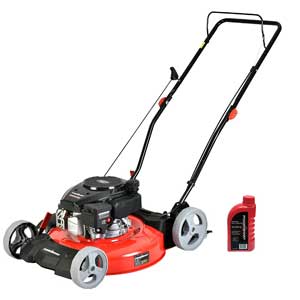 Highlights:
4-stroke 144cc Briggs&Stratton engine.
5 height settings.
Side discharge and mulching.
Minimalistic structure, easy to fold and store.
Electric lawnmowers under 100 – is it possible?
Some electric alternatives:
Unfortunately, you won't find any full-size electric lawnmowers on this budget. They are also brilliant pieces of machinery.
But you can find a corded small electric lawn mower in this price range. It is from Black+Decker. Let's see it with another promising and cheap electric lawn mower from amazon.com.
BLACK+DECKER BESTA512CM Electric Lawn Mower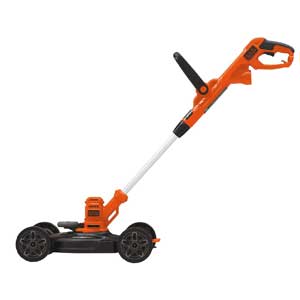 It is made for small yards.
Highlights:
Corded.
Not a heavy-duty mower, but you can trim or combine the edges with it.
Self-propelled yet still very lightweight.
Not made for medium or large lawns.
Cutting Width: 12-inch
Cutting height: 1.6-inch
RPM: 8000
Moving on to a full-sized cheap electric lawnmower,
14-Inch American Lawn Mower Company Corded Electric Lawn Mower (not under $100)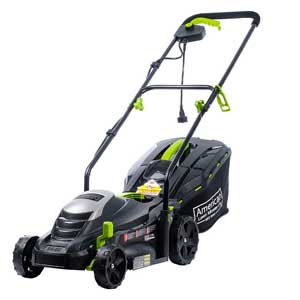 Highlights:
11-amp motor. This motor is considered powerful.
Large 14" cutting deck.
5 height settings. From 1" to 2.5"
Rear discharge. Stored in a storage box that can be separated and emptied later. It is mulching capable too.
To wrap it up, if you own a mid-sized lawn and don't want to go over 100 dollars, you still want a gas lawn mower; you need to seek a used one.
Words of hope are that such used gas lawnmowers under 100 dollars are available, and you can get your hand on one.
Mower articles:

Hi, This is George. Founder Of Vacuumist.com. Completed my graduation in Bachelor of Business Administration. Proud father of two lovely baby girls. Reviewing home appliances is my passion. Developing this blog to update and publish my recent reviews and research. Stay in touch.