Almost everyone who uses vacuum cleaners to clean their houses or offices is familiar with the term Roomba Error 26.
But the new users who have started using a vacuum cleaner often come up with the question, "What is Roomba Error 26 & How to fix Roomba Error 26?"
If you want a simple answer to the first question, just know that Roomba Error 26 is a technical error of a vacuum cleaner that occurs when it is suffering from insufficient airflow.
Answering the 2nd question shortly, if Roomba Error 26 occurs, replacing or cleansing the bin filter generally solves the problem.

You can try rebooting the vacuum cleaner if the error occurs even after washing the bin filter.
A Quick Overview Of iRobot
Before going into the depth of the article about how to fix your Roomba error 26, let's first look at the company which produces the home vacuum cleaner Roomba.
The iRobot company supplies many vacuum cleaners that help people do household chores quickly, and Roomba is one of them.
Other popular robot vacuums that iRobot supplies are Scooba and 590lm.This company's availability is in China, Australia, the United States, Canada, and Mexico.
The company iRobot was founded in 1990, and since then, it has been selling thousands of household chores and helping robots every month.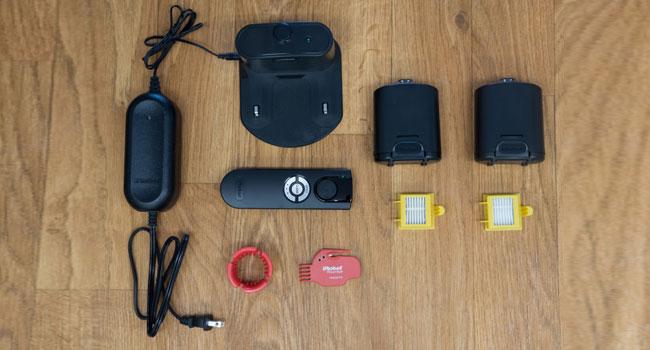 Usage of Roomba
Roomba is one of the most popular robot vacuum cleaners, and it is an auto vacuum cleaner. This robot is mainly used to clean and mop the floor of your house or office and helps to reduce work pressure.
It is also highly functional in case of cleaning the corners of your room. The reason why iRobot's Roomba is drawing too many customers' attention and gaining their trust is this robot's low cost and efficiency.
Also, the cleaning and fixing of this machine can be quickly done at home, reducing the chance of customer's hustle.
The most helpful feature of Roomba is that the robot return to its docking after its moping is done.
Sneak peek of Roomba
| | |
| --- | --- |
| Product Name | Roomba |
| Error explained | Roomba 26 |
| Developer | iRobot |
| Error First Seen | September 9, 2021. |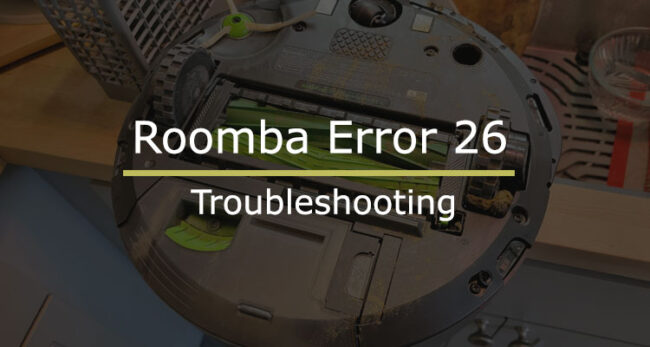 What is Roomba Error 26?
Roomba Error 26 is an error of the Roomba vacuum cleaner, and it usually occurs when there is an inefficient airflow inside the robot because of functional problems.
Also, this might happen due to a vacuum stall; a filter clog can be possible too.
Quick Oversight of Roomba 26
| | |
| --- | --- |
| Error Code | Error 26 |
| Error Message | Vacuum problem. See the app for help. |
| Causes | Vacuum stall, filter clog, or insufficient airflow |
| Check on | Filter-Roomba 26 |
How to Fix Roomba Error 26?
1. Replacement of the bin: The immediate solution to fixing the Roomba Error 26 of your iRobot vacuum is cleansing or replacing the bin filter. You can follow these steps if you find it hard to replace the bin filter-
First, remove the bottom cover of your vacuum by putting off all the screws with a screwdriver.
Take off the bin filter, clean it with a brush, and check if the vacuum works.
If it still doesn't work, buy a new bin filter and replace the old one.
2. Reboot your vacuum cleaner: You can reboot your robot vacuum by pressing the CLEAN button for a minimum of 20 seconds and then releasing it. After removing the CLEAN button, a light ring will whirl around the bin lid.
The light will be on until your robot is rebooted, which will take approximately one and a half minutes. After rebooting your vacuum cleaner, the memory of your robot will completely disappear.
This should usually fix the Roomba 26 error of your robot as you will clean its memory.
3. Clean or Replace the Head Module: If the two steps above do not fix error 26 of Roomba, then you have to clean the air module given that blocking.
To complete this step, you first have to buy a new head module; you can buy it from the iRobot store or replace the head module from their store if you have a warranty card.
So after purchasing the head module, follow this process orderly-
Take off the bottom of your vacuum cleaner; to do that, remove one of the brushes attached below, then unscrew five screws.
Then you have to take off the head module, and you have to take 4 of the screws holding the module.
Get the bin out of your robot vacuum and remove the dirty cleaner module.
Then, put on the new cleaner module by replacing the old one.
After putting on the new head module, put on all the screws back into their places.
Put the cleaner bin into its old place.
Put the bottom cover again and fix it by putting the five screws there.
Cautions
One thing you must not do while cleaning a Roomba's filter or bin gets them in touch with any liquid except water because Roomba is not designed for using a dishwasher or any other fluid.
FAQs
1. How do I reboot my Roomba?
You can simply reboot your Roomba by pressing the CANCEL button for 20 seconds.
After 20 seconds, release the button, and there will be a whirling light on the lid until the Roomba is fully rebooted. After a minute and a half, your Roomba's memory will get cleared.
2. Can a Roomba replace a vacuum?
Many people don't recommend replacing a manual vacuum with an autonomous vacuum because Roombas can clean and mop the carpets or hard floors; they can hardly clean narrow spaces.
But if you don't have a manual vacuum, you can go for a Roomba.
3. Can I wash my Roomba bin?
No, you can't wash your Roomba bin as it is not dishwasher safe, but you can easily clean it with your hands. You can also use warm water while cleaning your Roomba bin.
4. Will Roomba stop after the bin is full?
Yes, after the bin is filled with dirt and specks of dust, the robot will no longer be able to clean the floor until you remove the bin and empty it.
5. How often should I replace my Roomba filter?
You should clean the filter of Roomba once a week, but if you have pets in your home, you have to clean the filter twice a week. But you have to replace the filter every two months, so it might be a hustle.
Last Words
I am sure after reading this article; you are clear about the idea of Roomba Error 26. Now you can fix the problem of your auto vacuum on your own without professional help.
This is just a minor problem regarding the issue of airflow inside the Roomba, and following some specific ways will quickly fix iRobot error 26.
In short, cleaning the filter or bin, rebooting the Roomba, or replacing the head module is the three ways to fix the iRobot error 26. If it still doesn't fix the problem, contact any showroom of iRobot, and they will fix it.
Related articles:

Hi, This is George. Founder Of Vacuumist.com. Completed my graduation in Bachelor of Business Administration. Proud father of two lovely baby girls. Reviewing home appliances is my passion. Developing this blog to update and publish my recent reviews and research. Stay in touch.