Miele is widely known for its long-lasting canister vacuum cleaners. They are mainly divided into three models – C1, C2, and C3. Miele C1 vacuum cleaners are their mid-ranged full-sized canister vacuum cleaner.
Miele C2 vacuum cleaners are on the cheaper side, while the sizes of the main vacuuming unit are compact.
Miele C3 vacuum cleaners are premium canister vacuum cleaners.
Each C1, C2, and C3 has several models under them. I will be discussing them below.
Different models differ in their different vacuum cleaning heads. I have described them elaborately below. Please check them carefully to reveal the best choice for you.
Miele C1 vs C2 vs C3 – Complete Comparison Guide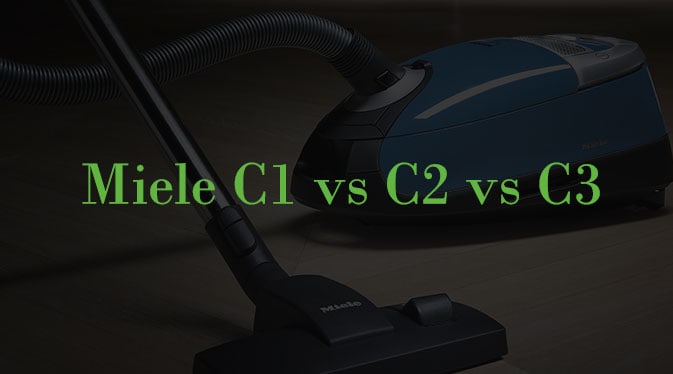 C1 Classic Series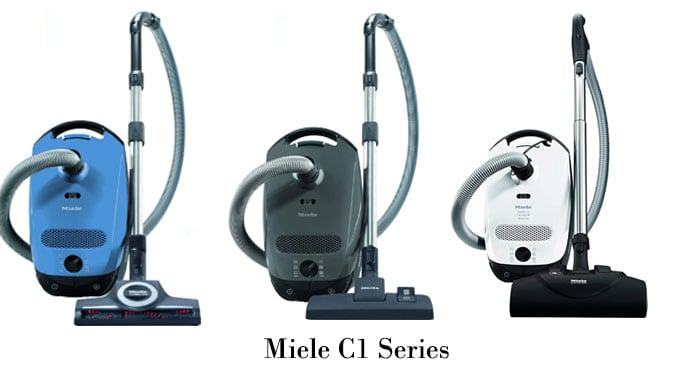 There are three models of the C1 Classic series: Delphi, Titan, and Olympus. All three names are derived from classical Greek mythology. While the names are fancy, the models are mostly cheaper.
Later, Miele included two other models keeping pet owners in mind. The Miele C1 Turbo Team Canister and the Miele C1 Cat & Dog.
Each of the C1 classical models has a 1200-watt power; each of them has similar supplementary tools and a sturdily built outlook.
While being a C1 model, one variant stands out from the remaining based on one strong factor: filtration. Titan is the only differential model where a built-in HEPA filter is present.
As mentioned in the previous section of the review, HEPA filters take air filtration to the next level, especially for people with allergies and asthma issues.
While the remaining models have access to adjust such filtration, having a built-in one causes less maintenance.
Vacuum head used on different Miele C1 models at a glance,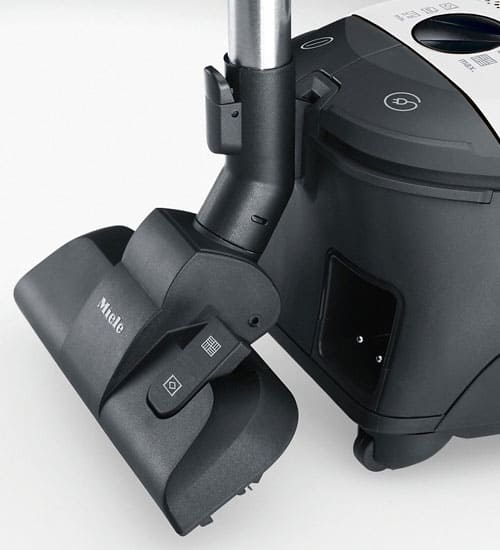 Saying again, you can always replace stock filters with a HEPA filter.
These models are mainly different considering the cleaning heads. Which cleaning head you'll get is quoted below. But firstly, you must know them.
What are the strong zone of each cleaning head, what are the differences, and which cleaning head will suit your needs the most? You must know them first.
Thanks to MR. Scott Lombardi, the director of Miele USA floor care division, for creating a sweetly informational video of these cleaning heads. You'll get all the necessary information by glancing at the video.
Olympus (C1 pure suction) – Sbd 285-3 combination nozzle.
Delphi – Seb 217
Titan – Seb 217
Turbo Team – STB 205
Cat & dog – Seb 228 and Stb20 mini turbo brush
whose interest it serves.
The Classical C1 models serve the purpose of essential flooring with some carpets. Simply check below to know which one will be the most suitable for you.
Olympus (Currently C1 pure suction) – The cheapest. Uses only suction—usable on a hard floor and low carpeting.
If you are looking for the most budget-friendly vacuum cleaner.
If you seek a vacuuming solution for hardwood floors and thin carpets.
If you have a pricey, aesthetic, and delicate thin carpet, it's a very gentle cleaner.
Delphi – for mid-pile carpet
Only one vacuuming height setting. It can handle mid-pile carpet to the hard floor. If you are a quick but frequent vacuum cleaner, this is the most suitable for you.
If you do not have a high-pile carpet, this is for you.
If you have only one pet that doesn't shed much, the bristle can handle the minimum amount of pet hair.
Titan Classic C1 – Same as the previous model Delphi, with HEPA filtration
Only one vacuuming height setting. It can handle mid-pile carpet to the hard floor. If you are a quick but frequent vacuum cleaner, this is the most suitable for you.
If you do not have a high-pile carpet, this is for you.
If you have only one pet that doesn't shed much, the bristle can handle the minimum amount of pet hair.
HEPA filtration. The purest air quality is possible.
Turbo team – Turbo vacuuming nozzle with bristle around. But it is not electric, suction powered, and not ideal for high pile carpets.
If you only have a low-pile carpet, this is for you.
Cheap considering the vacuuming nozzle you get.
This vacuum cleaner can handle pet hair but not much.
Cat & Dog – Hardcore vacuuming solution for pet owners. Five height adjustment settings, a sophisticated vacuuming nozzle; for every type of surface.
For pets, those shed a lot. The Seb 228 is excellent for pet hairs. Moreover, you will get an Stb20 mini turbo brush for pet hairs stuck in critical places.
Only C1 can handle every type of surface.
C2 Compact Series
Like the classical C1, the compact C2 has three variants: Quartz Onyx, and Topaz. All these three names resemble precious stones.
While all of the C2 models can clean hard flooring and area rugs, the Topaz model has the edge over its other C2 counterparts.
Topaz stands out from the rest for its' supplementary equipment. It's the only aberrant aspect.
Firstly, it has an electric brush for cleaning all types of rugs. It has a brush roller to lift the dirt and debris from the carpet fibers.
Lastly, it has a floor brush with an extensive suction channel and soft bristles. The soft bristles hug the ground with a high swivel neck.
It has HEPA filters.
Alongside these comes customary crevice and upholstery tools and dust brushes.
Onyx, on the other hand, offers similar facilities but limited short-pile carpeting and doesn't have an electric brush. Rather it has a turbo brush, which is deemed traditional.
The Quartz model only has one supplementary model, as it caters to hard flooring. While the combo floor tool is impressive, it doesn't exactly stand out against the more multi-functional Onyx and Topaz models.
For not being successful, Onyx and Quartz are discontinued now. Miele has launched two different C2 lines up using the Sbd 285 and Sbb 400 vacuum nozzle. One contains a HEPA filter, while the other doesn't. Both are named complete C2.
Vacuum head used on different Miele C2 models at a glance –
Topaz – Seb 285
Complete C2 with HEPA filters – Sbd 285 and Sbb 400
Whose interest it serves.
Miele C2 line-up is mainly intended for small apartments. That's why it is built petite. It has less strong suction power. That's why it is not appropriate for high-pile carpets.
Miele C2 Topaz – The most powerful in this line-up for its electric vacuum head.
The vacuum head has the capability to clean high-pile carpets, but the machine itself has less suction power. You will have to pass more than once to clean your high-pile carpet properly.
If you live in a small apartment covered with a high-pile carpet, this is a wise choice.
Miele Complete C2 without HEPA filter – You won't get HEPA filters for, of course, a lower price. You already know what vacuum head comes with it.
It's cheap; it is the only reason to buy it. Not for a long apartment.
Not for mid and high-pile carpets. Only buy for hard floor and low pile carpet.
Miele Complete C2 with HEPA filter – You will get HEPA filters for about an additional hundred buck
It's cheap; it is the only reason to buy it. Not for a long apartment.
Not for mid and high-pile carpets. Only buy for hard floor and low pile carpet.
Complete C3 series
Unlike the other two, the C3 series has six models: Calima, Alize, Kona, Marin, Cat & Dog, and the high-end Miele C3 Brilliant. Each of the series has its attributes that stand out from one another.
The Calima series comes with two different floor attachments. The first one is the air-driven turbo head Stb205. It's for area rugs and short-pile carpeting.
In addition, there will be a floor brush. It has a soft-bristle swivel neck for easy maneuvering. You can use this to do the entire hard floor cleaning.
Automatic height adjustment is available. It will detect the surface and adjust the height itself. But remember, it is not meant for high piles and plush carpeting.
For the Alize series, while it has one flooring attachment and one setting, it stands out with a cool feature named spotlight handling that helps make maneuverability easier. There is a light here to aid upholstery cleaning in dark places.
In Kona, an electric vacuum head is introduced in the C3 lineup. Ideal for high-pile carpets.
Marin has an Electro Premium head. It's Miele's top-of-the-line powerhead with five height adjustments.
Also, a headlight is there to illuminate dust and debris that might not be visible on the carpet to the naked eye.
The Cat & Dog also offers all sorts of flooring like the Kona; the same vacuum head is used here.
However, the one additional tool is offered is the Mini Turbo tool. It cleans couches and other upholstery, a very strong tool to remove pet hair.
Unlike the rest, it comes with a charcoal filter. It removes pet odors from home. Saying about the charcoal filter, it offers the same particle blockage with something more. It effectively blocks fumes. Pet odor gets ruled out for that.
Lastly, the Miele C3 is a completely brilliant model. It uses the same vacuum head that the Marin model used. Perfect for every type of carpet. Just to remind you, the automatic height adjustment feature comes with this vacuuming head.
You will get two additional vacuum heads. Sbd 285 for cleaning low pile carpet and hardwood at one run. Another one is sbb 400 parquet brush to ease your hardwood cleaning. HEPA filters are there.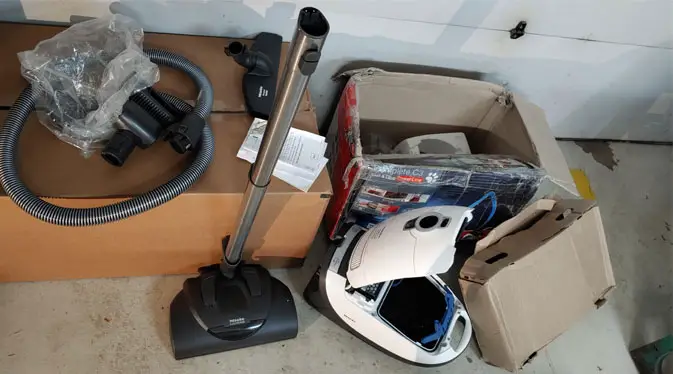 Vacuum head used on different Miele C3 models at a glance,
Calima – Stb 205, Sbb 300
Alize – Sbd 650
Kona – Seb 228 + Sbb 300
Marine – Seb 236 + Sbb 300
Cat & Dog – SEB 228, SBB 300, STB 101
Brilliant – SEB 236, SBD 285, SBB 400-3
Reasoning to buy and whose interest it serves,
As the C3 is the elite level of vacuum cleaning, all of them offer premium features. Which one is for you?
The only question is who has pets or who wants all three flooring tools built-in. Whether the users have high carpeting or short ones?
Miele C3 Calima
You will get two vacuum heads, one for low to mid-pile carpet; the other for hard floor cleaning. If your floor contains frequent carpeting and hard floor, you should avoid these. You would have to switch the vacuum head for every time you switch the surface. It's not an ideal choice for pets, either.
So, it is the perfect Miele C3 for cleaning low to mid-level carpeting; at this price. And about the hard floor cleaning head, it is a good choice for a sticky, hard floor mess. Buy it if you have children in your family who loves to create a mess.
Sbd 650 vacuum head adjusts its height automatically. That's why what C3 calima couldn't do; the Alize will.
If your floor consists of hard floor and carpeting except for high-pile carpet, you should buy these Miele C3. You can vacuum all over the place without changing the vacuum head in one pass.
The electric vacuum head can handle every type of carpeting. It has 5 height adjustments, but it's not automatic. You'll have to change the height manually after changing the cleaning surface. Check Miele C3 Marine or Miele C3 Brilliant for automatic setting.
This vacuum head contains bristles, perfect for pet hair. If your pet doesn't shed in crucial to-reach places, this is your pick. Otherwise, check the Miele C3 cat & dog for additional attachments. Those can reach hard spots.
Miele C3 Cat & Dog
The most sophisticated solution for pet owners. Along with the vacuum head Seb 228, you will get an extra large hard floor vacuuming nozzle and a mini turbo brush. The mini turbo brush can pick up pet hairs from critical places like the corner of a couch.
You will get charcoal filters within it. This is the endgame for pet owners, in my opinion. Complete cleaning. These filters are as effective as a HEPA filter. Additionally, it can block bad pet odor.
It can clean any surface effectively without the need to change the head. And the height is automatically adjusted. There are five height adjustments, and you do not have to select them manually.
There are LED lights to clean dark places. Good choice for big houses where not every place is bright.
This is the most advanced vacuum cleaner in this line-up. Name anything needed while vacuuming, and you will get here. Very effective at picking up pet hair, and its stronger suction power makes that very easy.
Bright LED lights for easy cleaning. As said before, this vacuum cleaner is all about comfort.
You can additionally buy a mini turbo tool for pet hair in hard-to-reach places. Now the Miele C3 brilliant is the complete all-rounder.
All Miele C3 models have an automatic cord rewind feature, which makes it less hassle to manage the cable.
Mutual Features of each Miele Series
The Miele series serves the purpose of hard flooring, short-medium pile carpeting, and area rugs.
Some of the C1 models perform carpeting cleaning better than even the C3 series when it comes to the length of the carpeting.
So, if the customers have budget constraints, buying a supposedly won't fare much differently from the C2 or even C3 models.
Most of Miele's vacuum cleaner comes with a floor brush. It makes hard floor cleaning much easier. Some models have Electro Brush featured. The electric vacuum head effectively cleans carpets.
Along with some C3 vacuum cleaners, some Miele C1 have an electric head. They provide great value for money; you can consider these C1s if you are slightly short on budget.
All Miele vacuum cleaners have either built-in HEPA filters or can be externally adjusted. One of the C1 models offers a built-in one, similar to most C3 models.
So, if you are allergic to dust, there is no point in buying a premium model to cater to this particular need.
Conclusion
Last but not least, I have something to say about these vacuum cleaners' longevity. I was saving it for the last.
Miele vacuum cleaners usually cost more than other regular vacuum cleaners. But these vacuum cleaners are built to last about 20 years on average.
Now calculate by yourself which is better. I have created the Miele c1 vs. c2 vs. c3 guide to narrow down your confusion.
Buying a cheap vacuum cleaner that won't last a year or buying a Miele that is designed to last 20 years.

Hi, This is George. Founder Of Vacuumist.com. Completed my graduation in Bachelor of Business Administration. Proud father of two lovely baby girls. Reviewing home appliances is my passion. Developing this blog to update and publish my recent reviews and research. Stay in touch.