The right vacuum cleaner can turn a dreaded chore into an enjoyable part of your day. Choosing an ideal vacuum can be tricky; however, what works in one household might be less practical in the next.
Ultimately, it's important to know which types of vacuums are suited to your situation – and which specific models deliver the best results within any given category.
This decision can feel overwhelming and even tempt you to grab the first vacuum available – don't make this mistake.
To help you sort through the myriad of options, we've highlighted several important considerations, including the most noteworthy features of a good vacuum cleaner.
Factors you should consider before choosing any vacuum cleaner brand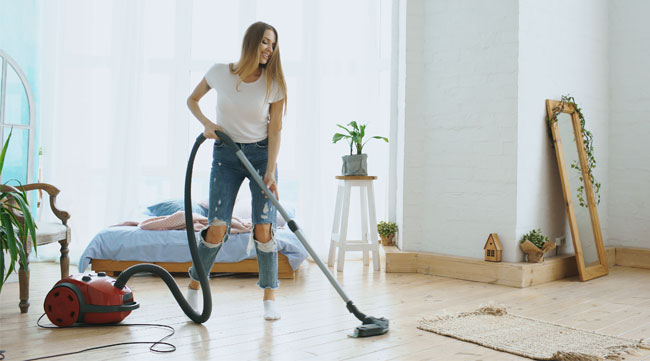 Canister vs. Upright
While vacuum cleaners take many forms, they generally fall into one of a few main categories. The first designation is upright versus canister.
Currently, in most U.S. homes, people prefer the convenience and easy storage associated with upright styles.
Despite the prominence of upright models, there's a lot to love about canister vacuums. They tend to be quieter and can provide exceptional suction.
They are also, however, more expensive. Your budget and storage concerns may determine whether the cleaning power of a canister is enough to overcome its downsides.
Bag vs. Bagless
Once you've decided whether you want an upright or canister model, it's time to determine whether you prefer a vacuum bagless or with a bag. Each type offers distinct advantages and challenges.
Many people appreciate the convenience of bagless vacuums. While their filters may need to be changed occasionally, it's nice not to deal with swapping out bags.
However, if you're eager for a deep clean, a vacuum with a bag is more likely to get the job done.
Their superior filtration is more likely to eliminate allergens, making your home more hospitable.
Other Considerations
The hard work of selecting a vacuum is not over after you narrow down your selection between a canister and an upright – or even when you settle the debate between the bag and bagless.
Within each of these broad categories, you can find dozens of excellent options.
If you're struggling to choose, take some time to consider these essentials:
Hardwood or carpet
Think carefully about the space you intend to vacuum. Does your home primarily have hardwood floors, leaving the vacuum only necessary for a few rugs?
Do you have thousands of square feet of stain-prone carpet? How much traffic can you expect for the carpeted portions of your home?
Kids and pets
Do you have children or pets who regularly track dirt and debris into your home?
Vacuuming for a child or pet-free home is often a cinch, but you'll need greater power as you add four-legged friends or little ones into the equation.
Be mindful of dander and the need to clear it to accommodate residents with allergies.
Mobility
How heavy of a vacuum can you handle? Unfortunately, the high-powered options that work most effectively are sometimes difficult to maneuver.
If you have any chronic conditions or other physical limitations that prevent you from handling a heavy vacuum, you may need to opt for a lighter model – either a canister or a lighter upright.
Thankfully, many modern vacuums provide power while remaining relatively compact and easy to store.
Attachments
For some people, the attachments are nearly as crucial as the vacuums. These can promote much-needed versatility, making cleaning every nook and cranny possible.
If you suspect that attachments will be an important component of your vacuuming experience, do your homework to determine which accessories are available for various models – and how well they work.
Brand recognition
There's something to be said for investing in a trusted brand. Certain brands carry a higher level of respect.
Kirby, for example, is a respected name, with longtime owners speaking highly of the vacuums' power and durability.
Long-term price
Don't make the mistake of automatically opting for the vacuum with the most favorable price tag. Over time, this approach can cost you more, as low-quality vacuums are prone to malfunctions.
The cost of replacing your vacuum can add up quickly. Think of your vacuum as a long-term investment.
A little extra money upfront could lead to huge savings over time, particularly if your vacuum continues to clean your home for years or even decades faithfully.
Some vacuums are better than others, but no one model is ideal for every home.
As you search for the best vacuum cleaner, think carefully about what might fit best into your lifestyle – and how a particular model from a trusted brand can meet your vacuuming needs.
Once you have a trustworthy vacuum, you'll thank yourself for committing to due diligence.
This article was contributed by the Kirby vacuum brand.
If you have any queries, please reach their support. Check their Youtube channel also.

Hi, This is George. Founder Of Vacuumist.com. Completed my graduation in Bachelor of Business Administration. Proud father of two lovely baby girls. Reviewing home appliances is my passion. Developing this blog to update and publish my recent reviews and research. Stay in touch.