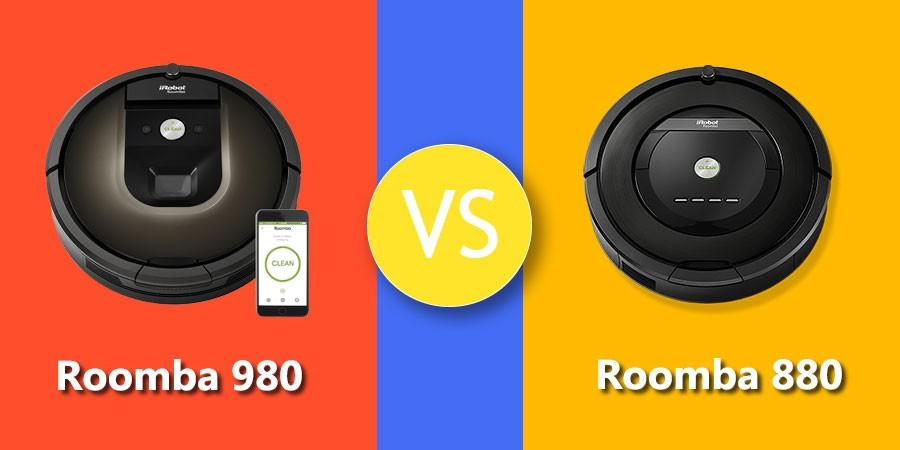 When we thought vacuum cleaners could not get more advanced than automated floor sweepers, iRobot caught us by surprise.
They have introduced yet another robot vacuum cleaner in their Roomba series – Roomba 980.
It is a way superior device to its predecessors. But how well can it perform compared to the Roomba 880, considered the best cleaning bot until recently?
Roomba 880 vs. 980 – Which vacuum cleaner is more bang for your buck?
The answer lies here and now. Check out my iRobot Roomba 980 vs. 880 in–depth reviews and comparison guide below.
Roomba 880 vs. 980 – A Detailed Comparison Guide in 2022
Let's go over the key differences between the two Roombas in a side-by-side chart first.
| Features | Roomba 880 | Roomba 980 |
| --- | --- | --- |
| Vacuuming Technology | AeroForce | AeroForce |
| Navigation Technology | iAdapt | iAdapt 2.0 |
| Battery Type | Nickle Metal Hydride | Lithium ion |
| Wi-Fi Support | No | Yes |
| Remote Control | Yes | No |
| iRobot App | No | Yes |
| Carpet Boost | No | Yes |
| Multi-room Navigation | Yes | Yes |
| Entire Level Cleaning | No | Yes |
| Debris Extractor | Yes | Yes |
| Spot Cleaning | Yes | Yes |
| Built-in Camera | No | Yes |
There is more to the Roomba models than could be included in this chart. Pricing plays the most important role in making a purchase decision.
The next most important thing is learning how these features play out in real life.
We will compare Roomba 880 against Roomba 980 in several aspects to get to the bottom of it.
Roomba 980 vs 880 – Cleaning Performance
As it was drawn up in the chart, both Roomba models use the same core vacuuming technology. The three-stage AeroForce technology agitates debris from its spot, loosens it up for sweeping, and then sucks it in with strong air power.
Roomba 980, however, uses an upgraded version of the AeroForce system. This grants the 980 twice as precise a cleaning performance as the 880.
Roomba 880 and 980 contain rubberized tangle-free debris extractors instead of traditional brushes. With brushes, you had the risk of getting pet hair tangled in them.
These brushless extractors are a great help if a family member or a pet sheds a ton of hair.
Related read:  Best Roomba vacuums for pet hair
One of the most noticeable differences between the Roomba devices is the carpet-boosting technology. Many users complained about the 880's not-so-satisfactory performance on carpets and rugs.
It looks like iRobot finally paid heed to them when they included the carpet booster in the 980.
The 980 has carpet boosting activated by default. It allows the 980's motor to generate more power when the device senses the surface as a carpet.
The enhanced suction ensures a deeper cleaning of the carpet against the resistance of all its thickness.
Both Roomba models have spinning side brushes to clean along with the edges. Roomba 980 features an extra Edge Cleaning system that puts serious effort into removing fixed dirt from the corners.
The 980's carpet boosting and edge cleaning aside, both Roombas are competent floor cleaners. The 880 cleans bare floors fairly well, as does the 980.
There are optical and acoustic sensors in both Roombas. These sensors enable them to detect which parts of the cleaning area contain greater amounts of dirt and allergens. The robot vacuum cleaners then give extra effort to clean those messier parts of the floor.
Roomba 880 Cleaning Performance 
Roomba 980 Cleaning Performance 
Roomba 880 vs 980 – Navigation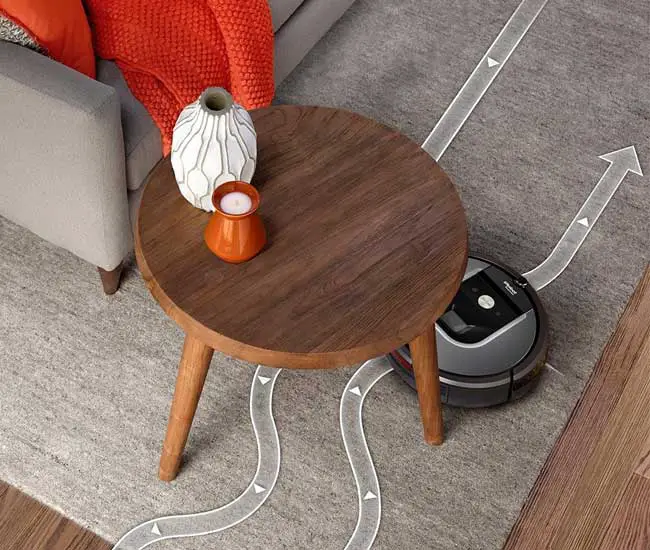 iRobot programmed the Roomba 880 with its trademark iAdapt Navigation system. Yet most models before the 900 roamed the cleaning areas randomly.
In the 980, iRobot included the same navigation programming but only better – iAdapt 2.0.
Thanks to this update, Roomba 980 does not clean in a random pattern. It moves in a more organized, methodical way to sweep all the dust off of your floor.
Both the Roomba 880 and 980 have multi-room navigation features. When the device decides that one room has been thoroughly cleaned, it moves on to the next.
One bonus feature included in the 980 is that it can clean an entire level without having to be reprogrammed.
Roomba 880 can cover larger cleaning areas than previous models and move in and out of a room. But to clean an entire large floor, you must program it several times.
Both Roombas have edge sensors to prevent them from falling off a cliff. They both feature soft bumper technology. It means that when they encounter soft obstacles like bedding, couch, or curtains, it continues to clean under them.
A drastic difference between the two would be that Roomba 980 never bumps into anything. Thanks to the built–in camera, it's able to locate obstacles.
Users have had bumping issues with the 880. It sometimes hits the bottom of the furniture with considerable force.
Roomba 880 comes with two Virtual Wall Lighthouses. The lighthouses confine the cleaning bot to a single room so it can go over it a few times. It ensures spotless cleaning before moving to another room.
Roomba 980, on the other hand, comes with two Virtual Wall Barriers. The barriers can mark parts of the room off-limits.
It keeps the vacuum cleaner away from the parts you don't want it to clean without supervision.
Have you got fragile objects in a corner? Or perhaps you would like it not to cross paths with your pet? Done!
Filtration
Both Roombas incorporate High-Efficiency Particulate Air filters to trap tiny dust particles and 99% allergens.
Roomba 880 vs 980 – Bin Maintenance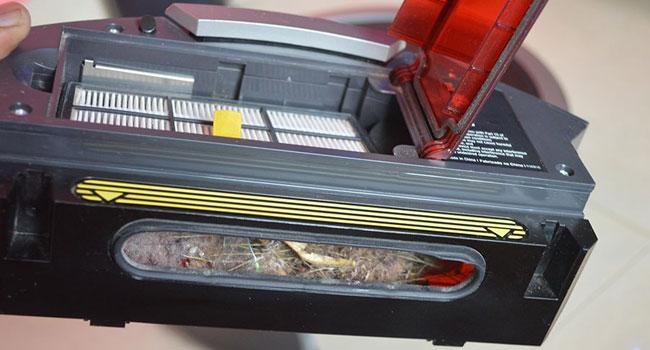 Roomba 880 and 980 come with indicators that tell you when the bin is full. But the 980 presents you will have two options in such a situation.
One is to continue cleaning for as long as possible without emptying the bin. You use this option when there's a little cleaning job left. There is no need to empty the bin twice for that.
Another is pausing to empty the bin. You choose this command when there's a considerable amount of cleaning left. The bin cannot hold all that dirt at once.
Roomba 980 s 880 – Features
Roomba 980 and 880 can be scheduled to automatically clean up to 7 times a week.
While the remote control was a nice touch for the 880, it did not have Wi-Fi connectivity.
Roomba 980 can be remotely controlled, too, with the iRobot Home App. The 980 connects to your smartphone app via Wi–Fi.
With the app, you can schedule the bot, enable carpet boost and edge cleaning or simply command it to clean.
To make things even easier, the iRobot app is compatible with Amazon Alexa. You can just speak into your smartphone and watch the 980 run on your command.
Roomba 880 lacks the built-in camera functionality of the 980 too.
In terms of features, Roomba 980 is truly a smart cleaning bot.
Battery Life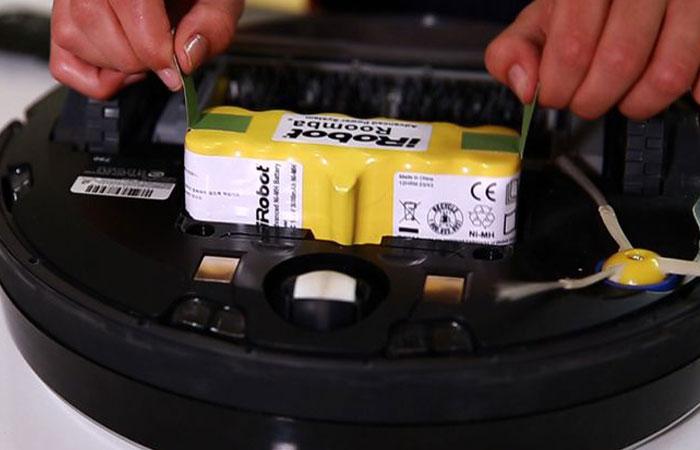 Image credit: Cnet – Read Cnet's article on how to increase your Roomba's battery life.
Roomba 880 houses a Nickel Metal Hydride battery that provides an average runtime of about 60 minutes.
Since lithium-ion batteries almost always outperform Nickel Metal Hydride batteries, the 980 delivers a runtime of 120 minutes.
Note that in the carpet boost mode, the battery will drain faster.
When the battery is low, both Roombas return to their docking station to charge. Roomba 980 can automatically resume cleaning after it has recharged. Roomba 880 cannot. You have to press the 'Clean' button again.
Who Should Get the Roomba 880?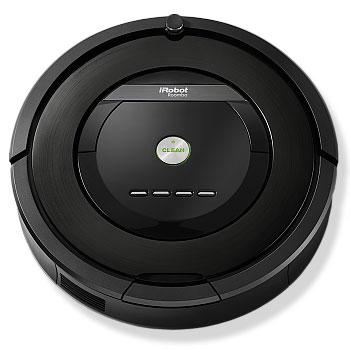 If having to control your cleaning bot with a mobile app overly complicates matters for you, pick the 880 over the 980.
If your place does not contain delicate objects the device can bump into, choose the 880.
It is an excellent robot vacuum cleaner and about $200-ish cheaper than the 980.
In short, if you think you can make do without the additional features of the 980 and save, go with Roomba 880.
Who Should Get the Roomba 980?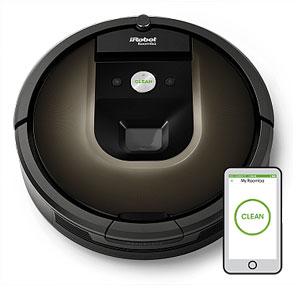 If you love high-tech devices and can afford one, get the 980.
If your place has large cleaning areas with carpeted floors, the 980 will do a way better job than the 880.
The device can recharge and resume even when you are absent. Roomba 880 requires human interference once it has recharged.
It could be an inconvenience to restart it every time manually.
Related read: Roomba 980 vs. 960 vacuum comparison guide.
Verdict – Which is the Ultimate Cleaning Bot?
iRobot Roomba 980 is the ultimate robotic vacuum cleaner, duh!
iRobot has carefully thought and introduced new features in the 980 that matter. You can see the difference in practice.
But is Roomba 980 worth the extra money cost over Roomba 880?
Without a doubt. The camera, the battery life, the seamless controlling, the improved cleaning performance – it all rules in favor of it.
Roomba 980 is as competent as a robot vacuum cleaner should be and no less.

Hi, This is George. Founder Of Vacuumist.com. Completed my graduation in Bachelor of Business Administration. Proud father of two lovely baby girls. Reviewing home appliances is my passion. Developing this blog to update and publish my recent reviews and research. Stay in touch.