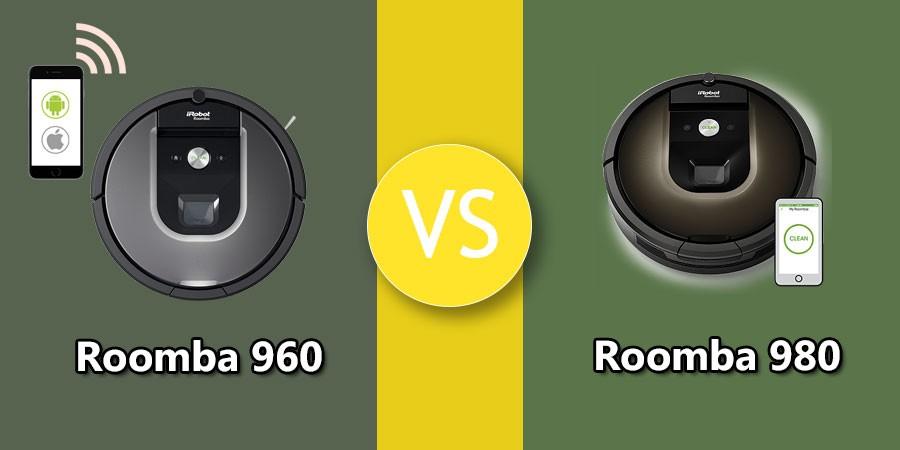 Roomba 960 and 980 are two of the most high-end robotic vacuum cleaners iRobot has to offer.
If you're in the market for a cleaning bot and want the absolute best Roomba for your home, you have clicked on the right link.
A Roomba 980 will cost you around a couple of hundred bucks more than a Roomba 960. Is Roomba 980 worth counting the extra bucks?
In this Roomba 960 vs. 980 reviews and comparison guide, we will discuss the robotic cleaning abilities of both devices.
At the end of this read, you will know which robot vacuum cleaner you should go for and why.
Related: Roomba error code troubleshooting
Roomba 960 vs. 980 – Side by Side Comparison Chart
| Features | Roomba 980 | Roomba 960 |
| --- | --- | --- |
| Carpet Boost | Yes | No |
| WiFi Support | Yes | Yes |
| Motor | 900 Series | 800 Series |
| AeroForce Cleaning Tech | Yes, 10x suction | Yes, 5x suction |
| Side brush | Yes | Yes |
| Scheduling | Yes | Yes |
| Energy Usage Reports | Yes | No |
| Cliff Detector | Yes | Yes |
| Floor Detector | Yes | Yes |
| Full bin indicator | Yes | Yes |
| HEPA filters | Yes | Yes |
| Virtual Walls | Yes, Two | Yes, One |
| Built-in camera | Yes | No |
| Battery | 3000 mAh Li-ion | 2130 mAh Li-ion |
| Run time | Up to 120 minutes | Up to 75 minutes |
| Voice Prompt | Yes | Yes |
| Spot cleaning | Yes | Yes |
What are the Improvements in Roomba 980?
Roomba 980 and 960 are quite similar in many ways. iRobot had to incorporate some new features in the 980 if it would be listed at a higher price.
In case you are in a hurry, we will reveal the changes.
Stronger Suction
Roomba 960 has a 5 times stronger power functionality than the previous Roombas. In Roomba 980, the power has been bumped up to 10x, giving it more strength.
Roomba 960 is a highly capable device. But Roomba 980 has double its power.
New Motor
Roomba 960 is powered by an older 800 series motor. iRobot has developed and placed its latest motor inside the 980.
Carpet Boost Mode
Roomba 980 comes with a power setting specially designed for cleaning thick, dusty carpets. In the carpet boost mode, the 980 puts a greater effort into digging and vacuuming into the carpets.
Enhanced Battery Life
Roomba 960 can clean around for about 1 hour and 15 minutes, which is pretty impressive. But Roomba 980 has a battery that lasts 45 minutes longer.
If you have a big home and want it to be clean within a single session, the 980 can handle it.
Two virtual walls
Roomba 980 comes with two virtual walls. The 960 has just one.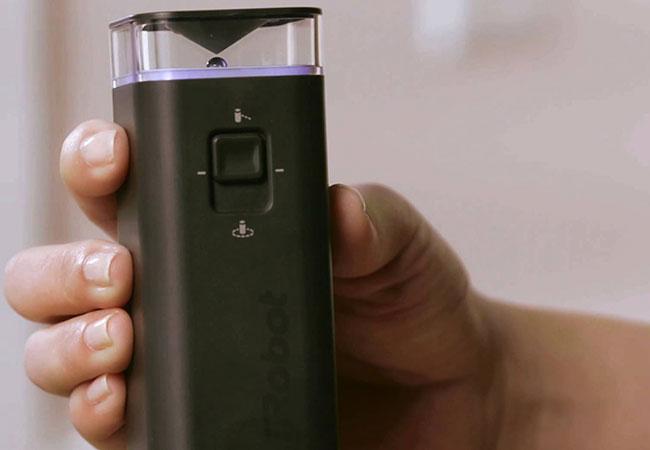 That feature I just briefly discussed tells you what sets Roomba 980 apart.
Wait, don't make up your mind just yet!
Roomba 980 has a few downsides as well. I will go over the full features of each Roomba vacuum cleaner.
Read on to find out what's in store for you if you take these Roombas home.
Cleaning Performance – Roomba 980 vs. 960
This is one of the most important aspects to consider when shopping for a vacuum cleaner. You want your robot vacuum cleaner to perform up to the mark.
Roombas are pretty good at giving you your money's worth. We just have to find out which one does it better than the other.
Roomba 960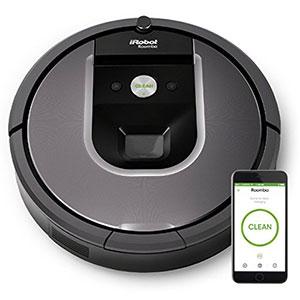 Roomba 960 uses iRobot's AeroForce 3–stage Cleaning system. The technology is pretty simple but effective. It agitates, brushes, and sucks debris in.
The same technology had been used in almost all the old Roomba models. Roomba 960's version just comes with a twist. The technology has been paired up with 5x suction power and provides optimal performance.
Roomba 960 uses anti–tangle rollers made of rubber. You do not have to worry about picking up your hair.
The 960 does not require you to intervene to disentangle them manually.
We tried the 960 on several surfaces, and the 960 did not disappoint. It just silently cleans around and remains unnoticeable. So when you open the bin, you would be surprised to find out how much it picked up.
On hardwood and bare floors, Roomba 960 did an awesome job. It picked up crumbs, pet hair, and fine dust with a 100% success rate.
On mid–pile carpets, Roomba 960 was able to perform just as well. However, while cleaning high-pile carpets, it does not run as well as the 980 and leaves somewhat visible stains.
Roomba 960 is able to clean around the edges and corners of walls with its rotating side brush. The difference after the cleaning is clearly recognizable.
Roomba 980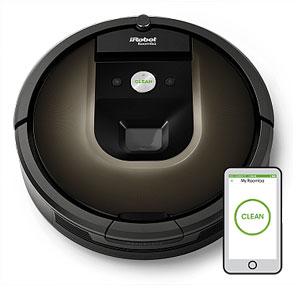 Roomba 980 has the same AeroForce 3-Stage Cleaning System but paired up with 10x suction.
You would think this makes the cleaning bot twice as efficient. But in terms of cleaning performance, the difference did not add up to much.
Roomba 980 delivered pretty much the same performance as the 960, except for when in carpet boost mode.
In the carpet boost mode, the suction of the vacuum cleaner intensifies to pull dirt from the depths of carpet fibers. It sure drains the battery pretty quickly, though.
This boost mode is useful on other surfaces as well. Suppose you have got clingy dirt; better to use this and be rid of it.
However, be careful not to use this on delicate surfaces, as it may leave scratches.
Notably, Roomba 960 does not have the carpet boost feature. Rubberized debris extractors are common in both Roombas.
Enhanced Edge Cleaning Technology
Roomba 980 uses an upgraded and improved edge cleaning system. The spinning side brushes are more useful and efficient. It can remove the stubborn dirt that has been sitting on that corner for ages.
HEPA Filters
Both Roombas use Hyper Efficient Particulate air filters to remove dust and allergens from the air.
Even tiny particles of dust can't escape HEPA filters. For homes with allergy sufferers, these Roombas will be of great value.
Moving around the House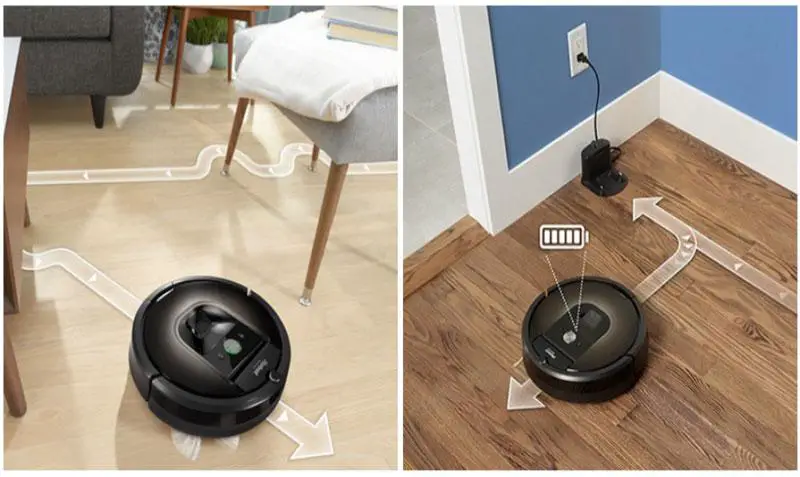 Up until the 900 series, Roombas cleaned in random patterns. The problem with random patterns is that they hit the same spots over and over. It causes the battery to drain for nothing and yet miss a few spots.
Roomba 960 and 980 are both clean in organized patterns. Let's see how well they fared in real life.
Roomba 960
Even though cleaning in an organized pattern means never missing a spot, Roomba 960 tends to do that. As rarely as that might happen, it's still something to keep in mind.
One thing should be made clear Roomba 960 does not need babysitting. The point of owning a cleaning bot is to be about your business while it takes care of the cleaning all by itself. Roomba 960 is capable of doing just that.
Roomba 960 uses the iAdapt Navigation 2.0 technology. It has a multi-room navigation feature and a virtual wall barrier.
It develops a map of your house to move from room to room easily. And it can do that without crashing into walls and furniture.
If you have small objects left on the floor, the 960 will just clean around them. For your Roomba to give your floor a thorough cleaning, you have to give it the whole floor first.
Roomba 980
The navigation technology behind Roomba 980 is the same as that of the 960s. The real catch is the 980's built–in camera and Virtual wall 'block off' feature.
The built-in camera allows it to actually 'see' and memorize the layout of your house. It takes some time to adapt to its surroundings, though.
The block-off feature allows you to let your Roomba know which areas are off-limits. You may have certain parts in your house that should not be cleaned unsupervised. Roomba 980 will avoid entering those areas.
Even with all these features, Roomba 980 still has a bit of an issue with navigation. Despite the high price, it isn't perfect.
Multi–room Navigation & Auto Resume
Both Roomba 980 and 960 are capable of cleaning multiple rooms per level. As soon as they are done with one room, they let themselves through the door and move on to another room.
However large your space may be, it shouldn't be a problem for either of the Roombas.
If your apartment is spacious or your Roomba isn't fully charged, it will return to the docking station to recharge. You don't have to trouble yourself with any of this.
It will automatically resume cleaning from where it left off once fully charged.
Floor Detector
Roomba 960 and 980, both come with floor detectors. These detectors are able to understand what type of surface they are cleaning. This makes transitioning easier from one-floor type to another.
The cleaning setting for bare floors would not be effective on carpeted surfaces. The carpet mode can be unsuitable for tiles, laminates, and hardwood. The cleaner sense the surface and adjust their cleaning modes accordingly.
Cliff Sensors
Both of the Roombas are equipped with sensors that allow them to detect cliffs. When it's too close to an edge, the Roombas can sense it and stop advancing that way.
This feature prevents the cleaning bots from falling off of cliffs and causing damage to themselves.
Comparing Battery Life? 960 Or 980
Roomba 980 uses a lithium-ion battery, just like the Roomba 960. Only the battery inside the 960 is 2130 mAh, whereas the 980 comes with a 3000 mAh battery.
Roomba 960 can run up to 75 minutes on a full charge. This is a good enough duration for a robot vacuum cleaner. At this time, it can cover at least three rooms.
Roomba 980 can last up to 120 minutes. It can clean multiple rooms, and perhaps an entire level depending on your place, in one session.
In the carpet mode, however, the battery of the 980 drains rather quickly. But it is nothing to worry about. When the battery gets low, its recharge and resume feature will kick in no time.
The 2130 mAh battery of the 960 has an upside we can't ignore.
It takes less time to charge up compared to the 980's battery. A solid 3 hours or more is required to power up the battery inside Roomba 980 fully.
If you feel the need, you can dock the Roombas manually into their stations as well.
Comparing the Features between 960 and 980
Roomba 960 and 980 both come with sets of handy features. Many of the features are shared by both models.
Auto Scheduling
Roomba 980 and 960 both feature auto-scheduling. You don't always have to be present to give it the command to clean.
You can just set up a schedule, and the Roombas will do their job according to it.
You can schedule up to 7 sessions per week. If you program your Roomba to clean while you are away, you can return to a neat and clean home.
WiFi Connectivity
Both of these Roombas can connect to your smartphone by establishing a Wi-Fi network. You do not have to get up and find your cleaning bot just to give it a command.
It can be controlled from a distance without your having to keep track of the remote control. We know how easy it is to lose.
Voice Prompt
There is a range of apps that are compatible with these Roombas, including the iRobot Home app, Amazon's Alexa, and Google Assistant. They respond to ios and Android alike.
You can give activated voice commands to your Roomba via these apps. You can schedule it, ask it to clean and return it to the docking station.
You will also receive push notifications through the apps. In the case of the Roomba 980, you can also receive energy usage reports.
Full Bin Indicator & Full Bin Action Control
Roomba 980 and 960 both feature indicators that notify you when the bin is full. This sounds like an uninteresting feature.
But you would understand if you have ever owned a vacuum cleaner without one. You can never be sure how long your vacuum cleaner can go without needing to be emptied.
But thanks to iRobot, with these Roombas, you don't have to worry about that at all.
Roomba 960 Pros
Cheaper, but with almost the same features
Needs less time to recharge and resume cleaning
Excellent on bare surfaces
Quiet
Roomba 960 Cons
Does not run as long as the 980
Does not have a carpet boost mode
Navigation is a bit flawed
Roomba 980 Pros
Longer battery life
Two virtual walls ensure a better block off
Great for carpet cleaning
Sends energy usage reports
Roomba 980 Cons
Longer recharge time
Loud in carpet boost mode
Navigation is not flawless
More expensive
In Conclusion
If you have made it this far, you already know which model you suit better. For those of you who just skipped this part, here's the gist.
Roomba 980 is the superior bot out of these two models. Roomba 960 shares many of the same features but comes significantly cheaper.
Roomba 980 just does not justify its price in most scenarios.
If your home is crazy big and mostly carpeted, you can get the 980.
If you live in a regular-sized apartment with no carpets, don't bother counting an extra 200 bucks. You'll be satisfied with Roomba 960.

Hi, This is George. Founder Of Vacuumist.com. Completed my graduation in Bachelor of Business Administration. Proud father of two lovely baby girls. Reviewing home appliances is my passion. Developing this blog to update and publish my recent reviews and research. Stay in touch.