Deep cleaning a house can be a tough job, but with a little organization and planning, it can be manageable.
Ever thought of why your house never appears to remain clean? It is likely because you are not deep cleaning it enough.
Deep cleaning means getting into all the nooks and getting rid of all the dirt and dust built over time.
So, can you go about deep efficiently cleaning your house? No? Here are a few suggestions for doing an in-depth cleaning of your home smartly.
Ways to Efficiently Deep Clean a House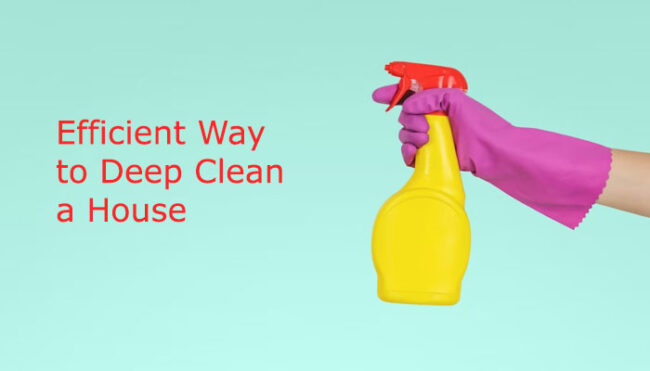 The following are the ways to clean your space smartly deep:
Get Organized
The first step to deep cleaning your house is to get organized. This means making a plan of attack and gathering all the necessary supplies.
You need to have a list of all the rooms you need to deep clean and what needs to be done in each room. This efficiency tip is key because it will help you t keep on the checklist and not forget anything.
Clear the Clutter
The next step is to clear the clutter. This makes it easier to deep clean and helps you feel less dazzled. Go through each room and get rid of anything you don't need.
This includes clothes, toys, books, and anything else that takes up space. Once the clutter is gone, you can focus on deep cleaning.
Distinct Cleaning Method
There is a remarkable way to clean each room, and you need to find out what works best for you. For example, in the kitchen, clear and clean the stove, oven, countertops, and sink deeply.
Then it would be best if you jumped into the washroom to clean the toilet, shower, sink, and mirror.
You also have to dust, vacuum, and clean the windows in the living room. Moreover, you must change the sheets, dust, and vacuum the bedroom. Woah!
Top-to-End Strategy
When you are cleaning each space or room, begin from the top and come down with a flow or sequence. It means you need to begin by dusting the ceiling fan, removing cobwebs, and cleaning down the walls.
Then move on to cleaning the surfaces, such as the countertops and tables. Once that is done, you can vacuum and mop the floors.
Washing of all Fabrics
This includes all the curtains, towels, bedding, and clothing. During a deep cleaning, you should also wash all the fabrics in your house.
This will help remove any dirt, dust particles, and stains. Plus, it will leave your fabrics feeling fresh and new.
Don't Forget the Little Things
When deep cleaning your house, don't forget the little things. This includes wiping down door knobs, light switches, and baseboards.
Plus, it would be best if you cleaned the windows, both inside and out. These are all areas that can get neglected, but they make a big difference in the overall cleanliness of your house.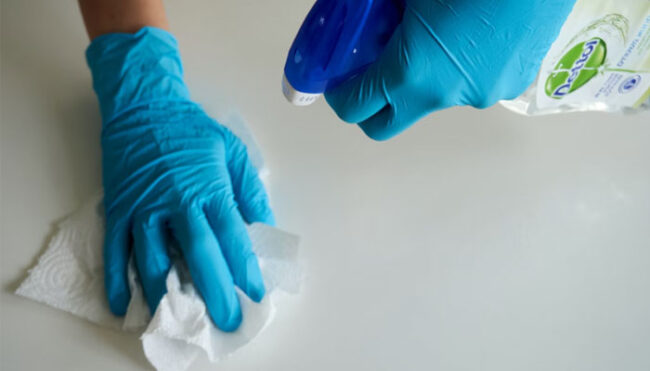 Take Your Time
The essential efficiency tip is to take your time. If you try to rush through the deep cleaning, you will likely miss something.
Plus, you will feel more stressed and overwhelmed. So, take as much time as you want and focus on one task at a time. This helps you do a better job and also keeps your sanity.
While the tips above will help you deep clean your house quickly and efficiently, the most efficient way to deep clean your house is to hire a professional cleaning company like Baltimore Cleaning Pro.
A professional cleaning organization has the expertise and know-how to quickly and efficiently deep clean your house.
They have the necessary supplies and equipment to satisfy your cleaning woes. So, if you want your house to be immaculate, go for a pro option.
Wrap It Up!
Now you know the most efficient way to deep clean a house. So, no more waiting for the spring cleaning season. You can start deep cleaning your house today!
If you need help, always go for hiring a professional cleaning company. They will willingly help you achieve a perfect, deep clean. Do you have any efficiency tips for deep cleaning a house? Tell us in the comments! 

Hi, This is George. Founder Of Vacuumist.com. Completed my graduation in Bachelor of Business Administration. Proud father of two lovely baby girls. Reviewing home appliances is my passion. Developing this blog to update and publish my recent reviews and research. Stay in touch.