Cleaning the home is one of the basic activities of daily life that most people do without professional help. However, there are specific house tasks like cleaning the house carpets that aren't easy tasks.
You might question why hire a pro for your carpet cleaning needs when you can clean it yourself. Vacuuming and basic cleaning with soap and water won't remove all the grime from your carpet.
Hold into this article and know why hiring a professional carpet cleaner is vital.
Starting from eliminating dust allergies and improving the air quality of the house, hiring a professional carpet cleaner also saves you time. Moreover, carpets get ruined if it is not cleaned properly.
Small cleaning mistakes can decrease the lifespan of a carpet by affecting the fibers. So, to keep the carpet fresh without damaging it, you must leave your carpet in a professional's hand.
Why One Should Hire A Professional Carpet Cleaner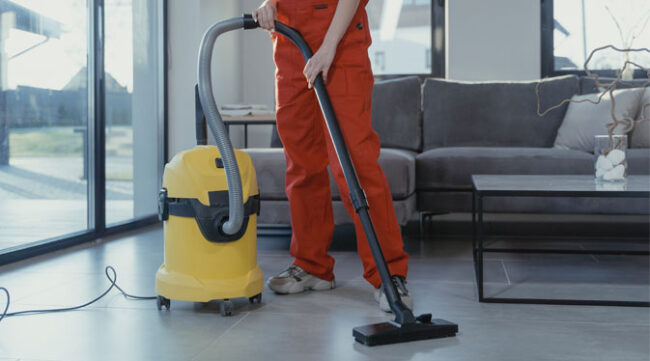 Here are some of the points that explain the importance of hiring a professional carpet cleaner-
The Professionals Knows The Best
Different carpets are made of different fibers and require different methods of cleaning. A carpet with soft fibre does not have the same cleaning technique as a carpet with rough fibre.
Only the professionals know which cleaning technique suits which carpet.

It is seen that at home, people try to clean their carpets only with detergent and water. This might give an outshine to the carpet but will it deep clean?
The answer is no. That is why we must hire a professional carpet cleaner and let them do their job perfectly.
Well-Trained
When you hire a professional carpet cleaner from a company, they assure you to provide a well-trained carpet cleaner. The cleaning companies always hire carpet cleaners with NCCA membership.
Professional cleaners must undergo a diligent training program to get approval for their membership.
Moreover, special types of chemicals are required while cleaning a carpet. It is risky to use those chemicals without proper knowledge.
Hence, a pro carpet cleaner learns all these techniques in the training program. If you try to use these chemicals at home, there is a high chance of damaging your valuable carpet.
That is why carpet cleaning services always hire a well-trained carpet cleaner for the carpet's longevity.
Benefits of Hiring a Professional For Carpet Cleaning Services
To maintain a fresh ambience in your house or office, you must clean the carpets properly. Relying on professional carpet cleaners to clean the carpets will bring you many benefits.
Here are some benefits one will get from hiring a professional carpet cleaner.
Fresh Air In House
You might not need a professional cleaner as you clean your carpets daily. But is your cleaning method deep cleaning the carpet?
Has it removed all the dust and germs from your carpet? If your carpet cleaning method does not clean a carpet thoroughly, the dust from carpets will make people sick.
While living in a house or working in an office, it is essential to get a fresh environment. Dust in the carpets will make you sick as they have disease-carrying microbes.
Starting from an allergic attack to getting infected with skin disease is a common experience because of a dusty carpet.
However, if you hire professionals to clean your carpet, they will ensure deep cleaning. So, you get to maintain fresh air in your house or office.
Saves Your Time
Getting help from a professional will always save time, and you can complete your job perfectly. When people decide to clean a carpet by themselves, they must undergo many processes.
It becomes a burden on a person and a hassle to complete the work.
However, if you give the responsibility to a carpet cleaning service provider, you can save time and eliminate all the hassles.
Get Rid Of Odor
Besides cleaning a carpet thoroughly, it is vital to get rid of all the smells from your carpet. A carpet comes in contact with many things like mud and food that create odor.
Moreover, if you have a pet in your house, they will make the carpet dirty with their feces and urine. It is not possible to remove such kinds of smells through normal cleaning.
You can eliminate odours and smells through a professional carpet cleaning service. The professionals know what type of chemical is required to remove bad odor from carpets.
Remove Strong Stains
Scrubbing your carpet all day long won't remove any stains. A carpet might have different kinds of stains, and all these stains have different cleaning methods.
Depending on the type of stain, a pro cleaner uses the necessary chemicals and equipment to remove the stain.
Should I hire a carpet cleaner or do it myself?
Hiring a professional carpet cleaner is better than performing a DIY task at home. Depending on the fabric's type, you might not know what is best for your carpet.
That is why there is a chance of you damaging the carpet as you might not have the proper knowledge.
Conclusion
By now, you must have understood why to hire a pro for your carpet cleaning needs. The DIY carpet cleaning methods are unsafe and won't give you a deep cleaning.
Also, small mistakes can ruin your expensive carpet. So, save both time and money by hiring a professional carpet cleaner.

Hi, This is George. Founder Of Vacuumist.com. Completed my graduation in Bachelor of Business Administration. Proud father of two lovely baby girls. Reviewing home appliances is my passion. Developing this blog to update and publish my recent reviews and research. Stay in touch.