Shark® robot is a vacuum cleaner lineup that produces automatic cleaner bots. They consist of easier UI.  Efficient and adequate performance make them reliable among the consumer base.
Whatever, ION is a well-known literal model from Shark, which we will be focusing on today.
But we will be talking about their problems and troubleshoots so that you won't face that crisis later. So, the ultimate target we will be digging deeper into is "Errors of Shark ION Robot Vacuum."
This session will explain,
What are the error codes of the Shark® robot vacuum?
How it appears and the reason behind it.
And finally, the troubleshooting and fixes you should apply.
On every point, first, we will include the reason and explanation for the error, and the fixes will be drawn afterward. So, Let's get started.
Shark Robot Vacuum Problems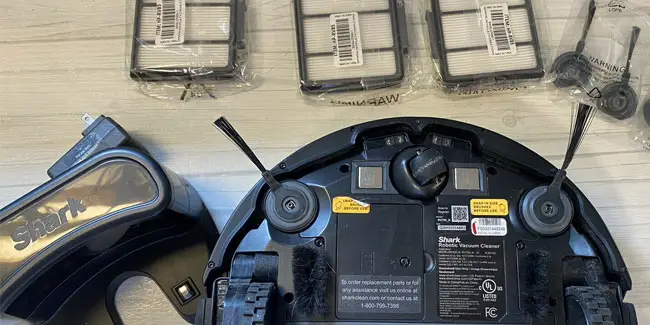 Shark Ion Robot Troubleshooting – Flashing and Error codes
All LEDs are Off
If there are no lights at all, the device may be turned off. Or maybe the battery is down, so it needs to be charged.
Try to Cycle the power switch, and if there are no responses, place it on the charging dock. Your problem will be fixed.
RED LED is On
This can also be called Replace LED. This one indicates a notification about the battery when your battery is ready to be replaced.
Most often, when the battery is damaged or used for a long time. As a result, the battery juice is kind of shrunken which limits the battery capacity and needs to be replaced.
DOCK and SPOT Flashing
SO dock and spot can be flashing together or alternatively. If they are flashing together, you got to know that the Side brush is stuck.
Maybe there is debris or dust clogged over there. Just remove those from the side brushes, and it will stop blinking.
If the DOCK and SPOT are blinking alternatively, then there is any obstacle in the brush roll. Take any semi-sharp tool and remove the destruction. The flashing will be fixed instantly.
To be noted, be gentle while removing obstacles, so you don't damage the machine.
Blinking BLUE
A clean flashing blue indicates an error from ION's drop sensor, front-wheel sensor, or the bumper. Now, you may be asking why it should happen.
This is pretty usual that your device is stuck by some other things. If the wheels are not able to move freely to different locations, clean blue blinking takes place.
Make sure the bumper and wheels are not stuck somehow, and the device is capable of free moving. The issue is sometimes because of the wheel cavity. Better check that out properly and clean gently.
SPOT Flashing BLUE
The absolute reason behind this is that the device cannot move because of any kind of obstruction. Two fixes can be performed,
firstly, you can give your device a movable surface, so it doesn't face that issue, and secondly, you can move your device to a new location where no disruption will occur.
CLEAN RED blinking
Clean Red Flashings are an indication of errors in Cliff sensors.
As your device has a full-time duty with dust, it is very much possible to have issues of dirt and dust clogging. You might get issues like the shark robot vacuum not picking up dirt.
Whenever the dust gets clogged up over the cliff sensor, it starts flashing the red LED.
The solution is simple. Take a tissue, soft cloth, or paper towel, and clean the cliff sensor until any dust is seen. After it's done, your ION vacuum will be working fine again.
! Symbol Flashing
This indicates the failure of the Suction Motor. Blockages in the filter may turn into this issue so easily.
Just clean the filter properly. Ensure there is not an extreme amount of dust inside it, which will work fine again.
! stays Solid and CLEAN RED Flashing
This can be seen when your device charger is facing troubles. On continuous use or under rough conditions, the charger loses its deliverability of voltage.
The cable itself doesn't stay as capable of carrying voltage as before.
This is the certain situation you may find the "! stays Solid and the CLEAN RED blinking".
You better contact Shark® Customer Service as soon as possible for seeing help with the charger.
CLEAN Solid RED
Simply when you have removed the dustbin, it starts Clean Solid Red Indication. Put it back in its place, and you are done.
CLEAN Solid BLUE
It indicates sleep mode. Just press any button on the body or remote to break the hibernation.
Apart from these basic error codes and their solutions, your Shark® Robot ION can face a few different issues too. Let's explain,
Shark Robot vacuum not Connecting to WiFi – Troubleshooting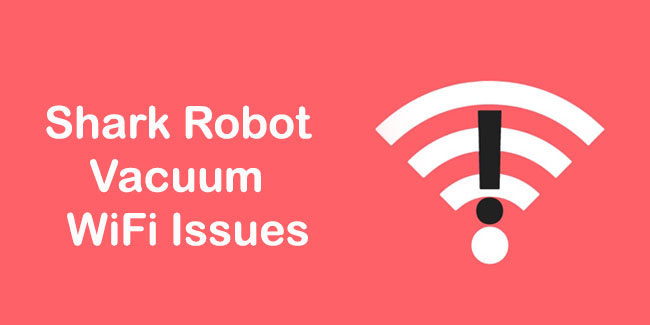 RED ! and Wi-Fi Indicator Red Flashing
This means the password you have entered is not correct. Be sure about the password, and then try again.
If you have tried several times in a while, wait for 30 seconds and then try again.
! Blinking Red and Wi-Fi Indicator Red
This means your ION robot is out of the wireless connection. The connection you are dedicating to use is not available.
So, connect some other devices to be sure about the network. Then try with the ion robot again.
! and Wi-Fi Indicator Flashing Alternatively
This means you have entered the wrong username or password for your Shark account.
Enter the right one again, and you are done.
A few words for internet connection issues,
your Shark ION Robot only connects to 2.4 GHz Networks.
Rebooting your Wi-Fi router may boost the connection as the cache is being cleaned automatically with a fresh start.
Restarting your phone may also help similarly because continuous use may produce lag and system bugs (Minor).
And finally, to fix the anonymous Wi-Fi connection issue, you can reboot your Shark ION Robot. After a longer period of use, this may be very helpful. And the machine for sure gets a fresh start.
Shark ION Robot Irregular Movement – Troubleshooting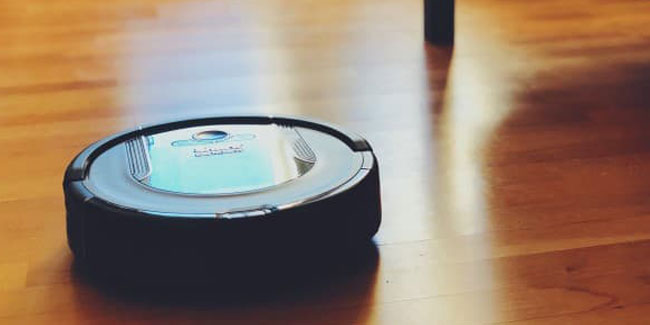 Irregular movements are the result of
Dirty Sensors
You need to know that your cleaner robot is working automatically, moving to different areas of your room by using the sensor detections.
Again, the device has to deal with a large scale of dust in your apartment.
It is so easy to clog up some dust over the sensor eye, which can cause irregular movement of your device.
Fix it easily by cleaning the sensor eye with a paper towel, tissue, or cloth.
Dirty Wheels
This can be defined as a common type of disruption. Usually, hair, cotton, and obsolete ribbons get stuck with the wheel. This disturbs the free movement of wheels.
Try to inspect where the obstacles are stuck. Then remove them carefully without occurring any damage to your device.
Motor Issue
Once you notice that your robot is having trouble moving, try to check that over different types of surfaces like the carpet or floor.
If you find your device having trouble on any kind of surface, then the motor has issues.
You should probably inform the nearest customer service and take a motor replacement.
Shark ION Robot isn't Charging – Troubleshooting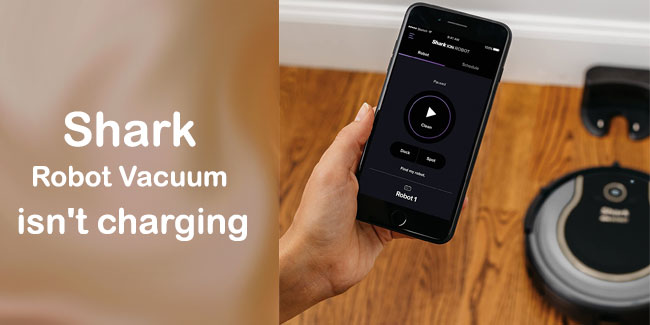 Proper Docking
So often, the device is left without docking properly because there is any disruption between the dock and the robot. As a result, the charging doesn't start.
Power Source
If your power source is not capable of delivering sufficient power flow, this is normal for the charge to be stopped.
In this situation, try changing the outlet or taking proper steps for a stable electric flow.
Battery
In long-term use, battery juice shrinking is a common issue. And when the battery capacity is decreased, charging issues occur now and then.
In that case, replacing the battery is the highest recommendation.
Shark Ion Robot is Unstable
Damaged Battery
Maybe the device battery is damaged, that's why the robot is being stopped after every few minutes.
The battery is so degraded that it cannot supply enough power for too long time. As a result, after a certain period, the device gets stopped suddenly.
The only way to resolve it is to replace the battery with authentic customer care.
Clogged Brush
Like the stuck wheel issue, the main problem here is the ribbons, cotton, or fallen hairs on the ground. What happens is these things just roll around the axles.
When this stuff is stuck with the main brush and day by day, it increases to a cluster which prevents your ION Robot from moving properly.
Take a tweezer and clean out all those obstacles from the main brush, and the robot will work fine.
How to reset Shark Ion Robot Vacuum
Turn your ION Robot Upside Down. You will find the Power Switch
Press and hold the switch for 10 seconds. (Keep Holding until the device turns off)
Wait for 10 more seconds, then press the Switch again. The device will reboot, and the resetting is done.
In the end, most of these problems are easy to solve with the easier steps we have included. But sometimes, the issue with your Shark® Robot ION Vacuum may be from the internal hardware.
And the worse thing is that you cannot solve complex hardware issues by yourself unless you are an expert.
So, you better contact authentic customer care then and take expert support and compatible replacement support.
Related: Shark duo-clean and rotator series troubleshooting

Hi, This is George. Founder Of Vacuumist.com. Completed my graduation in Bachelor of Business Administration. Proud father of two lovely baby girls. Reviewing home appliances is my passion. Developing this blog to update and publish my recent reviews and research. Stay in touch.