Rainbow vacuum is a popular vacuum that has been reigning in the vacuum cleaners industry for almost 85 years.
This vacuum is manufactured by the company Rexair LLC, and the main reason behind its popularity is the water-based filtration system the vacuum has.
Another reason is the Rainbow MLM of its company which is an independent authorized distribution system.
Moreover, some people may relate this policy to a pyramid scheme, but it is slightly different because Rainbow MLM doesn't pressure their distributors' sales like pyramid schemes.
In this article, you will get the answer to Is the Rainbow Vacuum a Pyramid scheme?
The Rainbow MLM has some similarities with a pyramid scheme, but this MLM is not a scam as the company's loss will not affect the people under their MLM.

So, Rainbow Vacuum is not a pyramid scheme, even though people can make money by selling the products of Rainbow vacuum.

It has the structure of a pyramid scheme, like; you will get profit for the products you sell, and if you recruit other people to sell these products, you will also profit from their sales.

But the main difference between the Rainbow MLM and a pyramid scheme is that in a scheme, members will lose money if the number of recruited members increases.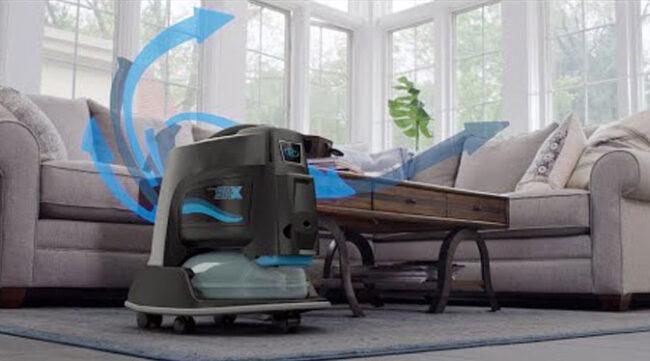 Concept of Rainbow MLM
If you become a member of Rainbow MLM, you will profit from every product you sell as you will become a distributor for their company's Vacuum cleaners.
Also, if you recruit more people as distributors and monitor them under you, you will profit from every product the members under your observation sells.
Anyone who wants to be a Rainbow MLM member must register their membership. Any kind of fee is not needed for joining as their members(unlike a pyramid scheme).
If you become a distributor for their products, you will get a salary from the company, but you will profit from the products you sell. So, the more products you sell, the more you will get profit from the company.
Also, you will profit from your sales if you recruit people to become a distributor under your supervision. So, the more people you convince to register as a member, the more profit you will get. To make you understand more easily, let's give you an example,
Suppose you registered as a member of Rainbow MLM for free, and then you recruited 5 more people to sell the vacuums, each of them will recruit 5 more people under their supervision.
This line will continue, and you will get profit from every one of the distributors who work under your supervision.
Concept of Pyramid Schemes
A pyramid scheme's outlook may be similar to an MLM, but these two policies differ significantly. In a pyramid scheme, most of the time, you will have to pay a registration fee to become a member.
A pyramid scheme is unreliable as the profit is inconsistent, and you will face losses if more people are added to the plan.
A registration fee is a must for every member; they will get a certain registration fee if they recruit another member.
The main directors of the organization that runs the pyramid scheme always get a portion of the fee that the members give as an entry fee.
That means the members from the higher position always get profit without making any sales. They get the money from the entry fee, which itself is unfair.
In other words, a pyramid scheme is always more profitable to the director, even if they don't do any work.
On the other hand, the lower portion of the pyramid members gets low profits even though they work hard to make sales.
Difference between the Rainbow MLM & a Pyramid Scheme
Even though an MLM policy and a pyramid scheme look alike from the outside structure, an MLM policy is quite different from a pyramid scheme, especially from the perspective of ethics.
A rainbow MLM tries to profit distributors along with the company; on the other hand, in a pyramid scheme, the higher-ups always profit by taking unfair entry fees from the members.
| | | |
| --- | --- | --- |
|   | Rainbow MLM | Pyramid Scheme |
| Entry Fee | To join the Rainbow MLM, one doesn't have to give an entry fee | To join a pyramid scheme, a member must give an entry fee |
| Profits | Anyone who makes a sale will get the maximum profit from it | The higher-ups always get the maximum profit both from the sales and the entry fee of the members' |
| Loss | If the company faces a loss, higher-ups will face it the most | If the company faces a loss, the lower portion of the pyramid will bare the maximum loss |
Is Rainbow Vacuum worth the high price?
Rainbow has been in business for more than 85 years, and their top-notch service has made them come to this point of success.
Over the year, Rainbow vacuum has changed with the need of new customers and has become more powerful and innovative in the vacuum cleaners industry. So, the high price of these vacuums is completely worth it.
Does NASA use Rainbow Vacuum?
Yes, they use rainbow vacuum cleaners for many of their cleaning purposes and to maintain their labs' hygiene by using a Rainbow vacuum cleaners.
They also use this vacuum to protect and maintain their historical artifacts.
Final Words
I hope you are not perplexed about the difference between a pyramid scheme and Rainbow Vacuum.
Also, after reading this article, you now have the answer to "Is the Rainbow vacuum a pyramid scheme? "In short, the main difference between these two policies is the entry fee and the ethical point of view.
In a pyramid scheme, there is a high chance of becoming a scam victim.
But in the case of a Rainbow MLM, there is no chance of getting scammed as the distributor will get their fair amount of profit.

Hi, This is George. Founder Of Vacuumist.com. Completed my graduation in Bachelor of Business Administration. Proud father of two lovely baby girls. Reviewing home appliances is my passion. Developing this blog to update and publish my recent reviews and research. Stay in touch.