If you want the cleaning in your home taken care of, technology today has made sure you have it. There are a lot of robot vacuum cleaners in the market to choose from.
But out of all these brands and their ever-striving inventions, which vacuum cleaner is fit to go home with you?
To give you a little insight before you make a purchase decision, Vacuumist will compare two entry-level vacuum cleaners in this article. Read our iRobot Roomba 650 vs. 770 review and detailed comparison below.
Roomba 650 vs. 770 – Product Specifications At A Glance
| Feature | Roomba 650 | Roomba 770 |
| --- | --- | --- |
| Cleaning technology | Aeroforce 3 stage cleaning technology | Aeroforce 3 stage cleaning technology series II |
| Navigation technology | iAdapt Responsive Navigation | iAdapt Responsive Navigation 2.0 |
| Filter | Aerovac | Dual HEPA |
| Bin Volume | 0.47 gallons | 0.51 gallons |
| Full bin indicator | NO | Yes |
| Recommended floor types | Carpet, bare floor | Carpet, bare floor |
| Dirt detection | Yes | Yes |
| Auto adjust to floor types | Yes | Yes |
| Virtual wall barrier | One | Two |
| Scheduling | Yes | Yes |
| Battery Indicator | No | Yes |
| Auto Docking | Yes | Yes |
| Remote control | No | Yes |
| Voice Prompt | Yes | No |
| Estimated run time | 50+ minutes | 60+ minutes |
Roomba 770 vs. 650 – Cleaning Performance
The two Roombas pick up dirt and debris using iRobot's three-stage cleaning technology. Agitate to loosen debris, brush to pick them up, and suction to suck them in.
Roomba 770 uses an upgraded version of the same technology. It does it with more power and better sensors.
The default cleaner head of the 650 is a flat brush. The 770 comes with a flat brush and a round brush.
The three-stage cleaning technology is performed by two counter-rotating brushes. There is also a spinning side brush in each model that cleans any debris stuck to the bottom of the walls.
Both of the Roombas come with the Dirt Detect technology. But the 650 has made it a habit of going over the same spot repeatedly.
It is because the robot has no acoustic sensors. Cleaning a spot that is already clean increases battery consumption. Areas needing attention may get none at all.
This does not happen when you use a Roomba 770. The 770 comes with an optical sensor to accompany its acoustic one. It has a better grasp of where dirt is on the floor.
It does not roam over the same spots again and again. When a spot is sufficiently cleaned, it moves on.
Both Roombas automatically adjust to all floor types. We have tested both models on carpets, rugs, and bare floors.
Roomba 650 did a good job picking up pet fur, dust, and large debris from multiple floor types. It was not spotless, however.
The 650 left some fine dust behind. It also took quite a lot of time to finish the session. If you use it to clean up multiple rooms per session, it may even need to recharge in between cleaning.
Roomba 770 did exceptionally well on all floor types, and that, too, was a lot quicker. It proved capable of removing up to 95% dust. It gave attention to detail and did a thorough cleaning job.
Both Roombas slide under furniture to clean the floor underneath them. The 770 is shorter than the 660 in height which helps it easily slide under most furniture.
More Questions: Does Roomba work on carpet?
Winner: Roomba 770
Take a quick look:
Roomba 770 vs. 650 – Navigation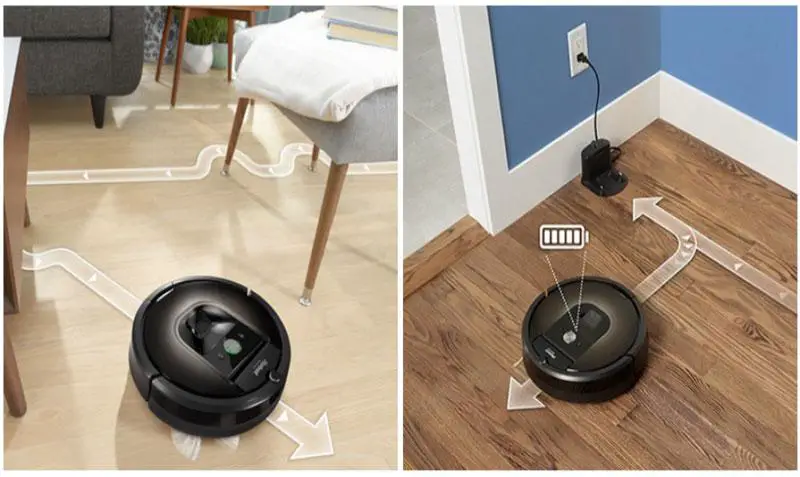 Both Roombas are clean in random patterns. But thanks to the 770's optical sensor, its moving pattern is less random. It seems to know where the lies.
The 650 uses the iAdapt Responsive Navigation technology. The 770 uses a second generation of the same technology.
The 650 tends to bump into things a lot. If you have glass or clay pieces on top of furniture, the 650 can hit the furniture with speed and cause damage to what's on top.
So you must be careful before setting off your 650 in a cleaning area. Or you have to watch it, so it does not clash with an object.
Simply put, the 770 is way better at navigation than the 650. Once it has had the time to adapt to the patterns in your room, it never bumps into anything. It moves its way around carefully and does not miss spots, unlike the 650.
Both Roombas have edge sensors, preventing them from falling off cliffs. The soft bumper technology has been programmed into both of them.
It allows the Roombas to detect soft obstacles like bedding, upholstery, and curtains. When in contact with one of these, the vacuum cleaners start to clean under them.
Roomba 650 has one virtual wall barrier. It keeps the Roomba in the specific area it should be cleaning.
Roomba 770 comes with dual virtual walls. They make the 770 stay in the areas it should be cleaning and away from the ones it should not.
Winner: Roomba 770

Roomba 650 vs. 770 – Filtration
Both Roombas have bagless filtration. Roomba 650 uses AeroVac filters, whereas Roomba 770 houses dual HEPA filters.
HEPA filters capture dust particles as small as 0.3 microns and 99% of allergens. It gets transferred into a sealed system, so you do not get in contact with them again.
For people with a high sensitivity to dust and allergens, HEPA-filtered vacuum cleaners are highly recommended.
The Aerobic filter of the 650 is okay. If none of the residents in your home have allergies, you can make do with these filters.
Winner: Roomba 770
Roomba 770 vs. 650 – Dirt Bin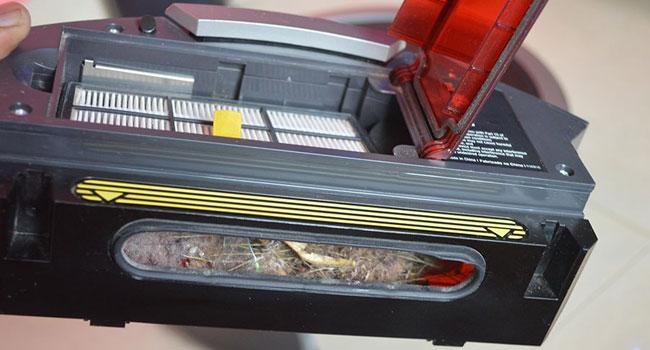 Roomba 650 has a 0.47-gallon bin to hold all the dirt it picks up. The volume is nothing to complain about. The biggest flaw in the 650 is that it has no full bin indicator.
You won't know how much space is available in the bin. You won't know if further cleaning is possible without emptying the bin. You have to check the bin before every cleaning session and empty it if need be.
Roomba 770, on the other hand, takes care of this problem. Its bin indicator will tell you the status of the bin. The volume is also a bit larger – 0.51 gallons.
Winner: Roomba 770
Roomba 650 vs. 770 – Features
Both Roombas can be scheduled to clean at set times up to 7 times a week. This is one of the most convenient features of robot vacuum cleaners.
Roomba 650 has buttons on top of it to control and program the device. Roomba 770 has a touchpad!
Don't feel like reaching the device to reprogram it? Roomba 770 comes with remote control for that.
Roomba 650 does not have a remote control. But you can give voice prompts to it.
Winner: It depends on which set of features you prefer.
Roomba 770 vs. 650 – Battery Life
Both Roombas take up to 3 hours to fully charge up the battery. Roomba 650 has a run time of 50 to 60 minutes. Roomba 770 can operate for about 70 minutes on a single charge.
Roomba 650 does not come with a battery indicator, unlike the 770. Both Roombas will return to their docking stations when the battery gets low.
Roomba 770 can recharge and resume cleaning. Roomba 650 is not. It can recharge by itself, but you must restart it to get back to cleaning manually.
Winner: Roomba 770
Roomba 650 vs. 770 – Design & Dimension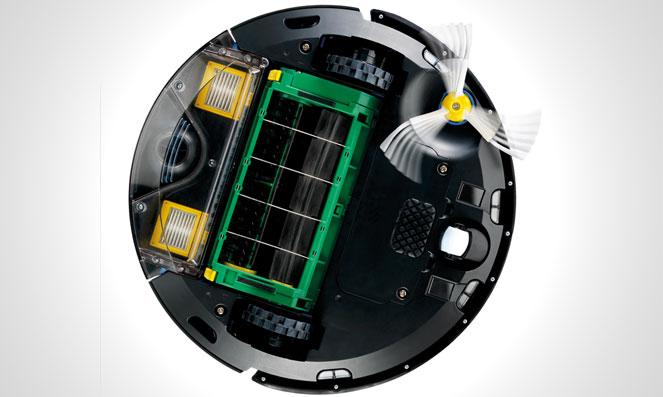 There are noticeable differences between the two Roombas in terms of appearance – such as the color scheme. Roomba 650 has black buttons, whereas Roomba 770 has grey. The positioning of the handles is different too.
Roomba 770 has a height of 91mm, a width of 353mm, and a weight of 3.8 kilograms.
Roomba 650 has a height of 92mm, a width of 340mm, and a weight of 3.6 kilograms.
Which Roomba Should You Pick?
Once you have learned the key differences between Roomba 650 and 770, it all depends on the individual buyer's perspective.
If you want to buy a cheap cleaning bot to test the waters, the 650 is what you seek. The model is a bit older. Yet it is a properly functioning entry-level robot vacuum cleaner and has received great reviews over the years.
If you want an intelligent cleaning bot to minimize manual labor, go with Roomba 770.
If you can afford to pay the additional $$ premium, it has many more smart features to prove its worth.
In Conclusion
Roomba 650 and 770 are both good quality robotic vacuum cleaners with features suiting their price range. But we have compared the two devices to be able to declare a winner.
In our speculation, Roomba 770 is a far more advanced device than the 650. If price were no object, we would be recommending it over Roomba 650.

Hi, This is George. Founder Of Vacuumist.com. Completed my graduation in Bachelor of Business Administration. Proud father of two lovely baby girls. Reviewing home appliances is my passion. Developing this blog to update and publish my recent reviews and research. Stay in touch.