We often see kids wanting to repeat and follow our actions. They will take their own seat at the table, put on their own shoes, and comb their hair. Especially young children really like to engage, which is fantastic news because it is a vital aspect of a child's growth
Now you will often see kids trying to clean the floors as you do. So why not get them a toy vacuum that really works? Yes, you heard that right. There are many kid's toy vacuum that really works.
Even though many brands make toy vacuum cleaners, Dirt devil and Dyson stands out for us. So today, in this article, we all review the 3 best toy vacuum cleaners for your lovely toddlers.
Three Best Kids toy vacuum cleaners that work
After testing several toy vacuum brands, we narrowed our list to these three, which we believe outshines all other working toy vacuums.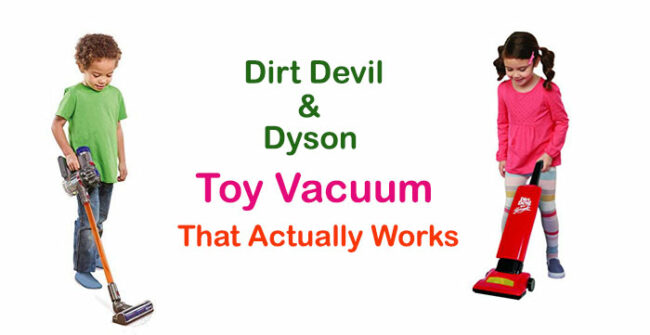 Dirt Devil toy vacuum that really works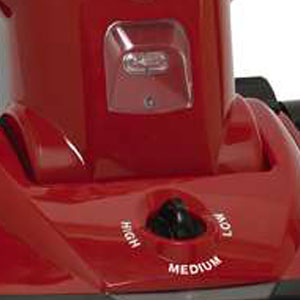 Dirt Devil is another famous brand that produces toy vacuum that really works. Kids can pretend to be adults with this Dirt Devil Junior Reaction Vacuum.
This amusing faux tank lightens and emits a realistic suction sound. It also has a retractable canister with beads that twirl around for more excitement.
The most exciting feature is that it also has a retractable canister with beads that twirl around for more excitement. Additionally, it is very easy to clean; Whenever you take out the transparent dump container, there is a little circular hole on the rear side of it through which dust and debris will fall if tapped over a garbage can.
But, do keep in mind this toy vacuum will pick up small dry crumbs or cereal pieces. But it is not powerful enough to pick up very small dust particles from carpet, and the suction power isn't that powerful.
Pros
Very easy to use
It comes at a low price
Makes sound like a real vacuum cleaner
Cons
Not very good for picking tiny dust particles
2 Dyson toy vacuum that really works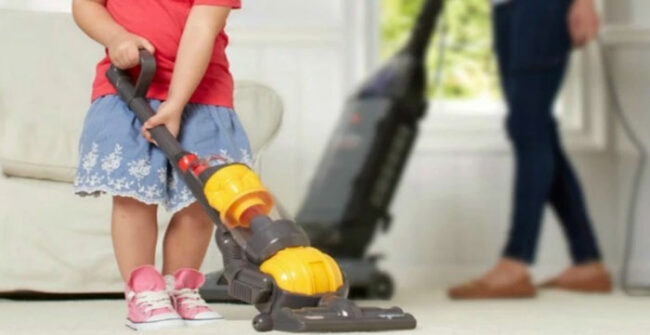 Casdon Dyson Little Helper Cord-Free Vacuum
The first working toy vacuum in our list is the Casdon Dyson Cord-Free Vacuum. is a current version of the toy vacuum that resembles Dyson's most recent cordless vacuum models.
This miniature version of the well-known Dyson Cord-Free Vacuum looks and functions just like the real thing, gathering up tiny particles of trash and putting them in the easy-to-access dust tray.
Your kids can use it for multiple ways of playing; for any twist and turn cleaning, there is a long handle. The short nozzle comes in handy for handheld vacuuming.
At the very moment, your youngster presses the trigger, the engine starts up, the colorful balls fly in a cyclone around the phony collection container, and the suction starts up. This will brighten up their mood instantly.
Furthermore, Accessories are a place in which this vacuum shines. You may attach directly to the motorhead by removing the orange extender bar.
You may also use the slim attachment to provide more accurate suction in tighter spaces. The extensions click and lock in place with the press of a red release button, much like a genuine Dyson.
However, do keep in mind that the suction power is not that much but is sufficient for your kids to play and learn simultaneously.
Pros
It looks like a replica of the actual working model
Smaller in size, so easy to move
Has a simulated cyclone effect
Cons
The suction isn't very powerful.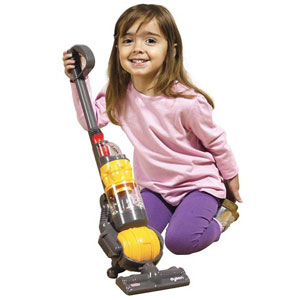 Casdon Dyson Ball Toy Vacuum Cleaner
Casdon Dyson ball toy vacuum cleaner is probably the best workable toy vacuum cleaner in the market.
This Dyson Ball upright vacuum cleaner has been mainly made to be lifelike, close to the tiniest feature, so your young assistant will truly feel like a part of your environment while learning essential life skills. Casdons' Dyson Toy Vacuum is an exact duplicate of the most recent "Ball" model.
Two unique features are worth mentioning about this toy vacuum. The first is; as soon as you turn on the machine, Hundreds of multi-colored plastic beads start to whirl about in the space that'd be the dust bin on a genuine Dyson. This, together with the engine's humming, gives your youngster the impression that they are truly achieving something.
Then, the suction system is fully functional on this toy. This vacuum has a little hose under the beater bar that picks up small bits of dirt and debris. However, do not mistake this to be a real vacuum. Nevertheless, the suction power is worth mentioning for just a toy.
As with all toys, this also has a con, which is disappointing. The built quality isn't that durable overall. But with proper care, your youngster should be able to play with this for many years.
Pros
Heavy suction power
Great motor sound
It looks exactly like the actual ball model
Cons
Built quality could be better.
Comparing Kids Toy Vacuums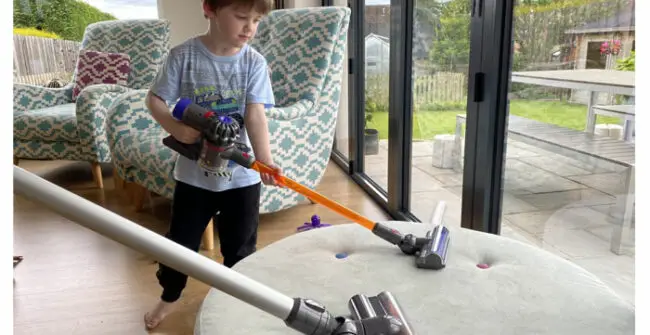 Down below, we will compare these three toy models on the basis of 3 things; Looks, functions, longevity.
Looks
As you want your youngsters to have the thrill and excitement of using a real vacuum, the toy vacuum must look the same as a real one.
Now when it comes to looks, The Casdon Dyson ball model is the clear winner. It looks exactly like the actual working Dyson ball model.
The Casdon Dyson Cord-Free Vacuum comes at the second position, which also has a similar design to real Dyson vacuums. The last place goes to the Devil Dirt toy vacuum, it has the outlook of a vacuum, but the size is relatively small and looks more like a toy than the real thing.
Functions
Functions are probably the most essential aspect of any toy vacuum as you want this to perform.
The Ball model from Dyson again takes the first position; it is the only toy that offers a heavy and powerful suction function that is capable of even sucking the smallest dust particles. The overall sound of the motor and the combination of other attachments make this a truly workable toy.
The Dyson cordless model comes at the second position, and it also offers decent suction power, even if not as powerful as the ball model. The motor sound is also quite pleasing and will give you a moderate working experience.
Last on our list is the Dirt Devil vacuum. The suction power in this toy is the lowest; it can suck large particles but not very small dust and debris. However, the motor sound is much better than the Dyson ball and cordless models.
Longevity
Even though these are toys and you don't expect them to last a lifetime, we all know how children are. They are masters of breaking and destroying things. But even after that, longevity does matter to many of us.
In our testing, Dirt Devil performed the best, and we found the build quality of very good quality compared to the other models. It doesn't break that easily and can withstand rough wear and tears by kids flawlessly.
The second position will go the Dyson cordless model, the build quality is of decent quality, but after a few drops and spills, the canister became a bit lose, and the screws seem wobbly. So we can conclude that it needs to be used with care.
In the third position, we have the Dyson Ball model. Even though this model has some of the best features, the built quality is definitely not up to the mark. It seems cheap, and the handle feels relatively inexpensive in hands. Many users reported that this model only lasted about six months.
Conclusion
If you want your child to be productive and learn new things as they play, then a toy vacuum is something that you need for them. But when it comes to finding a toy vacuum that really works, then it becomes hard to find a toy that actually works.
Today, we wrote this article where we listed the top 3 working toy vacuums to clear this confusion. You can get these three toy vacuums without any hesitation and see the smile on your toddlers' faces.